A Brief and Recent History of Bigotry at Fraternities
The recent uproar at the University of Oklahoma is far from isolated.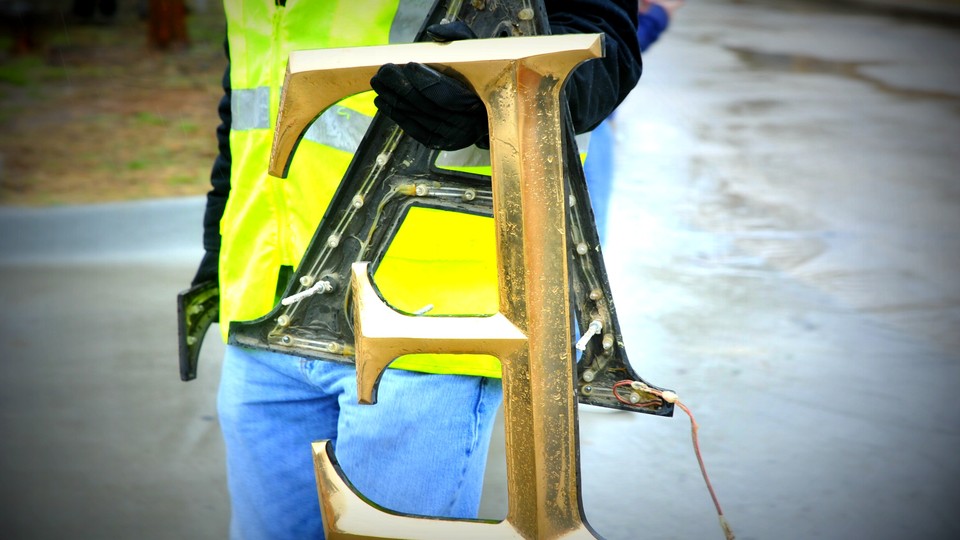 In Dear White People, Justin Simien's 2014 racially charged satirical film, there's an uproar at the fictitious Winchester University when its African American students hear about a black-themed party being thrown by a predominantly white fraternity on campus. The party is based on the most stereotypical of "black" tropes. The attendees are draped in "urban wear" replete with blackface, afro wigs, gold chains, and extra-large T-shirts. They even sport fake handguns as an accessory. The entire movie appears to be somewhat sensational—until the end credits reveal the real-life occurrences that inspired the scene.
And the recent news involving the University of Oklahoma serves as a reminder that, in real life, these incidents are part of a mentality that's widespread and persistent. Racism, which can be as overt as a bigoted chant or as subtle as side-eyed glance, has long existed—and in some cases thrived—at fraternities across the country.
One day after
President Obama's recent historic speech
marking the 50th anniversary of the Selma march, a video depicting racist chants by members of the OU's Sigma Alpha Epsilon (SAE) frat surfaced online and quickly went viral.
In the video, which was posted online Sunday night by
OU Unheard
, a black student group on campus, members of the frat were seen on a bus chanting bigoted lyrics to the tune of "If you're happy and you know it":
There will never be a nigger in SAE!
There will never be a nigger in SAE!
You can hang him from a tree, but he can never sign with me.
There will never be a nigger in SAE!
The administrative response has been extraordinarily swift. News organizations are reporting today that the school has already expelled two students in connection with the video, ostensibly engaging in few internal deliberations. The university's president, David Boren, wasted no time expressing his anger and disappointment. Less than an hour after the video was posted online, he tweeted this:
If the video is indeed of OU students, this behavior will not be tolerated and is contrary to all of our values. We are investigating. - DBo

— David Boren (@President_Boren) March 9, 2015
After the video (and the students) were verified, Boren began doling out punishments. Yesterday he ordered that the frat house be closed and all of its members vacate the house by Tuesday night—regardless of whether they were seen in the video. Moving vans started appearing at the house yesterday:
Referencing the school's nickname, Boren issued a updated statement that read: "You are disgraceful. You have violated all that we stand for. You should not have the privilege of calling yourselves 'Sooners.' Real Sooners are not racist."

At a predawn rally Monday, he continued his censure: "I don't have words in my vocabulary to adequately describe how I feel about people who would use those words in that way, and chant in that way." An investigation into whether the students' actions violated the Civil Rights Act is underway, he added. "I'd be glad if they left. I might even pay the bus fare for them," he said at a news conference later that day.

Despite having taken immediate action, OU is, inevitably, still getting lots of flack. Yesterday rapper Waka Flocka Flame canceled his forthcoming show on campus, and today Jean Delance, a top football recruit, decommitted from the university.

SAE, which is one of the largest frats in the country, was quick to distance itself from the local chapter's issues. In a statement released Sunday night the national organization apologized profusely:
We apologize for the unacceptable and racist behavior of the individuals in the video, and we are disgusted that any member would act in such a way. Furthermore, we are embarrassed by this video and offer our empathy not only to anyone outside the organization who is offended but also to our brothers who come from a wide range of backgrounds, cultures and ethnicities ... This type of racist behavior will not be tolerated and is not consistent with the values and morals of our fraternity.
But again, while that may be the case, it's hard to buy that this incident isn't a part of a larger subculture. A Reddit post that was published 27 days ago reveals that the chant isn't new nor solely attributable to a single offshoot of the frat:
(had some friends from [high school] who were SAE in college, safe to say we are no longer friends) ....
For SAE context a few buddies of mine told me their favorite song to sing went-

"There will never be a nigger SAE, there will never be a nigger SAE, Abe set em free but they'll never pledge with me, there will never be a nigger SAE."
Of course, this is little more than a random post online. But the fact that it was written nearly a month ago, coupled with at least one user's verbatim transcription of the same chant, is telling. Across the country, SAE—which in 2013 was dubbed by Bloomberg as the "deadliest" frat in America—has repeatedly been embroiled in controversies surrounding members accused of engaging in culturally insensitive acts. In December 2014 the SAE chapter at South Carolina's Clemson University held a "Cripmas" celebration satirizing Los Angeles' Crips gang. A year earlier, members of the SAE chapter at Washington University in St. Louis were suspended after some of them shouted racist slurs at black students while eating in the campus dining hall, among other activities.

And these issues do not happen in an SAE vacuum.

At Duke University, an apparently Asian-themed party in 2012 resulted in the suspension of its Kappa Sigma frat. The original emailed invitation included misspellings to convey accented English—"Herro Nice Duke Peopre"—and contained a meme based on Kim Jong Il character in the film Team America: World Police.

Last year, the Sigma Phi Epsilon frat at the University of Mississippi expelled three members from their ranks after they hung a noose on the statue of James Meredith, a prominent civil-rights hero and the first African American to attend Ole Miss.

At Arizona State University, Tau Kappa Epsilon's "MLK Black Party" was like a scene out of Dear White People: Attendees dressed in basketball jerseys, flashed gang signs, and drank from watermelon cups.

And multiple Greek institutions at California Polytechnic State University hosted a "Colonial Bros and Nava-Hos" party in 2013 that was equally racist and sexist. (The school administration later ruled that the event hadn't violated university policy and that the problem was "informal" rather than "systematic.")

Even the Ivy League's Cornell University had its fair share of controversy after members of its Sigma Pi frat were accused in 2012 of throwing bottles at black students while shouting, "Come up here, Trayvon!"

Perhaps these young adults are just "being kids"; and immaturity may play a role. But that's exactly the point: Many college students—especially incoming freshmen—still have malleable minds, and these practices risk normalizing such behavior. They seem to establish as a truism the idea that "mostly old people are racist, and once they die off, so will racism." That's simply not the case.

Frats, of course, aren't malicious or inherently bad—many of them preach good values and community service—but in many ways that's irrelevant here. Clearly, the culture at many frats includes elements of chauvinism, sexism, and racism. Each time one of these egregious incidents comes to light, the national organizations are quick to sever ties with the local chapter, decrying the errant faction as some ailing part of a predominantly healthy whole. "It's not our fault," they seem to be saying, "it's just these bad apples." But the pervasiveness of these situations makes that hard to believe.
As The Atlantic reported exactly a year ago, these organizations "have a long, dark history of violence against their own members and visitors to their houses, which makes them in many respects at odds with the core mission of college itself. Lawsuits against fraternities are becoming a growing matter of public interest, in part because they record such lurid events, some of them ludicrous, many more of them horrendous."

While cultural insensitivity is one thing, there was nothing innocuous about what happened at the University of Oklahoma. It certainly wasn't the first time that the chant had been uttered by those students.
It was just the first time they got caught.