Virtual Education: Genuine Benefits or Real-Time Demerits?
Twenty-six states operate publicly funded online schools, many of which don't have safeguards that prevent kids from cheating.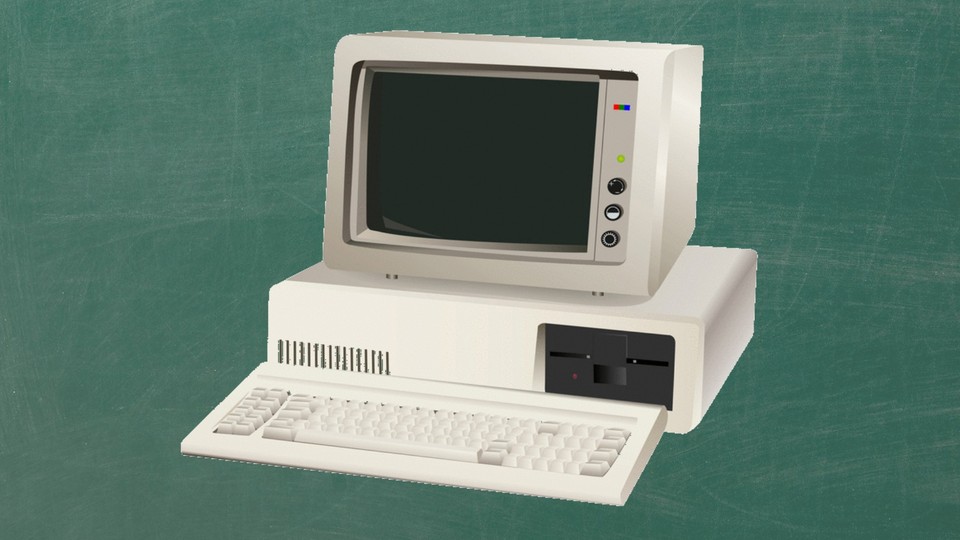 Last August, Dalia Ahmed, a former student of mine, was eager to begin her final year at Miami Arts Charter School in Miami, Florida. As a talented young poet who had already won numerous national awards for her work, she was on track to graduate as one of the top five members of her class. Even with four Advanced Placement courses in her schedule, Ahmed anticipated a fulfilling senior year as she prepared applications for both merit- and need-based scholarships to Ivy League colleges.
Then her mother was abruptly offered a better job in New York City, and by mid-September Ahmed found herself living in the Bronx and attending Herbert H. Lehman High School. According to Ahmed, this is where Fiorella Cabrejos, a school administrator, informed her that she might not graduate in 2015.
The reason? Ahmed had multiple courses on her transcript from Florida Virtual School—including physical education—and under the city's district policy, any credits obtained online weren't eligible for transfer. Moreover, in addition to these "missing credits," Ahmed said, "I was informed that the New York City Department of Education states a senior in high school must graduate with a minimum of seven terms of P.E., the equivalent of four years." (In an email to me, Cabrejos declined to comment on the issue but noted that the school "certainly appreciate[s] having such an exceptional student as Dalia.")
That policy puts students like Ahmed in a grave predicament. Under Florida's 2014 public-education statutes, students must take at least one course online in order to graduate. Meanwhile, newly approved bills—which were cited in former Gov. Jeb Bush's 81-page "Digital Learning Report Card" briefing early last year—allow Florida students to take two online courses concurrently per semester. And when students pass the courses with a C or higher, they can take more virtual classes. Similar legislation has passed in other states, too.
According to New York State's education department, Cabrejos' advice to Ahmed was technically correct: Its policy governing transfer credits doesn't mention virtual schools, many of which are not accredited in the same manner that traditional public and private institutions are. And that's just one of the red flags that critics of part-time K-12 virtual education have raised.
Proponents, including Bush and his team, argue that conventional learning is holding students back and that virtual education, both in and out of K-12 classrooms, is allowing them to advance at their own rate. Ahmed is an intelligent girl whose weighted GPA, according to a letter written by her college counselor, was a 5.2 at the time she enrolled in her school in the Bronx; she took full advantage of these online-learning opportunities.
Unfortunately, students who aren't as diligent—especially those living in states like Florida, Virginia, and Alabama, where passing a virtual course is required for graduation—also take advantage. And the outcomes are hardly positive. In fact, due to the way many virtual courses are structured, without cameras or the eyes of authority figures constantly tracking them, the temptation to cheat is almost irresistible. These students not only understand how to get around the system, they also know they can pad their GPAs with As in honors and AP courses. That's because, thanks to the aforementioned state legislation, they can take multiple online courses per semester. And they often learn nothing unless the course is so outdated they can't find the test answers online.
Here's how virtual schooling works. Whether they do it part-time as a supplement to conventional schooling or full-time instead of attending a brick-and-mortar institution, students take classes via a computer portal rather than in a physical classroom. Some of these virtual offerings are better than others, using integrated media, with videos and pop-up screens interspersed with reading materials, tests, and project instructions. The best use blended-learning techniques, where groups of students actually Skype with a live teacher and participate in group chats.
Like homeschooling or distance learning, virtual education is hardly a novel idea. It's been around since the mid-1990s or so, when the first private online high schools were founded. But in 2006, Michigan passed a law requiring students to take and pass a virtual class for graduation; in 2007, Florida established a state-run online school. Today, 26 states have their own virtual providers that are run with public-school monies, and the National Education Policy Center reported last year that there were 311 full-time virtual schools across the country. Thirty percent of those schools didn't receive any ratings on their performances, and of the 231 that did receive ratings, only a third had "academically acceptable" findings.
Altogether, these schools enroll as many as 275,000 students annually. But enrollment numbers are ever-changing because many of their customers are part-timers. These students may enroll and drop, enroll and fail, or enroll and pass several courses within the same semester; the data doesn't reflect those adjustments.
According to the education policy center and similar groups, the most effective classes are those that are provided by full-time, accredited private institutions where oversight is built in—like the for-profit CompuHigh, which is approved as a provider through Virginia but operates internationally, or the publicly funded GOAL Academy in Aurora, Colorado, which blends face-to-face instruction and virtual learning. Both of these institutions were launched to assist students who fail, for a variety of reasons, in traditional schools. Because the students pace themselves to perform at their own rates, said CompuHigh's Jeannette Geib, "at our school there is much less pressure and stress around doing the work. So many of the obstacles that make a student shut down are removed … Students can just do the work in a way that works for them in whatever time they need to do it."
Kristy Baumgartner, who like Geib oversees curriculum for GOAL Academy, also touted the benefits of digital learning, adding, "The virtual classes provide students to have a world without walls. Everything is at their fingertips. Students [who] may not be comfortable in a classroom to engage with the teacher may feel comfortable being more outgoing and participating at a higher level."
The worst courses, on the other hand, appear to be those that simply provide reading materials online, test the students on that content, and ask them to complete projects. My current students, who no longer have access to Florida Virtual School and now take different online classes at the campus computer lab, admitted that it's far too easy to find the answers to their tests and homework assignments by accessing Google on other devices. They've seen peers in other schools copy projects from the Internet, or reproduce those produced by friends who've taken the class already. I know of one particular student who actually runs a business taking virtual classes for others. This student, who's enrolled in an International Baccalaureate program at another public school in Miami, is headed for an Ivy League college in the fall.
Of course, virtual-education programs do what they can to deter cheating. Upon starting a class, for example, students must answer a number of personal questions to which only they know the answers: What's your favorite book? Where were you born? What was the name of your first pet? These questions may flash arbitrarily throughout the course, requiring a student to instantly answer or face a penalty. A teacher might randomly call a student who fails a test, too.
Yet these are hardly foolproof. Students who trade virtual courses with each other also hand off their personal Q-and-As. Most part-time virtual-school teachers hardly ever recognize their students' voices and don't realize that the kid answering an on-the-spot civics question isn't the same one who failed the test online two minutes ago. The opposite is also true. As my former student Lizza Martinez told me, "That system just sets itself up to fail. I can't even remember my [Florida Virtual School] teachers' names, let alone any info."
And courses like these often seem to be endorsed by state education departments, which are run with funds that frequently lack any accountability—if only because of poor record-keeping and the tendency among students to drop and re-take courses willy-nilly, sometimes several times per semester.
Still, students often have to pay enrollment fees every time they register for a program, even if it's the third time they're signing up for the same course. And it appears that part-time virtual-school students don't understand that they have become a commodity. They probably don't know that it's their public-school budgets, either directly or indirectly, that pay for the classes—which could mean no new football uniforms (or chemistry textbooks) that year. It's also unlikely that they realize that they won't get refunds when they drop or fail the course.
Nor do they appear to care about any of it, really. Very few of them are actually capable of learning new and often complicated material—say, calculus—online, by themselves, via a computer. Nor do they want to. It doesn't impact them unless, like Ahmed, they become victims of the system and another school district rejects their online credits.
Refusing to accept that she would have to repeat so much coursework and not graduate with her peers, Ahmed did her research and discovered that it is up to the principal's discretion whether to accept the online credits. Indeed, New York State education policy holds that, "After consulting with relevant faculty, [the principal] can award transfer credit … for work done at other educational and cultural institutions and for work done through independent study."
Eventually, thanks to her principal's judgment, Ahmed had five of her virtual-course credits reinstated. But it's still a compromise for her: Any of the courses she took after the 2012-13 school year only get recorded as blank credits without a letter grade or percentage, meaning that she doesn't get any boost to her GPA.
Although her counselor is urging college admissions committees to take her Florida transcript into account when evaluating her applications, Ahmed continued, "My entire junior year grades, including AP classes, mean nothing."
As for P.E., though, Ahmed had little choice. Florida requires only one credit of physical education, the equivalent of one semester. This can also be completed online, where questions may range from "How many points is a basketball goal?" to "What is a standard heart rate after [a certain amount] of [insert activity]?" Parents are supposed to witness and sign off on required physical activities, but as my former student Sarah Lennon Alfonso noted, "Virtual school is not the way to learn subjects such as P.E. One student will pretend to be another student's mom to attest to the fact she supposedly did 50 jumping jacks, let's say." In order to graduate on time in New York, therefore, Ahmed had to take two extra courses of P.E. during the day, and a third one at night.
This could be just why some states, like New York and New Jersey—which according to Bush's report received failing grades on various aspects of digital learning—are leery about accepting virtual credits. John Nittolo, the superintendent of New Jersey's Green Township school district, scoffed at his state's low grade, saying it's "tech-rich in the classrooms."
"Our students just assume that they will be able to utilize technology to enhance their education … not tech for tech's sake," he added.
Other states are also backtracking on virtual-education efforts. While Michigan was the first state to require students to take an online course for graduation, it revised its guidelines last year after investing significant funding in assessing the program's lukewarm results. And New Mexico's latest requirements, for example, state that an online- or distance-learning class can be substituted with advanced or community-college coursework.
As for Florida, it no longer depends on the student honor code to prevent cheating. With new emphasis being placed on "accountability," administrators want to see if the students are really learning—but without subjecting the kids to more random testing. So the Florida Virtual School has installed data-collection software to determine how long students are spending on each segment and test question. This may be able to tell them if students are, in fact, cheating, but it's hard to determine from this data if fraud is at play or if the material is simply too easy.
The truth is, any insight gathered from these findings will be flawed until policymakers figure out a way to take human nature out of the virtual environment. (Or until they find a way to mature high schoolers beyond their years.) As CompuHigh's Geib noted, "Online [courses] can be a great thing, but it's probably a waste of money to force it on students who just aren't going to do it," she said. "An army of hecklers can't force teenagers to do something they've made up their mind not to do."