The Governor Who (Maybe) Tried to Kill Liberal-Arts Education
Why Scott Walker's allegedly mistaken attempt to change the University of Wisconsin's mission statement is an omen for big changes to higher education in America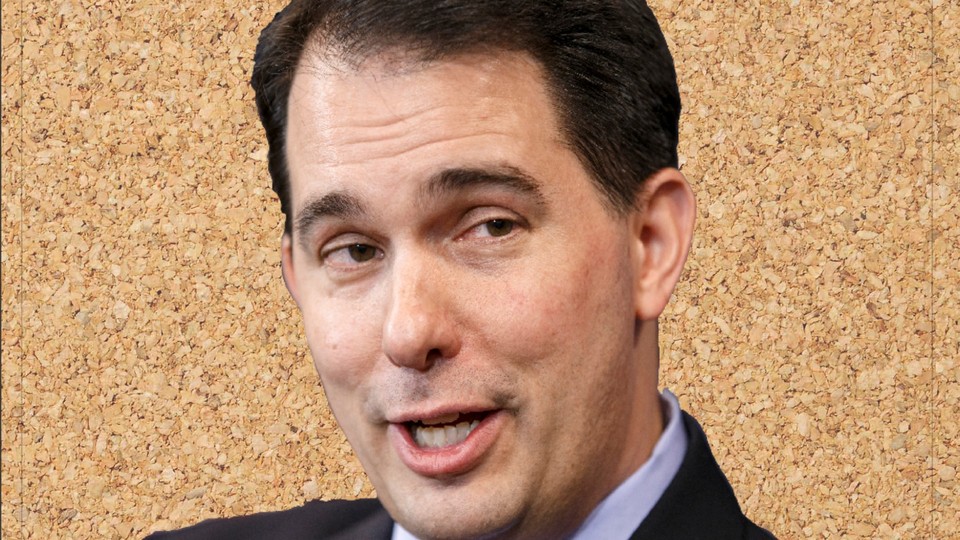 Last Wednesday, Wisconsin's Republican Gov. Scott Walker released a biennium budget plan that had a strange twist nestled inside. This line item didn't have much, if anything, to do with how he intended to spend the state's money; it had no numbers, dollar signs, nor provisos. It did, however, deal ever-so-vaguely with Wisconsin's economy—at least, what Walker envisioned it would look like down the line and how higher education would make that happen.
Walker proposed to rewrite the University of Wisconsin's mission statement. He apparently wanted to strip out its frills (stuff like "extended training," "public service," improving "the human condition," and "the search for truth") and inject it with a more practical goal: meeting "the state's workforce needs."
The proposal took aim at a cherished institution. Many university mission statements are read only by the committees that draft them. For a century, though, the University of Wisconsin has defined its purpose around the "Wisconsin Idea," the belief that the mission of the university is to improve people's lives beyond the classroom walls. The proposed changes deleted this public purpose, substituting the narrower goal of workforce education.
Within hours, amid a storm of criticism and outrage, Walker backtracked on the edits. In a statement on Thursday, Walker blamed the changes on a last-minute "drafting error." The intention, he said, was simply to reform the university's budget priorities and governance structure, a directive Walker's staffers misinterpreted:
We encourage a vigorous debate over the idea of an authority to govern the University of Wisconsin system or the status quo, as well as a debate about what is the real amount of savings that can be generated by an authority, which we believe is worth $150 million a year. However, there is no debate over the principles contained within the Wisconsin Idea …

Unfortunately, when my office told the budget staff to keep it simple, they took that to mean that we only wanted workforce readiness language in the mission when we really wanted the language added to the existing mission statement. They also responded to UW staff that this change was not open for discussion because they were told to keep it simple and only add in workforce readiness language.

Clearly, changing the Wisconsin Idea serves no purpose. That is why I made it clear on Wednesday that we would not change it in the budget. It is not a change of heart. It was a simple miscommunication between the natural back and forth of this process.
Whether Walker's justification holds water isn't clear. Skeptics in the news media and the higher-education world appear unconvinced that the change was merely a typo rather than an about-face in response to the immediate backlash. After all, internal memos leaked on Thursday to the Milwaukee Journal Sentinel and Wisconsin State Journal show that Walker's administration explicitly instructed the budget plan's drafters to delete clauses such as this one: "Basic to every purpose of the system is the search for truth."
Whatever Walker's intent, the situation has caused a good deal of hullabaloo, making national headlines and raising, or at least renewing, questions about the state of higher education in the country and the role of public universities in promoting state economies and American society's general well-being.
"Basically it's clear that, regardless of how it got into the language, there was an intent to reexamine or to look at redefining the core values of what our university is about," said Mark D. Schwartz, a geography professor at the University of Wisconsin—Milwaukee who serves on the school's Faculty Senate.
Carol Schneider is president of the Association of American Colleges and Universities, an organization that represents about 1,450 institutions and advocates for a "liberal education"—one that is broad and "public-spirited," matched to the spirit of a free, democratic society. Liberal education, she said, builds the kinds of capacities that are useful in any kind of job: critical thinking, problem-based reasoning, understanding the science of how society operates. This notion of a "liberal education" is what made America's university system "the envy of the world." But in recent years, she said, policymakers have attempted to rebrand that system.
Liberal-arts and humanities programs at public universities are increasingly under siege as state legislatures cut the institutions' funding, forcing school administrators to make tough decisions about what to eliminate. The obvious targets are the programs that yield a lower return on investment—at least in a concrete, monetary sense—and are more nebulous in their impact on the economy. What sounds like it has more dollar signs and productivity attached to it: philosophy or America's favorite new acronym, STEM?
Schneider pointed to the National Governors Association, which in 2011 published a report titled "Degrees for What Jobs? Raising Expectations for Universities and Colleges in a Global Economy." The report encouraged governors across the country, including Walker, to prioritize university programs geared around filling in-demand jobs. But it also served as a wake-up call to people like Schneider. "In reality, it was designed for downgrading expectations," Schneider said. "It's part of a national trend toward redefining higher education as trade education … [The Walker scenario] simply offers an unusually explicit glimpse at what it all actually means, but it was not unique."
This workforce-centric approach "is designed for short-term learning and long-term disaster," she said. "It's focused on the wrong measures of what actually matters."
The "Wisconsin Idea" embodies the very essence of a liberal education, which is why Walker's apparent attempt at scrapping it incited the reaction it did nationally. This idea treats the education and research produced within a university setting as a public good, a tool inherent to a democracy—not strictly a means to some end.
"I think it strikes to the heart of how important education is to the state, and how it's supposed to be a right that all Wisconsinites have and want to have access to and be a part of," said Jo Ellen Fair, a journalism professor at the University of Wisconsin—Madison who also serves on the campus' Faculty Senate. "Whatever knowledge is produced in the university should be accessible to Wisconsinites. We have a responsibility to ensure that whatever it is we're doing at the university should be something Wisconsinites can use and will enrich their lives."
"To see the university as a technical school is to miss the point of what we do," Fair continued. "Our research is all about trying to prepare our students to live in the world."