The Genius of Obama's Two-Year College Proposal
The plan's potential to promote socioeconomic and racial integration is critical to advancing higher education.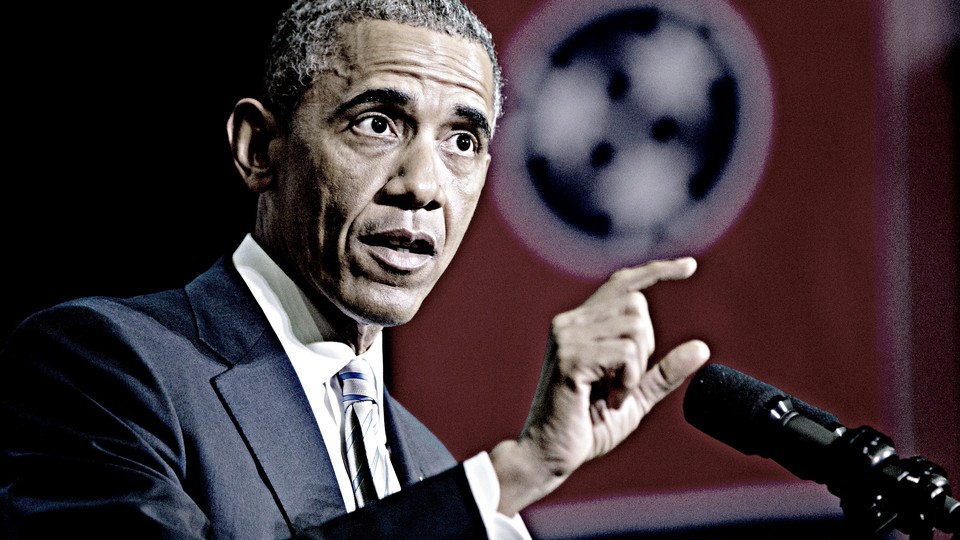 On Friday, President Obama traveled to Tennessee to propose that community college be free for all Americans willing to work hard—just as elementary and secondary schooling has long been universally free to students. In today's economy, a high school degree no longer guarantees a middle-class income, so Obama properly wants to update the country's social contract to make two years of college, not just high school, something students receive at public expense. "This proposal would make two years of college the norm in the way that high school was the norm in the last century," White House domestic policy advisor Cecilia Munoz explained.
Most commentators have focused on scrutinizing the plan's strategy, questioning its feasibility and its failure to address the root problems plaguing higher education. But they're overlooking the truly revolutionary possibility that it would make two-year institutions more economically and racially integrated—something that should be applauded.
Community colleges, which educate nearly half of the nation's 24 million college students, are already far more affordable than public four-year institutions. The annual tuition at public community colleges is $3,260, less than half the $8,890 average in-state tuition at public four- year institutions. Obama's initiative would reduce community-college tuition costs to zero for students across the economic spectrum—a plan that would cost the federal government $60 billion over 10 years. (It is possible, though not confirmed, that Obama will reserve Pell Grant money to offset other costs, such as books, transportation, food, and housing.)
Under the new program, the federal government would chip in three-quarters of the costs, while states would cover the balance. Students would be required to attend classes at least half-time and maintain at least a 2.5 GPA, or roughly a C+ average. Meanwhile, community colleges would have to "strengthen their programs and increase the number of students who graduate," according to a White House fact sheet.
No sooner was the proposal announced than the knives came out. One Republican aid argued that Obama shouldn't "federalize" a policy that begins at the state level, an odd complaint in a system that has long supported such programs, from the GI Bill to Pell Grants. Others suggested that the plan would never make it through the Republican House and Senate, although Obama noted that his program was modeled after one designed by Tennessee Republican Governor Bill Haslam.
Some liberals even joined in the criticism. Because the program is not limited to low-income students, middle-income and even wealthy community-college students could benefit. Donald Heller, dean of Michigan State University's College of Education, told Politico, "Should we really be giving those kids free tuition when their families can pay?" And the Institute for College Access and Success called the proposal "a Wolf in Sheep's Clothing," arguing that "making tuition free for all students regardless of their income is a missed opportunity to focus resources on the students who need aid the most."
This concern about targeting resources is understandable, but the genius of the Obama proposal lies in its universality. In Tennessee, almost 90 percent of graduating high school seniors have signed up for its new universal community-college program (though officials expect that the actual number of students who will eventually participate will be substantially lower).
These numbers are encouraging for two reasons. First, it suggests that some low-income students may be lured by the simplicity of "free." Although many disadvantaged students may have already attended tuition-free in the past—the maximum Pell Grant amount exceeds the average tuition at community colleges—navigating complicated financial-aid forms has proven notoriously difficult for struggling families. Introducing a bright word that everyone can understand—"free"—is a big step forward and appears to encourage participation.
Second, the high interest suggests some middle-class and wealthy families whose children would have otherwise attended four-year colleges may be giving two-year institutions a second look. While some argue that free tuition for upper- and middle-class students is a waste of resources, in fact it is in everyone's interest to ensure that community colleges are socioeconomically integrated. We have known since Brown v. Board of Education that separate educational institutions for black and white—or for poor and rich—are rarely equal.
Today, there is an enormous degree of economic stratification in higher education. According to research by Anthony Carnevale and Jeff Strohl of Georgetown University, wealthy students outnumber poor students at the most selective four-year colleges by 14 to one, while community colleges educate twice as many low-income students as high-income students. Moreover, their research finds that, between 1982 and 2006, the proportion of students from the richest quarter of the population attending community colleges has declined, while those attending from the poorest quarter has increased.
On one level, the fact that community colleges educate a disproportionate number of low-income students is the pride and glory of the sector. But, as a Century Foundation task force on community colleges noted in its 2013 report, "Bridging the Higher Education Divide," economic segregation also severely weakens the two-year sector.
The task force, chaired by Anthony Marx, president of the New York Public Library, and Eduardo Padron, president of Miami Dade College, concluded that the rising economic divide between two- and four-year institutions is bad for community college students, in part because the paucity of middle-class and upper-middle class students reduces the political capital of two-year campuses. Political scientists have long noted that programs for poor people tend to be poorly funded. And as the community-college student population has grown poorer, so has the ability to garner adequate educational resources.
According to a 2011 Delta Project report, total per-pupil operating expenditures at private research universities was $66,744 on average and $36,190 at public research institutions. Meanwhile, it was just $12,957 at public community colleges. The gap is partly explained by the research mission of universities, but when the research expenses are excluded—and only education and related spending is considered—a considerable gap remains. Private and public research universities spent $35,596 and $15,919 per pupil, respectively, while community colleges allocated just $10,242 per student. Between 1999 and 2009, per-student spending at private research universities jumped by almost $14,000 and by roughly $4,200 at public research universities—but community-college spending rose by just $1.
The Obama plan could help change this dynamic. As Libby Nelson points out in Vox, middle-class students are arguably "the biggest winners in Obama's free college plan." Drawing these students in greater numbers to community colleges could strengthen the hand of two-year colleges in state legislatures when it comes time to dividing up the higher education spending pie. Georgia's universal pre-k program "is very popular, championed by liberals and conservatives alike," because everyone benefits, she writes. By analogy, if community colleges were to draw a healthier economic mix of students, they might command a more equitable share of state resources.
In addition, researchers have found that the growing number of low-income and working-class students in community colleges has been associated with reduced educational expectations and a less-rigorous curriculum. Over time, community colleges have focused less on liberal arts courses designed to prepare students to transfer to four-year colleges and more on teaching vocational skills. One scholar found that community colleges often suffer from "low expectations of teachers and lack of support from fellow students for academic work." Researchers have also found important peer effects among college students. As economic segregation rises in community colleges, students are less likely to be surrounded by well-prepared middle-class classmates who model academic success.
Being cut off from financial and peer resources takes a toll on community-college students today. Research finds that though 81 percent of first-time community-college students enroll in school expecting to transfer to a four-year institution and get a bachelor's degree, just 12 percent end up doing so after six years.
Some of the poor performance of students in community colleges is a reflection of inadequate preparation in elementary and secondary school and tough personal economic circumstances that require students to work full time while pursuing their education. But researchers have also found that these students are less likely than their peers with similar backgrounds at four-year institutions to complete a bachelor's degree if they start at a community college. Examining students in Ohio, for example, Bridget Terry Long of Harvard University and Michal Kurlaender of the University of California at Davis found that students meeting this profile were 14 percent less likely to complete a bachelor's degree if they started at a two-year college than at a four-year institution.
The Obama proposal could begin an important process of reversing the negative effects of socioeconomic segregation in higher education. The plan won't deal with deeply entrenched inequalities in the country's K-12 system or with the inadequate number of guidance counselors at community colleges, among the other considerable obstacles facing low-income and minority students in American education. And Republicans in Congress may indeed reject the plan, despite the embrace of free community college by a Republican governor in Tennessee.
But Obama has now shed light on an idea that could prove difficult for Republicans to contain politically. Over time, the nation has steadily expanded universal public education—beginning with grammar school, then high school, and now, in a few experiments, to the first two years of college. Let the debates begin in 49 states over whether community-college tuition should be free as it is in Tennessee. And let's see whether expanding universal public education to the two-year sector will, in the end, begin to reduce higher education's economic divide and strengthen community colleges to become the engines of social mobility they were designed to be.