Teachers to the Test
Evaluating educators based on their students' exam scores is misguided and threatens reform efforts.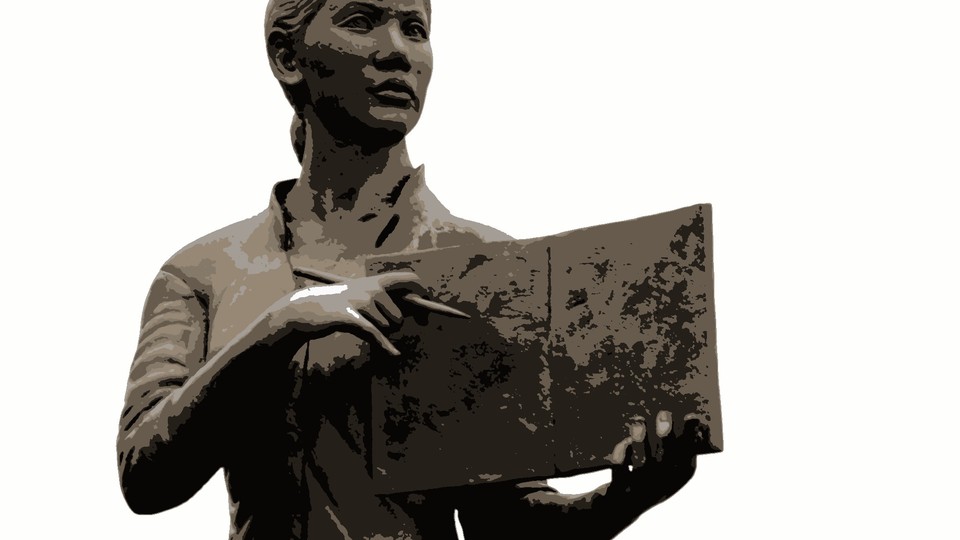 GREAT NECK, N.Y. — On September 2, the day her principal shared each teacher's annual evaluation, Sheri Lederman came home from work and announced to her husband that she was ready to quit.
In the span of one year, Lederman's score dropped 13 percentage points. Suddenly, she was demoted from an "effective" teacher to an "ineffective" one. It was enough to make her head spin. After all, this marks Lederman's 18th year in the classroom. She teaches fourth grade at the Elizabeth M. Baker Elementary School in Great Neck, a middle-class suburb about 20 miles from New York City.
A statewide teacher ranking system was implemented in 2012 and changed how educators were assessed. Nearly half of Lederman's score—40 percent—was tied to her students' test scores and the number of kids who progressed on statewide exams. The rest of the rating was based on classroom evaluations conducted by administrators. Depending on the final percentage, teachers in New York received ratings of "highly effective," "effective," "developing," or "ineffective." Teachers who received ineffective ratings for two consecutive years could face an expedited dismissal process—a fate that Lederman now fears might soon be her own.
The same year these new test-based evaluations went into effect, New York State launched the Common Core State Standards, controversial learning benchmarks that are being rolled out across the country. Along with these new standards came tests more difficult than schools had ever seen—and these exams sent student scores plummeting. This presented a great problem for teachers, who now had to depend on good scores on hard tests just to achieve a rating that wouldn't put their job in jeopardy.
Lederman was an early believer in the Common Core, standards that aim to deepen students' critical thinking and enhance problem-solving skills. With a Ph.D. in human development and educational psychology, Lederman was drawn to the idea that students in different states could develop a similar knowledge base and shared skill sets across an array of subject areas. But the concurrent rollout of new standards on top of harder tests—not to mention the addition of the stringent teacher evaluation system—has more than soured her on the Common Core.
Among educators, Lederman is hardly alone in her belief that that the one-two punch of Common Core and new test-based school reform is far too cumbersome and overwhelming—for both teachers and students.
At first Lederman was fine with the changes. Nearly 70 percent of Lederman's fourth-grade students did well on the new Common Core-based tests, scoring far above the state average. And after scoring perfectly on her classroom observations and students' district test performance, Lederman easily achieved an "effective" rating.
But things changed this year. The state gave her just one out of 20 possible points on the state's Common Core-test ranking because her new batch of students performed slightly more poorly than her previous class, and teachers' ratings are based largely on year-to-year progress. Even though these new 18 students far surpassed state averages in both reading and math—and even though Lederman once again achieved high district scores—these strides weren't enough to overcome the low score on the state portion of the evaluation.
So, Lederman, whose husband is a lawyer, decided to take action: In late October, she filed a lawsuit against the state's education department alleging that the new evaluations punish teachers rather than award excellence, among other claims. A hearing is scheduled for March 20.
Lederman's lawsuit is emblematic of a major backlash that's erupted across the country over the last year against both teacher evaluations and the Common Core—an uproar that's become mainstream, extending beyond the realm of teachers and administrators. The outcry has fueled legislation in some states, as well as multiple lawsuits aimed at dialing back the new policies.
A coalition of policymakers and business leaders introduced the Common Core in 2010, and more than 40 states adopted it by the following year. Simultaneously, over the past few years nearly 40 states have adopted laws linking teacher evaluations to student performance on standardized tests—and these tests typically assess whether kids are fulfilling the new standards.
Essentially, two groups of reformers were plugging away at ideas to transform education—and they came barreling down the track at exactly the same time. Though New York was one of the first states to tie teacher evaluations to the test scores, a slew of other states has followed suit. The reviews are designed to determine teachers' tenure, promotion, or termination as a means of ensuring, in theory, that the best educators stay in the classroom and the worst ones are weeded out. But educators say the policies' joint rollout has been flawed. Now, even die-hard advocates for the reforms are questioning whether the clashes over the changes will ultimately derail both ideas.
Sandi Jacobs, an executive at the National Council on Teacher Quality, a controversial nonprofit that advocates for tougher teacher standards, described this double-whammy as the accidental convergence of reform efforts: "How didn't we see this coming and the problems it was going to cause with the federal government prioritizing these two issues all at once?" Jacobs continued. "There wasn't enough concern about how these things were running down the path together until the tests became an issue."
Even Joe Williams, who directs Democrats for Education Reform—a contentious advocacy group that supports test-based evaluations and changes to current tenure laws—agrees that the rollout has been clunky. Different factions of the reform world seized upon opportunities that occurred at the same time and ignored what their counterparts were doing, he suggested. "There were two separate conversations happening," he said. "One hand didn't necessarily always know what the other hand was doing."
Some supporters of the new standards have blamed the Obama administration for stepping in with its own ambitious and controversial education initiatives, including the competitive Race to the Top program. The program incentivized a number of states, including New York, to attempt a potpourri of reforms at once, including the stringent teacher evaluations and standards that eventually became known as Common Core. Randi Weingarten, president of the American Federation of Teachers, blames Race to the Top and its "fixation on data and testing" for squelching the enthusiasm that initially accompanied the standards. New York's rollout, she said, was particularly egregious.
"This does not create confidence in public education, and a lot of people are saying let's just throw the whole thing out," said Weingarten, referring to the Common Core. "For those of us who believed in the potential of the standards, we've also lost a lot of credibility."
Now, some states look like they'll delay accountability efforts indefinitely, while others are tweaking how much the assessments count in teachers' annual evaluations.
* * *
Even people who helped develop the standards are worried about this collision, including Phil Daro and Susan Pimentel, who co-authored the math and reading benchmarks. But Daro said factors outside of the standards are to blame, namely testing: "Right now, everything is being blamed on the Common Core. There's an 'everything at once' mentality, as if slowing down is bogging down," Daro said. Pimentel, meanwhile, has been working to align materials and tests to new standards, while helping teachers make huge shifts. She said prematurely tying the assessments to teacher evaluations risks alienating teachers from the standards themselves.
And, last year, the Bill & Melinda Gates Foundation, which helped fund the Common Core standards' development, called on states to hold off on tying teacher performance to the tests. Education secretary Arne Duncan announced something similar later that summer.
It's no surprise that teachers' support for the standards has quickly waned. Among 1,600 teachers polled from around the country, the percentage of those who are enthusiastic about the Common Core has rapidly dropped—from 73 to 68 percent in the last year alone, according to a study commissioned by Scholastic.
Many educators in New York are wary things can be salvaged, including Adam Urbanski, the longtime president of the Rochester Teachers Association. "I do not have confidence this can be fixed," he said, noting that the state's new reforms are "poisoning the well."
Last year, labeling the rankings "junk science," the union filed a pending lawsuit against the state, citing a discrepancy in how urban teachers are ranked versus their suburban counterparts. Moreover, while only 2 percent of Rochester's 3,400 teachers received "highly effective" ratings during the 2012-13 year, that figure suddenly jumped to 46 percent the year after.
"Unless you believe in miracles, I predict that next year, we'll see another incredible swing," said Urbanski, a retired social studies teacher who used to support the standards. "Huge variations are part and parcel of unreliable systems. If it weren't so sad, it would be laughable."
Urbanski also said the new metrics unfairly penalize teachers who work with disadvantaged students, noting that an unprecedented number of educators have voluntarily resigned or retired early in the last two years. More concerning, he sees tenured teachers unwilling to work with student teachers for fear of disrupting their students' test scores. As a result, Rochester-based private and charter schools have used their exemption from the Common Core to recruit faculty and lure students.
Meanwhile, while teachers in other states that have adopted the changes more gradually seem to be benefitting, many are still confused. One such teacher is Arizona's Lauren D'Amico, who's experienced the sudden jolt of the new system. Two years ago, D'Amico's district launched test-based evaluations, with scores accounting for 25 percent of teachers' ratings. That ratio shot up to 40 percent the following year. For the 2012-13 school year, D'Amico was labeled as "developing." This past September, her score shot up two levels—to "highly effective"—as part of a rating system that mirrors that in New York.
But Williams, of Democrats for Education Reform, cautions against reverting back to the old evaluation system, which he described as unfair to good teachers. In New York, teachers previously received two ratings: "satisfactory" or "unsatisfactory." And, despite mediocre student test scores, 94 percent of teachers across New York State received "highly effective" or "effective ratings" this past fall; in some districts, not a single teacher received an ineffective rating.
"I'm scratching my head and wondering what kind of teacher I'm going to be this year," said D'Amico, who's been a elementary-school teacher for eight years. "If I went from developing to highly effective, what could this year have in store for me? It's a bogus system." (Now, her district has further ratcheted up the stakes by implementing a merit-pay system that ties final ratings to annual bonuses, which range between $1,000 and $5,000.) And to make matters more confusing, Arizona has stopped using the Common Core-based test it used initially, forcing students to take and teachers to adapt to an unfamiliar end-of-the-year exam.
Among the changes is another round of shifts in how Arizona teachers get evaluated. D'Amico used to come away with detailed feedback from her principal; now, she's graded on a rubric. D'Amico says she's sensing a precipitous drop in morale among her colleagues.
"When you have everybody reduced to numbers, it doesn't create a good atmosphere," said D'Amico, who also initially supported the Common Core. "It doesn't help teachers teach and it doesn't help children learn. Launching everything all at once, it just takes the wind out of everyone's sails."
---
This story was produced in collaboration with The Hechinger Report.