Smart, Low-Income Students Who Shun Good Colleges
High sticker prices and unfamiliar terminology tend to scare them away, but a potential low-cost solution simply involves giving them access to better information.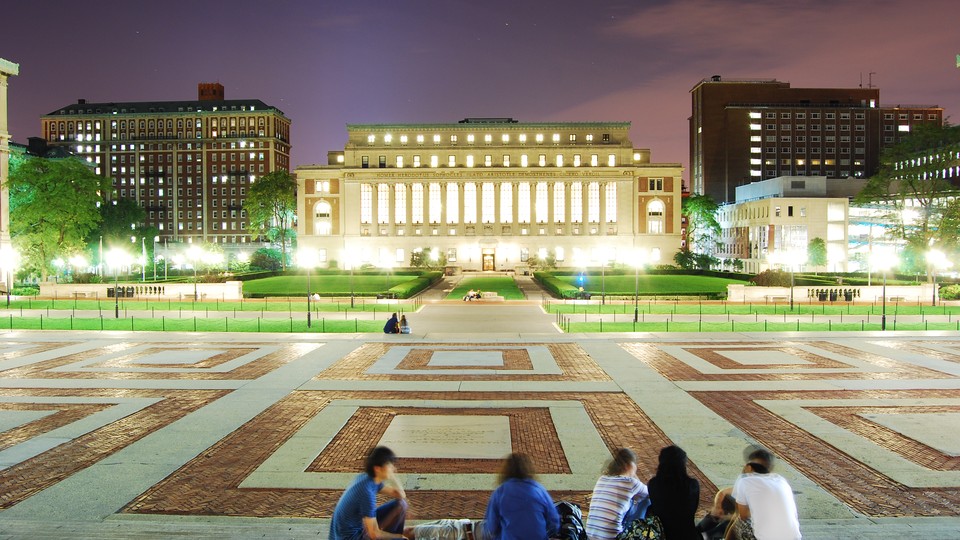 When asked in a research survey why he didn't apply to a selective U.S. college, one high-achieving, low-income student showed his misunderstanding of the commonly used term "liberal arts," which refers to schools that offer a broad range of arts and sciences:
"I am not liberal," he wrote.
Many bright, economically disadvantaged U.S. students end up at colleges with poor graduation track records and limited resources—even if they could attend better institutions and pay less money after receiving financial aid, according to research from economics professors Caroline Hoxby, of Stanford, and Christopher Avery, of Harvard. Many of these students neglect to apply to selective schools altogether, even though such schools often seek diversity in their student bodies. It's a waste of academic talent, a contributor to inequality, and a drag on economic mobility.
Bad information is the cause, according to Hoxby and Turner's research, which was recently published in a National Bureau of Economic Research working paper. And that's a problem that's entirely fixable. Students are misinformed about cost: They experience sticker shock at schools that appear to charge $50,000 or more a year for tuition, and they don't realize that the net price they would actually pay with financial aid is much lower, often below $10,000.
The study focuses on 12,000 students who scored in the top 10 percent on the SAT or ACT standardized exams, come from families that fall in the bottom third of the country's income distribution, and didn't attend schools that tend to feed into highly selective institutions.
Many of these students are also badly informed about how they match up with schools. They think "college is college," or they assume they wouldn't fit in at a particular school without knowing much about the different resources available or their comparative career and income outcomes.
A list of responses from the survey shows that many students, like the one above, lack basic information about private liberal-arts colleges. Some examples:
"What is a private liberal arts college?"

"I don't know what this is"

"I don't like learning useless things"
Some showed misperceptions about the offerings available:
"I don't like art/art related subjects."

"I'm a math/science guy. I'm not very good at liberal arts."

"Liberal arts is for people who aren't good at math."

"Liberal arts colleges typically do not have mathematics majors."
Others seemed to misinterpret the kinds of outcomes a liberal-arts degree can lead to:
"I plan on attending medical school."

"I plan on grad school later."

"Liberal arts degrees are worthless"

"Limited future career options"
Many liberal-arts schools have strong engineering, science, and math programs and report impressive post-graduation career outcomes and high graduate-school placement rates. The school with arguably the single-highest return on investment of any American institution is an engineering-focused liberal-arts school.
The researchers found that students make dramatically different—and better—decisions when they're simply given more information. The economics professors even designed a program for this type of student: ECO-C, short for "Expanding College Opportunities." It had an extraordinary impact on students' applications, admissions, and decisions, according to the paper.
The program offered each student personalized information on the real cost he or she could expect to pay, comparisons on what schools spend on instruction and academics, and graduation-rate data. It also provided a no-paperwork application fee waiver for about 200 selective schools. It didn't give students recommendations for which schools to apply to—just better tools and information.
The graph below shows the program's effect on application decisions. (A "peer" institution is one that fits the student's level of academic achievement and preparation.) Students applied and were admitted to more selective schools—including those with higher graduation rates and more spending per student—compared with those in a control group that didn't get the extra information.
---
Student Results After Access to Information

---
Compared with their peers in the control group, these students were 46 percent more likely to enroll in a "peer college." They were accepted to 41 percent more schools overall and ended up at institutions with 15 percent higher graduation rates and 21.5 percent more instructional spending.
This was just a small, pilot program. But it shows just how much the extra facts can help. And it's a low-cost way (around just $8 per student) to produce far better outcomes for low-income students.