Obama and the Ongoing Expansion of Public Education
In his State of the Union address Tuesday night, the president touched on his community-college proposal but failed to provide specifics.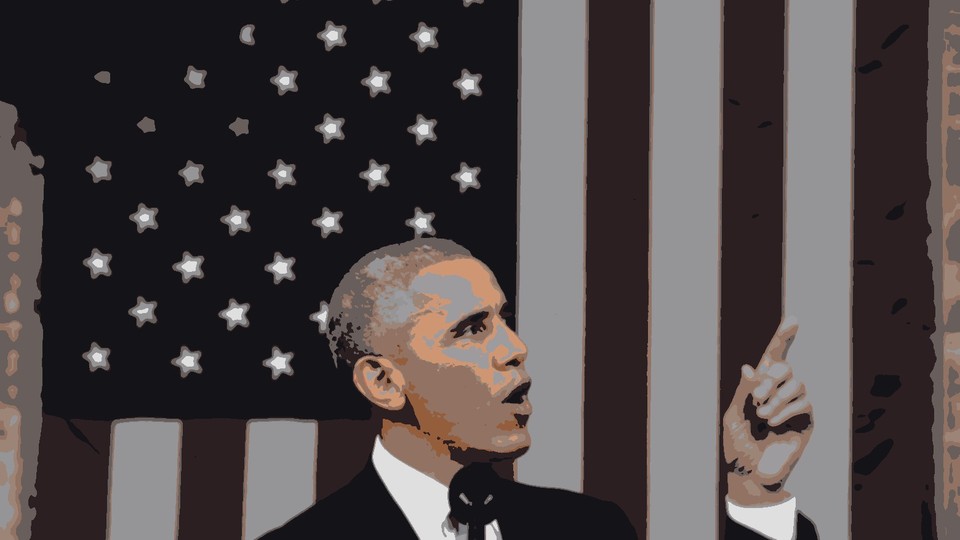 The news media has long questioned the relevancy of the State of the Union. Though the ritual is still treated by The White House as a pillar of the presidency—if not only due to tradition—some pundits and journalists regard it as little more than a glorified press conference. After all, many of the speeches' themes are hinted at piecemeal weeks in advance.
Still, perhaps naively, the education world eagerly awaited further details from President Barack Obama's address Tuesday night. Especially after the second-term president announced his community-college plan earlier this month

And though they may have been disappointed about the lack of details in his speech, that didn't stop the education community from using social media to harp on about the president's plans for young children and students, particularly his emphasis access across the school pipeline.
Randi Weingarten, president of the American Federation of Teachers, had this to say on Twitter:
Others, such as education writer Joy Resmovits, wanted a bit more:
#SOTU mentions #education 4x, school 5x, childcare 7x. No mention of: standards, teachers, preschool, assessment.

— Joy Resmovits (@Joy_Resmovits) January 21, 2015
While Obama did devote a few minutes to discussing his thoughts on community college—he mentioned the word "college" a dozen times—the plan's specifics took a backseat to other topics.
Obama did say this about community college:
By the end of this decade, two in three job openings will require some higher education. Two in three. And yet, we still live in a country where too many bright, striving Americans are priced out of the education they need. It's not fair to them, and it's not smart for our future. That's why I am sending this Congress a bold new plan to lower the cost of community college — to zero.
"America's College Promise," the tagline attached to his free community-college plan, remains vague despite widespread interest in the proposal. His video announcing that "promise"—the most popular post ever on the White House's Facebook page—contributed to a flurry of questions and skepticism about its practicality and parameters. Commentators have wondered whether it's just an empty promise or indeed a tangible effort to expand educational opportunity and provide some relief from the financial burdens of student debt.
Admittedly, Obama's initial announcement wasn't completely devoid of details, but his decision not to elaborate on the initiative's financial framework came as a disappointment. The plan is supposed to benefit 9 million students at a cost of roughly $60 billion over 10 years, with the federal government footing 75 percent of the bill and the states filling in the gap. It remains unclear exactly how Obama expects that arrangement to work.
In his references on Tuesday night to public education, Obama drew parallels to past struggles: "America thrived in the 20th century because we made high school free, sent a generation of GIs to college," he said.
Weingarten sees these past struggles as part of America's history. "If you think about the legacy of this country from the GI bill to the implementation of universal high school, this is our country's tradition," she recently told me.

As Obama emphasized Tuesday night, much of his plan was inspired by a Tennessee initiative spearheaded by Republican Governor Bill Haslam. Dubbed the "Tennessee Promise," the program similarly promises free tuition. But in reality it's garnered criticism for failing to serve the student populations most in need. Thankfully, Obama's plan doesn't appear to be a "last-dollar" effort—that is, one that's dependent on grants allocated only after other aid options have been exhausted.
Debbie Cochrane, a research advisor for The Institute for College Access and Success (TICAS), has mixed views about the proposal. While Cochrane appreciates that it has "jumpstarted many conversations we need to have in this country," she's skeptical about its impact. Tuition alone only covers about 20 percent of the overall cost of going to college, Cochrane noted.
"Eliminating that certainly would help ease some financial burdens," she said. "The question is whether or not all of those students need the help, and whether the benefit of providing the help to students of all incomes, outweighs the missed opportunity of not providing more help to those with lower incomes."

Considering additional expenses such as those for transportation and housing, money for tuition alone is rarely enough to cover the costs of attendance. It's no wonder the potential cost of Obama's program, and the ability of the country to pay for it, has come under scrutiny. Weingarten, however, insists that the program itself may be too important to question on the basis of its finances
"When someone says we can't afford this bill, I would say we have to afford it," she said. "If we are saying to students in the 21st century that college is your ticket to financial security, it becomes a matter of public policy for the country—that's the challenge the president's thrown out."

Financial issues aside, the most crucial part of the proposal perhaps lies in its scope. Obama has repeatedly mentioned two key phrases: "non-traditional students" and "vocational programs." Under the Tennessee Promise and other state efforts, only high-school graduates have been eligible for free community college. Yet community colleges typically serve much more than this young demographic. The average age of community-college students is 29; many of them are juggling jobs and families on top of school, too.

The merits of the community-college system itself have also been subject to debate. Over half of the students at two-year institutions have to take remedial-education courses upon enrollment. These courses are designed to catch students up on concepts they should have learned in high school. And while the classes are necessary to graduate, they don't come with college credits, so they can easily prolong a student's track to a degree; the longer students spend in college the less likely they are to graduate.
These are just a few of the many problems that plague community-college students and make attaining degrees so difficult. Cochrane of TICAS wonders if the plan would truly address the whole spectrum of problems affecting higher education—not just the superficial outcome of enrolling more students in school. "Our task is not just to get students to enroll but to to help them succeed once they're there," she said. "What good is it to enroll if you can't afford your textbooks or if you can't get to or from campus?"
Meanwhile, Obama's goals for vocational education—training for a particular trade that's typically offered at two-year institutions—have been celebrated. The American obsession with elite academia has excluded the people who don't want—or need—to attend college. This higher-education culture has pushed hoards of students into expensive four-year institutions and, subsequently, massive debt. Of course, this cultural tendency has its merits: College degrees are more important than ever in today's economy. Still, that push has contributed to stigmas about practical skilled labor.
Obama touts the expansion of vocational programs as a solution to this trend. And ultimately, the decision to implement Obama's community-college plan is up to Congress—a Republican-controlled body whose members are largely opposed to the president's goals. Moreover, its implementation would take a long time: The potential beneficiaries are likely in middle school or younger right now.

However, perhaps debates about the community-college initiative are too concerned with public policy at the expense of important philosophical questions, including those about the hope it could instill in Americans. Potential students who might have otherwise assumed they would never gain access to higher education may now see it as a viable option. "I think the simplistic messaging is really appealing," Cochrane said. "There are benefits to making the program universal, as such proposals have more political support."

And the prospect of the plan's impact on the country's overall prosperity is, indeed, encouraging. "Most of us aren't pole vaulters who can jump to the highest rungs of the ladder—we have to climb up it and that's what opportunity means," Weingarten said. "That's what public education is: You have to meet kids where they are not where you want them to be."