Free Community College, but Where's the Money?
President Obama has just proposed an idea that would benefit 9 million students, but he doesn't have a plan to fund it.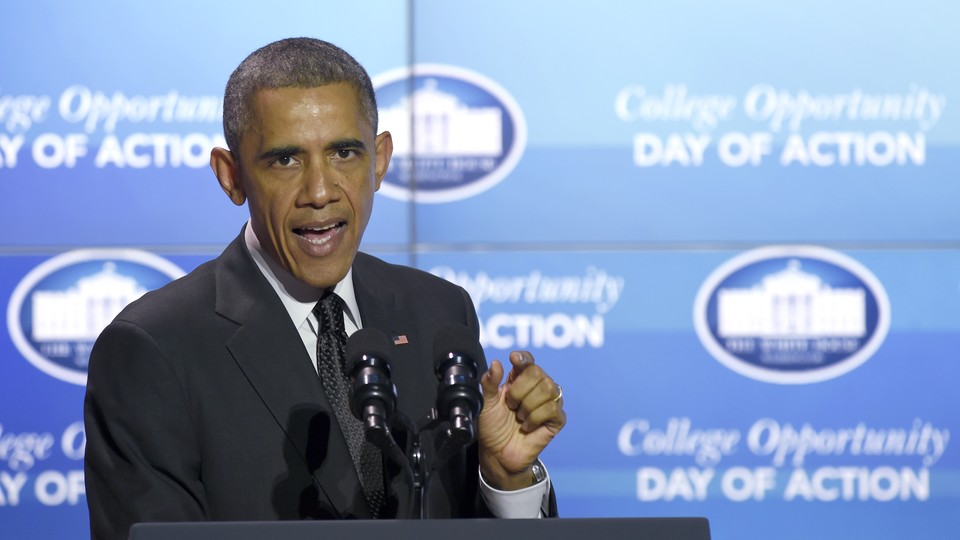 President Obama wants to provide free tuition at community colleges, a proposal that could benefit as many as 9 million students, according to a White House outline of the plan released Thursday.
But there's one big caveat in the proposal: There isn't plan to fund it, other than to ask Congress for the money.
Without that crucial piece of the program, which would be available to students as long as they maintain a 2.5 GPA, the idea is little more than a pipe dream. It resembles Obama's proposal in 2013 for a universal pre-k program for 4-year-olds. To provide free public pre-k for low-income families alone would cost $75 billion over 10 years, according to some analyses. Early-education lobbyists are struggling to figure out how to persuade lawmakers to pony up for that small part of a larger pre-k proposal. (A cigarette tax is among the items they are bandying about.)
When it comes to community colleges, the lobbyists haven't even gotten that far. Yet Obama is hoping to capitalize on a campaign he began in his first term to expand higher education for people who don't have easy access to four-year universities. Community colleges are increasingly becoming an affordable way for a student to attain the first half of a bachelor's degree before transferring to a four-year university. College tuition and student debt have proven to be powerful campaign tools, as Massachusetts' Democratic Sen. Elizabeth Warren has illustrated in her effort to reduce student-loan interest rates.
Obama, meanwhile, has been criticized by some in the higher-education community for his emphasis on community colleges over other types of schools that offer professional degrees, even as the education department has engaged in a six-year war with the for-profit college industry over its recruitment practices. This latest announcement from the White House isn't expected to smooth over any hard feelings.
The White House proposal is modeled after programs in Tennessee and Chicago that are experimenting with ways to offer tuition assistance to students. In Tennessee, a free community college program is funded through a state lottery. Georgia also provides tuition assistance for its residents through a state lottery, but those grants aren't limited to community colleges. Georgia's lottery also funds universal pre-k, although many eligible families can't get into those schools because the money is limited.
Even if this latest White House proposal were to gain approval from the Republican-controlled Congress (an unlikely scenario), states would still need to cooperate with the administration. Obama is proposing a split responsibility between states and the federal government in which the feds would offer 75 percent of the money to send students to community colleges, while the states would put up the rest. The design is, in part, a nod to states, which run the public college system—but it also could be read by some Republicans as a federal intrusion into states' turf.
The proposal, which will be rolled out in advance of the president's State of the Union address, is expected to appeal to Democrats and Millennials alike. The Millennial group Young Invincibles quickly applauded Obama's announcement, noting that college debt and tuition have skyrocketed over the last 15 years for young people. Any attempt to ease that burden, even if it's just talk at this point, is considered progress from their point of view.