A School for Children—and Their Parents
One D.C. charter aims to combat poverty by offering a range of free classes for adults, as well as early education for their kids.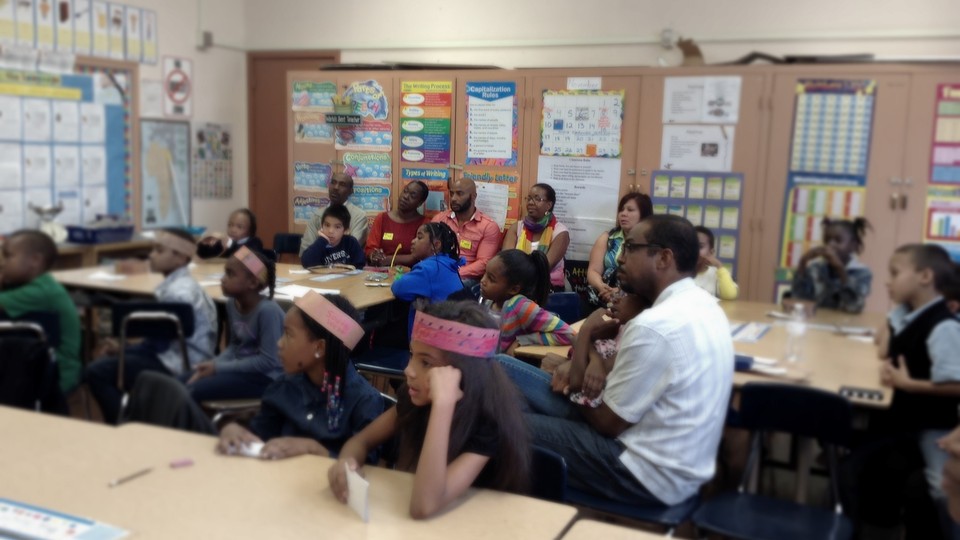 Shortly before the year-end holiday break at Briya Public Charter School in Washington, D.C., Paige Reuber started her workday by helping a student finalize her health insurance application, which had been rejected on the first try. Then, later that afternoon, Reuber headed to the class in which she teaches some 20 adults English-language basics. Her adult students had just completed their midterms and were focusing on holiday-themed phrases, words they used in their next class—one on computer skills—to make cards using a publishing software program.
English-language instruction, basic computer skills, parenting classes, and infant and toddler care—all during school hours—are services that Briya offers for free to adult students and their children. Would-be students—generally, people who have recently immigrated to the United States—simply have to put their names in a lottery to enroll in Briya, which has roughly 482 slots and is operated by D.C.'s public school charter system.
Entire families can enroll, with parents participating in the adult program and their 3- and 4-year-old children attending the preschool. The school also offers care for babies and toddlers. The school has three campuses, each of which are located within Mary's Center, a D.C. social-service and health clinic. In fact, many of Briya's students enroll in the school through referrals from the clinic, where they might have visited for health or welfare services.
Briya prides itself on being a one-stop shop for education and public assistance for disadvantaged adults, embracing the "two generation" approach to fighting poverty. Parents and children alike need access to education, health care, and work skills if they are to be elevated out of poverty, the school's founders believe. After operating for years as a family literacy center for immigrants, Briya became a charter school in 2005. It was one of the first institutions in the city's public school system to offer adult education and is the only one that offers schooling for those adults' kids.
Although teachers and social workers across the country espouse this "two generation" approach, the government generally hasn't invested in these types of programs. State and federal assistance programs are typically targeted to the child or the parent as separate entities—not as a single unit. Most of the programs, moreover, focus on children, perhaps a reflection of the public's reluctance to "reward" adults who are often cast as a drag on society.

Yet, most families living in poverty in the U.S. consist of young parents and their young children. Helping kids alone doesn't change the poverty cycle in which they live. Children might qualify for the federal Early Head Start program, for example, but that doesn't necessarily help their parents secure employment and navigate the job-searching process. And it's difficult for those children to achieve academically when their home lives are chaotic and lack basic necessities such as clothing and food.
"For all the strides we've made in investing in early education, we can't put all of the weight on the back of the child," said Anne Mosle, who directs Ascend, an Aspen Institute program that advocates for a holistic approach to educating families.
This is the approach Briya has been taking all along, though the program's name and funding sources have changed over time. A group of immigrants founded the school in 1989 as a family literacy center, largely in response to an influx of refugees from Central America and Vietnam. Today, immigrants still comprise most of the student body; about 80 percent of them are from Central America. Reuber's current adult class includes native Spanish, French, Vietnamese, and Amharic (Ethiopian) speakers.
The school's executive director, Christie McKay, emphasizes to incoming adult students that the institution is about more than free child care. And while attendance in classes isn't compulsory, students are expected to commit to the program for a full school year—for two-and-a-half hours every week day.
Briya also endeavors to make the curriculum relevant to students and their family lives. English classes, for example, often involve lessons on how parents can better engage with their children's teachers—a concern common among the adult students.
Some adult students at Briya stay longer than one year, particularly if they lack basic English literacy skills. Still, others drop out before they're finished; after all, grown-ups often have a lot more to worry about than just their studies.