Will Malaysia's Bold Education Goals Help It Become a Developed Nation?
The government wants 60 percent of high school graduates to specialize in science, technology, engineering, and math by 2020.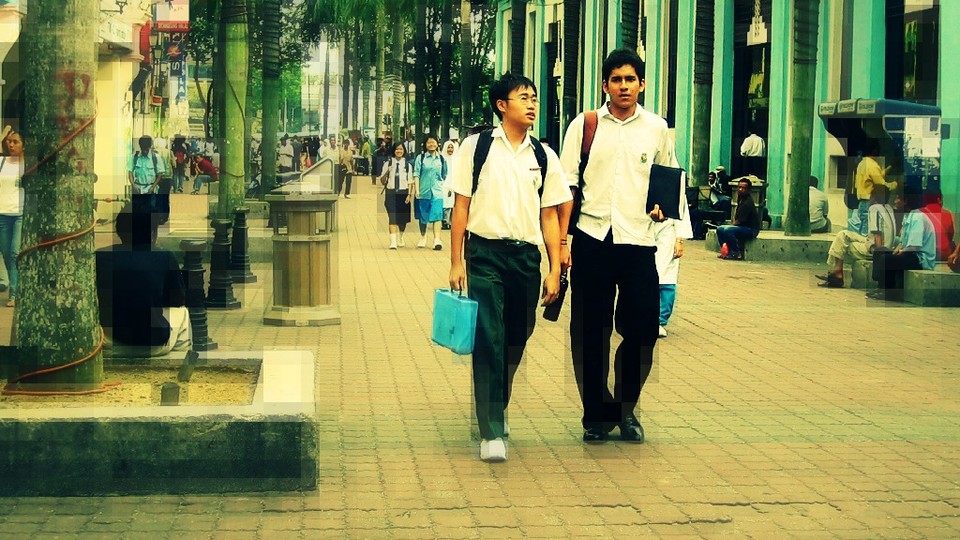 Malaysia has only been independent from Britain since 1957, but its trajectory towards development has been impressive. In the past few decades, the country of 28 million people has played an increasingly large role in the global economy, and the quality of life for its citizens has risen dramatically. Prime Minister Najib Razak, whose five years in office have led to new economic policies, has vowed to make Malaysia a developed nation by 2020. To accomplish that goal, he has increased the federal government's focus on science, technology, engineering, and math (STEM) fields, especially when it comes to education.
In September, Razak announced his goal for 60 percent of all high school graduates in Malaysia to specialize in STEM subjects by the 2020 "deadline"—a drastic increase from the current 40 percent, according to government figures. But the relationship between more focus on STEM and reaching "developed" status is iffy at best. The country is a constitutional monarchy and the federal government controls the education system, but the curriculum changes over the past decade haven't helped all of Malaysia's diverse population at the same rate. Will a stronger focus in STEM really help the country meet Razak's larger goal of development?
The line between "developing" and "developed" is ill-defined, despite various indices that claim otherwise. Most of these metrics rank a country's wealth or the quality of life for people living there. Education has a direct effect on both standards—the better a country's education system, the stronger its economy and the happier its citizens.
Given this relationship between education and well-being, it's easy to understand why Malaysian officials—and those of so many similarly developing countries—have made education a high priority for years. But in Malaysia, this focus on STEM is new. Young professionals in STEM fields will be the country's best bet to confront challenges that have plagued the country for generations, like poverty and access to health care, according to Khairiyah Mohd-Yusof, who directs the Centre for Engineering Education at Universiti Teknologi Malaysia in Kuala Lumpur. Malaysia's new role on the international stage, combined with a greater focus on STEM, could mean that young innovators are stepping up to tackle global problems like climate change and sustainability, Mohd-Yusof said. That could be enough bring Malaysia into "developed" status by almost any metric.
Now, about 40 percent of Malaysian high school graduates specialize in science—up from just 25 percent in 2000, government estimates suggest. To Dato Lee Yee Cheong, who chairs the UNESCO International Science Technology and Innovation Centre, the idea of raising this number to 60 percent in the next seven years is not only impossible, but also unnecessary for Malaysia to reach its development goals. "I have not seen anyone say [that] if we don't achieve that [60 percent in science] we're not going to achieve high income status," Malaysian-native Cheong said. "I don't know how we can do a quantum leap in seven years."
Malaysia has made a lot of strides towards development, but in the past that hasn't had much to do with science. The federal government, ostensibly the country's largest employer, hasn't incentivized science majors in the past, Cheong noted. "Government employment opportunities have always favored the arts graduate," Cheong said. After completing only three years of secondary school, arts-focused graduates can enter the workforce, often landing good-paying civil-service positions that lead to rapid promotions. Science education takes longer, Cheong said, and that time investment comes with limited employment opportunities for college graduates with degrees in the hard sciences. So there has been no reason to bother with science education when an arts degree will get you earning more money faster.
But now, that's changing. Bolstering the government's assumption that STEM education leads to development is a growing demand for professionals with a background in such fields, from engineers who will update the country's aging infrastructure to doctors who will care for its rising population.
At the end of the day, a greater focus on STEM might help Malaysia meet its "developed" goal, but the experts agree that the biggest reforms should occur earlier in kids' educational experience, well before students get to high school. Teachers need to be trained better, Mohd-Yusof said, so they can encourage students' interest in the process of scientific inquiry early on. That's the best way to get more students interested in science down the line.
In some ways, Malaysia faces fewer problems than the U.S. when it comes to reforming science education: The country's population is much smaller, and there's no shortage of women or minorities in STEM. "But we still need to improve quite a lot," Mohd-Yusof said. "Policy makers are doing well, but we need to do more."