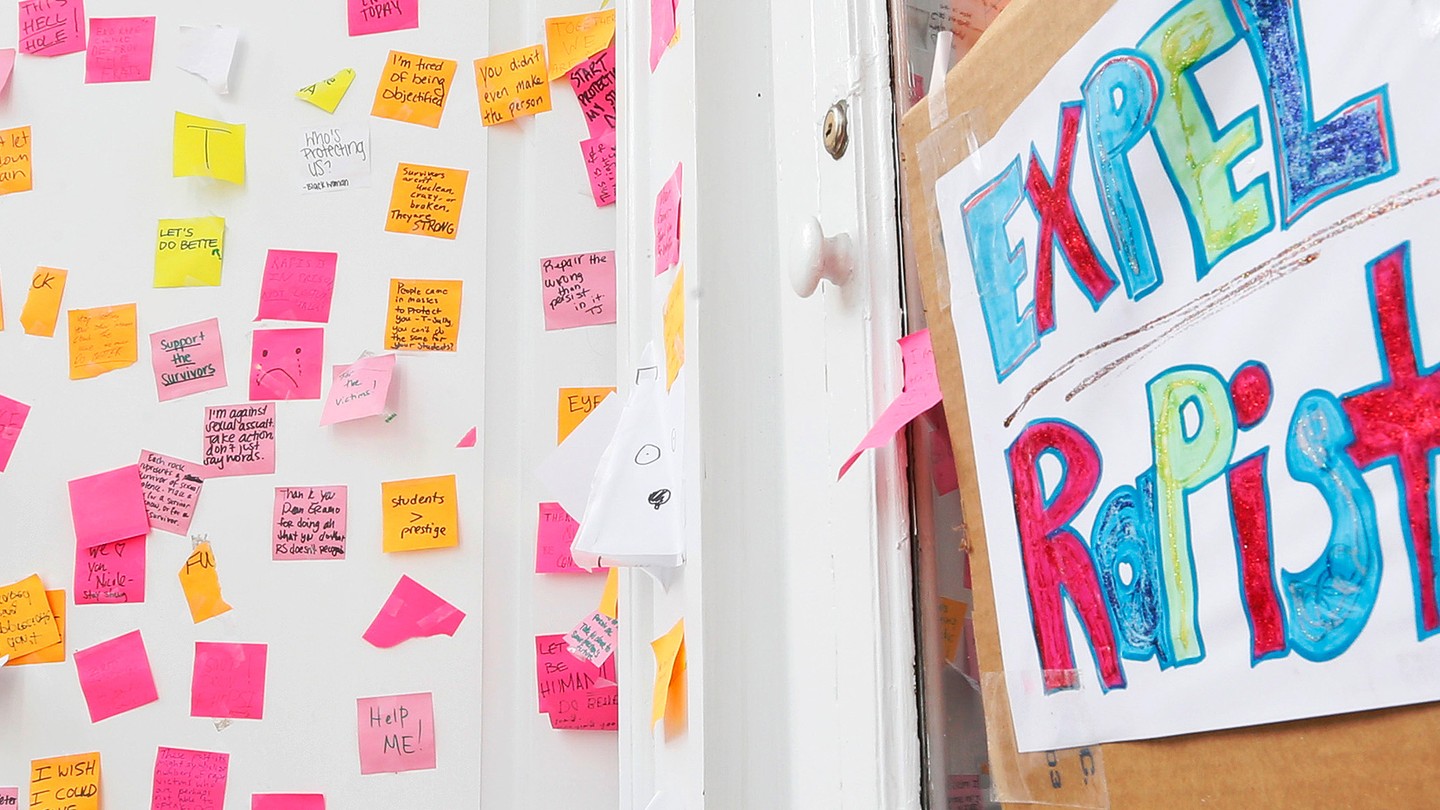 When Helping Rape Victims Hurts a College's Reputation
Better support services can encourage more students to speak out—and that increases the number of reported assaults on campus.
The day after Rolling Stone published its now-notorious feature about a gruesome fraternity gang rape at the University of Virginia, UVA President Teresa Sullivan issued a statement defending her school. The language she used was oddly dispassionate, listing all the programs UVA had in place to help sexual-assault victims but never expressing any remorse or anger. Her response fueled a series of major protests at UVA. Students demanded to know why their administration was staying so calm and detached. Their questions were echoed by the national media: Why wasn't the president outraged? Why wasn't she doing something?
Two days later, she did. On November 22, Sullivan announced a temporary ban on all campus fraternities until January 9. This time, her choice of words made it clear the school was taking the article seriously: "I write you today in solidarity. I write you in great sorrow, great rage, but most importantly, with great determination. Meaningful change is necessary, and we can lead that change for all universities."
Then came Rolling Stone's admission that the story of the main character, Jackie, had been filled with inconsistencies. In the confusion that has followed, it's unclear whether Sullivan's grand gesture will leave any lasting imprint at all. The fraternities are going to reopen—soon—and the culture they perpetuate will continue. Jackie's story aside, 38 UVA students reported assault incidents to the school's Sexual Misconduct Board last year, and only four of those cases led to official hearings. But particularly at a time when the U.S. Department of Education is investigating 85 colleges and universities for mishandling sexual assault, UVA doesn't want to look like a school that doesn't care.
Other schools feel the same way. The recent government and media censure of college sexual assault—beginning with the high-profile Title IX complaints at Yale in 2011—has led to sweeping institutional changes across the country. Unlike the temporary fraternity ban, many of these are significant. Colleges are offering victims more administrative support and implementing standards that require a student to say "yes" to sex instead of not saying "no." But the motive behind these changes isn't clear. Are these colleges interested in protecting the rights and wellbeing of their students, or are they concerned with their own reputations? Does it even matter, as long as victims get the resources they need?
It might. From the perspective of a university administrator who is concerned primarily with his school's reputation, a sexual assault that goes unreported is a sexual assault that never actually happened. That's why there's a difference between symbolic gestures like UVA's fraternity suspension and policies that actually encourage victims to speak up about their experiences. More transparency means more recorded victims.
In the late 1980s, for the first time, college sexual assault became a national scandal. And the way it played out shows just how important an administration's motives can be. Much like today, schools rushed to make reforms after the media picked up on a string of high-profile cases. By the early 1990s, it became obvious that the changes—new programs and policies supporting victims—had persuaded far more victims to come forward with their stories. Suddenly the colleges with the best reforms were also the ones with the highest-recorded numbers of sexual assaults. The administrations frantically backpedalled, trying to dismantle the new resources just as their student bodies were beginning to use them.
The stories of two schools—a small, private university, Princeton, and a larger, public one, the University of New Hampshire—illustrate the national trend that lasted from 1987 to 1990. If the today's administrations follow a similar pattern on sexual-assault reform, their current programs could vanish, just as the reforms did over two decades ago.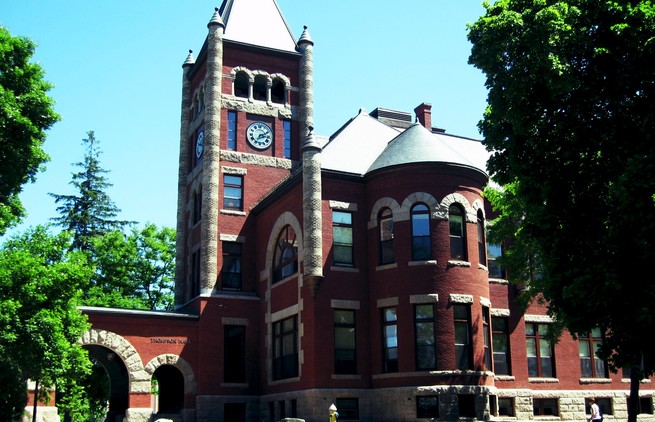 Early on the morning of February 19, 1987, John Fox, Chris Spann, and Gordon Williams—students at the University of New Hampshire—were wandering around Stoke Hall, the school's largest freshman dormitory. Around 2:30 a.m., they stopped to talk to Sara, a freshman girl they didn't know. She was stumbling and slurring her words, clearly drunk. Fox asked her for a goodnight kiss, which, according to Fox, she gave willingly. Then Fox took her into his room and had sex with her. After a few minutes, he went to find Williams.
At a UNH campus disciplinary hearing, Williams described what happened next: "John comes in and says, 'I just did it with a girl, she's really horny. Why don't you go down and give it a try?'" He followed Fox back to the room and ordered Sara to give him a blowjob. Soon, Spann joined his friends and also had sex with Sara. By this time, a crowd had formed outside the room. Fox stood in the middle, high-fiving his friends and bragging about the "train" that was going on inside. When a girl asked to go in, Fox refused: "You can't. There's a really drunk girl in there and Gordie's doing really bad things with her."
Eventually, the resident assistant entered the room and told Spann he wanted Sara out, adding, "Do you know that what you're doing could be considered rape?" But instead of enforcing his demand, he went off to find his own friends and laugh about what was happening. "It was funny," he said at the hearing, "in a sick kind of way."
After Sara reported the assault to the UNH administration, the school scheduled the hearing and chose to make it public. Almost 200 people showed up to watch—Sara's parents and friends, university professors, and a large group of brothers from Fox and Spann's fraternity. "People came with their sandwiches and their thermoses to sit and listen to the gory details," said Dan Garvey, then-assistant dean of student affairs, in a recent interview.
This was the first sexual-assault hearing at UNH—and one of the first in the country—to be open to the public. For the most part, the public was outraged. Spectators were appalled by the kind of evidence that the university disciplinary committee—a body made up of UNH professors and administrators—allowed to come out during the trial. Witnesses were repeatedly asked about Sara's past sexual history—questions that, in a civil court, would have been barred as improper character evidence. The first time this happened, Sara's father stood up and objected, but the committee allowed the questioning to continue.
On May 7, after four days of testimony, the disciplinary committee found all three men not guilty of sexual assault. The UNH community responded with a series of highly visible protests, one of which involved hanging effigies of Fox and Spann from the roof of the hall where the hearing had taken place. Over 70 faculty and staff formed an ad hoc committee, demanding that the administration overhaul the campus judicial system and nullify Sara's hearing. Local New Hampshire newspapers and TV channels publicized the incident and its turbulent aftermath. A few months later, a large regional magazine, The New England Monthly, published a 15-page feature on Sara's story.
"Because the hearing was open, we all saw the weaknesses of the system," Maggie Morrison, the administrator tasked with responding to sexual-assault issues at UNH before Sara's trial, told me. "The tension really started to build between the administration and those who wanted to institute change."
Around the same time, in April 1987, Take Back the Night held its first Princeton vigil. Over 300 students, faculty, and staff gathered for the nighttime march, walking around campus and telling stories of sexual assaults that had happened there. They ended the event by marching past the 12 Eating Clubs on Prospect Avenue, Princeton's version of a fraternity row. Far more women had been assaulted inside those mansions than in any other place on campus.
When the marchers turned onto Prospect Avenue, they found a group of 30 male students waiting for them. One held a sign that said "We can rape whoever we want." Another pulled down his pants, yelling, "You can suck my dick!" The rest shouted other threats and insults, including "Get raped!" "Fucking beat them up!" and "Take back the dykes!" Two of the men then drove a car towards the marchers, crashing into two protesters at the front of the group.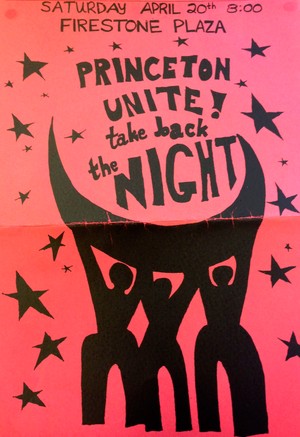 A marcher with a camcorder was able to capture everything: the flashing, the signs, the threats. This tape proved to be crucial because, up until that point, major players in the administration had denied that sexual assault ever happened at Princeton. In the months leading up to the march, Sigall and other Women's Center leaders had met with the Princeton provost on multiple occasions, urging him to hire a full-time sexual-assault advocate. At one of those meetings, several of the students remember him saying, "Princeton men don't assault women. Princeton men are gentlemen."
"I remember the moment when we realized, 'Oh my God. Someone is filming. It's on tape,'" said Elana Sigall, a member of the Princeton class of '88 and a leader of the march, in a recent interview. "The administration couldn't say it didn't happen."
Newspapers all over the country, including The New York Times, covered Princeton's Take Back the Night March. The organizers sent the tape to 60 Minutes, hoping it would go national. As soon as the provost's office heard that the tape existed, it called the Women's Center, requesting the footage.
"They claimed that they wanted to investigate what had happened," said Cathy Bowman, a member of the Princeton class of '89 and another march leader. "But we knew they really just wanted the tape. It wasn't easy to make copies in those days. They didn't want it getting around."
This wasn't the first misogynistic incident to go public at Princeton, but it was the first time the administration seemed to really pay attention. The Women's Center activists credit the videotape. The media coverage made it seem like Princeton had a particular sexual-assault problem. And the university had to respond.
Gordon Haaland, president of the University of New Hampshire during Sara's hearing, finally responded to his community's protests in the summer of 1987.  He created two task forces—one to fix the campus judicial process, and another to examine how the school dealt specifically with sexual-assault cases. Over the course of the fall semester, these task forces made some headway for UNH sexual-assault victims. The judicial task force mandated that all members of the disciplinary committee receive specialized sexual-assault training and adopt a new method to weigh evidence—to value different interpretations of an event, in addition to hard proof.
But the most influential changes were those implemented by the sexual-assault task force. Based on their recommendations, the university hired a new full-time employee to direct the Sexual Harassment and Assault Response and Prevention Program (SHARPP). Before this point, SHARPP had existed, but hadn't done much. The administrator in charge had had no sexual-assault training and had taken on the role in addition to a host of other responsibilities. The task force decided it needed a professional who could make sexual assault his or her sole priority. The new director would be the first point of contact for sexual-assault victims and would help them navigate the university's response system—which could be complicated and confusing, particularly for victims of serious trauma.
UNH hired Eve Goodmon in late April 1988. Her job as SHARPP's director was to make the system more accessible and less daunting. On a case-by-case basis, she would ensure that no victim got lost. She'd speak regularly with everyone who had anything to do with UNH sexual-assault victims: public safety officers, nurses, deans, members of the disciplinary committee, and SHARPP advocates involved in a new program that certified student, faculty, and staff to counsel victims.
From the very beginning, Goodmon's role improved the experience of student sexual-assault victims at UNH. In the 1989–90 academic year alone, SHARPP served over 60 of them. While no numbers had been recorded in the years before Goodmon was hired, the previous SHARPP director Maggie Morrison remembers working with far fewer students. After Goodmon was hired, victims knew that help existed and where to go to get it. Whether they wanted to pursue a formal campus hearing, or just get some counseling, Goodmon could shepherd them through the system. With that kind of resource available, many more victims were willing to come forward.
Meanwhile, in response to the Take Back the Night harassment, the Princeton administration made changes almost identical to those made by UNH. They hired a new employee, Myra Hindus, to work exclusively on campus sexual assault. Before long, she was directing a program just like SHARPP: the Sexual Harassment/Assault Advising, Resources, and Education program (SHARE).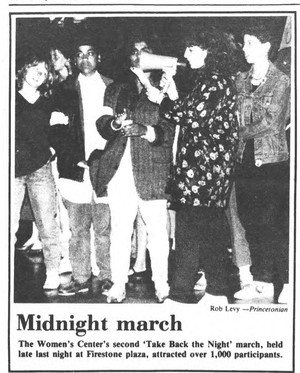 Before Hindus started SHARE, the university was directing sexual-assault victims to "Designated Individuals" (DIs), administrators who had undergone some form of sexual-assault training. The DIs explained the student's options, which included counseling, mediation, and a formal disciplinary hearing. The DIs didn't provide counseling themselves but referred the victim to someone who could. If the victim chose to pursue a disciplinary hearing, the DI helped her through the process. But this system had some serious problems.
Because the list of DIs was not widely publicized and most referrals came through word of mouth, it wasn't clear exactly whom the victims were supposed to seek out for support. In its official sexual-assault policy, Princeton specified that Hindus would not replace the DIs—she'd supplement them. However, according to Hindus, undergraduates soon began coming to her for any problem related to sexual assault or harassment, making the DI system obsolete.
The positive student response was even more pronounced at Princeton than at UNH. Over the course of Hindus's first three years, the number of students using SHARE grew nearly fivefold from 50 to 240. As with SHARPP at UNH, the increased number of students reporting to SHARE did not necessarily mean that more sexual assaults were occurring on campus.
In an article published in the student magazine, Nassau Weekly, on April 27, 1989, an anonymous student and rape survivor reported that she'd initially sought help from a school therapist, who urged her to question whether what had happened had actually been rape. The student walked out of the counseling center feeling confused and guilty, but eventually she decided to also disclose her story to the SHARE office. Talking to Hindus, she wrote, was different. "It was one of the most powerful experiences I have ever had to sit with her the first time and have her totally validate my perceptions of what had happened."
Based on her years of experience working with sexual-assault victims, Hindus understood the importance of affirming a victim's story and giving her the language to talk about it. In the late 1980's, the media had just started to use the term, "acquaintance rape." Many people still recognized rape as something that only happened between strangers in dark, deserted places. It wasn't clear that a woman could be raped by a friend while drunk at a party—and this led victims to doubt their own stories. Today, it's known that 80 percent of sexual assaults on college campuses involve alcohol, but this statistic and its implications weren't always understood. Advocates like Hindus helped victims to stop blaming themselves. Student-written articles published in Princeton publications suggest that victims left the SHARE office feeling empowered to come to terms with their assaults and, in many cases, to do something about them.
Two years after Goodmon started working at UNH as the SHARPP director, the administration started to question the effectiveness of the program. When talk turned to ousting Goodmon, the faculty and staff on SHARPP Advisory Board immediately spoke out against the move. They wrote a letter to the university president, listing all of Goodmon's accomplishments as the program's director. Under her leadership, they said, far more victims had been seeking help from the university than ever before. The UNH archives don't provide a definitive reason why administrators started to talk about finding a new director, but the advisory board's letter suggested it was an attempt to preserve the school's image:
As a result of Eve's work, the University sometimes appears in the press in an unfavorable light. A major part of her mission is to empower victims of assault; often this results in the victim coming forward. A noisy victim can be a nuisance; she says things the community at large does not wish to hear. Particularly in times of economic difficulty there is a natural concern for the image of the university.
The board also acknowledged that Goodmon had an assertive temperament. She often voiced opinions that directly opposed those of top administrators. But the board argued that this "abrasive personality" was part of why they'd chosen Goodmon for the job—and why she'd been so successful.
"We wanted a strong, grounded woman who would speak truth to power—someone who would be able to deal with the male culture that was our administration," said Morrison, the former sexual-assault administrator who was part of the task force that had selected Goodmon two years before. Removing Goodmon from her position wouldn't stop sexual assaults from happening, they insisted—it would just make victims less likely to talk about them.
One member of the advisory board, English Professor Andrew Merton, wrote his own separate letter to the administration. He cautioned administrators to consider that the decision to fire Goodmon could backfire: "Such a move would harm the image of the University in the eyes of the public."
UNH eventually took the advisory board's advice. Goodmon continued to work there until she left of her own volition three years later. But even though the university didn't fire Goodmon, the administration's reservations about her work were revealing. The criticism surfaced only after Goodmon's program had clearly become a success, well received by the student community—and that same pattern played out 300 miles away, in Princeton.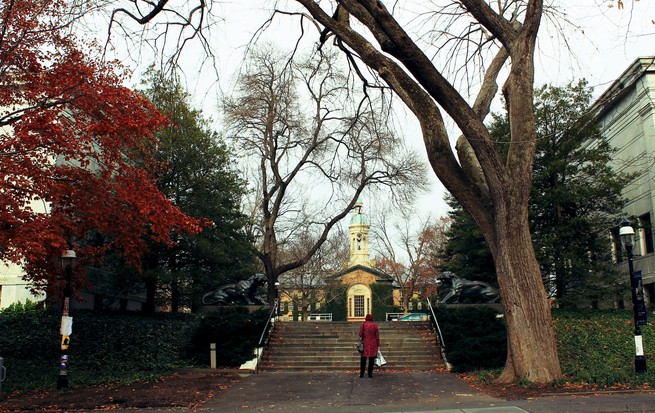 As SHARE began to serve more and more students, the program became desperate for university resources. Most victims who sought Hindus's help required hours of counseling and advocacy services—far more time than one employee could give. So in the fall of 1989, student activists started asking Princeton to hire another full-time SHARE advocate.
Around the same time, senior Princeton administrators began delegating out some of SHARE's most important responsibilities. Since its creation in 1987, SHARE had had three major tasks: educating the community, providing counseling services, and guiding victims through the disciplinary system if they chose to pursue a formal hearing. Almost all of the 240 alleged victims in the 1989–90 academic year received some kind of counseling from SHARE.
Vice President Thomas Wright was the first to propose that all counseling responsibilities be confined to Princeton's counseling center. At a time when the university was making major budget cuts, Wright said he saw consolidating counseling services as an opportunity to save. He told me in a recent interview that hiring a second SHARE advocate would have encouraged even more students to take advantage of Princeton's "open door" counseling policies, and Princeton didn't have the money for that.
In a Nassau Weekly article, Cathy Bowman accused the administration of intentionally trying to weaken SHARE's influence by stripping the program of its counseling duties. Bowman pointed out that far more sexual-assault victims sought counseling from SHARE than had ever spoken to the school's standard therapists. Sending students back to the counseling center would make them far less likely to speak out.
In an effort persuade the administration to hire another SHARE employee, sophomore activist Corinne Roosevelt raised $18,000, more than half the money needed for the new salary, in February 1990. An alumna pledged $9,000, and three of the four Princeton class presidents promised $1,000. But the university refused to use this money to pay for a second SHARE advocate. Instead, Wright allegedly told Roosevelt that the funds she'd raised would replace some of the salary the university was already paying Hindus.
"People should contribute to the University as a whole and let the University decide where the money should go," Wright told me. "Having the University's programming be determined by where the money is—well, that seemed like a bad idea." President Shapiro agreed: "We do not want to allow someone to distort our priorities."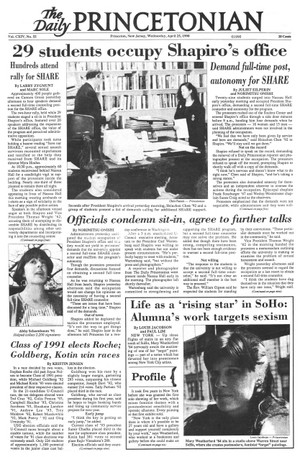 In April 1990, the student activists circulated a petition that made two demands of Princeton's leadership: hire a second full-time SHARE employee and allow the program to continue to offering both advocacy and counseling services. Twenty-two hundred students, faculty, and staff signed the document before it was delivered to Wright and Shapiro.
The administration didn't respond. After waiting a week, students, faculty, and staff orchestrated a campus-wide protest. On the morning of April 24, as hundreds of students rallied outside, 29 students occupied Shapiro's office for 32 hours, refusing to leave until the administration agreed to give SHARE more resources. By the end of the day, the petition had more than 4,000 signatures.
Despite this overwhelming demonstration of support, the administration still refused to make any major concessions. And after the sit-in and rally, the debate lost momentum. At the end of the school year, the most involved student activists graduated and Myra Hindus left Princeton. She wasn't fired, but she did tell me she felt she had been "forced out."
"The administration did not want SHARE to get bigger," Hindus said. "They were afraid of SHARE and afraid of this issue getting so public." Like Goodmon, Hindus made it her practice to release the number of victims who visited the SHARE office. "The University had started getting calls from news outlets because of the work SHARE was doing," she told me. "They didn't want to be associated with the sexual-assault issue."
Princeton and UNH were two of the first colleges to do anything concrete about sexual assault—and the first to grapple with the ensuing publicity. As soon as they realized the impact these new initiatives might have on their schools' reputations, they pulled back. Instead of investing more money in programs that were encouraging assault victims to speak out, they tried to decentralize their power, limit their resources, or replace the people in charge.
Today, Princeton is launching a new effort to help sexual-assault victims. The campus hasn't faced the level of media attention that dogged the University of Virginia. But it was one of several universities singled out by the Department of Education for possible violation of Title IX, which requires schools to protect their students from sexual harassment and assault.
After the department began investigating Princeton in April (and ultimately found it guilty of violations), the university took several concrete steps: It created a new position of "Title IX Coordinator," replaced its student and faculty disciplinary committee with a panel of trained investigators, and lowered its burden of proof to "preponderance of the evidence" for all sexual-assault cases. The university also recently approved an additional $140,000 in funding for SHARE in the 2014–15 academic year, and an annual $120,000 for the years that follow.
These changes are almost certainly going to help victims. More money means more resources and more support. A lower burden of proof means more women will have the confidence to come forward, and more assailants will be punished. But it's significant that none of these developments took place until the university had been publicly shamed by the White House and the media. If history is any indicator, this topic may simmer for a while and then recede from the national spotlight. When it does, there will be less pressure for colleges and universities to maintain their reforms. When that time comes, schools might take stock of their reported numbers and quietly scale back their programs, reverting to policies that keep more victims quiet.