Being an 'Elephant Mom' in the Time of the Tiger Mother
It's okay for parents to nurture, protect, and encourage their children, especially when they're very young.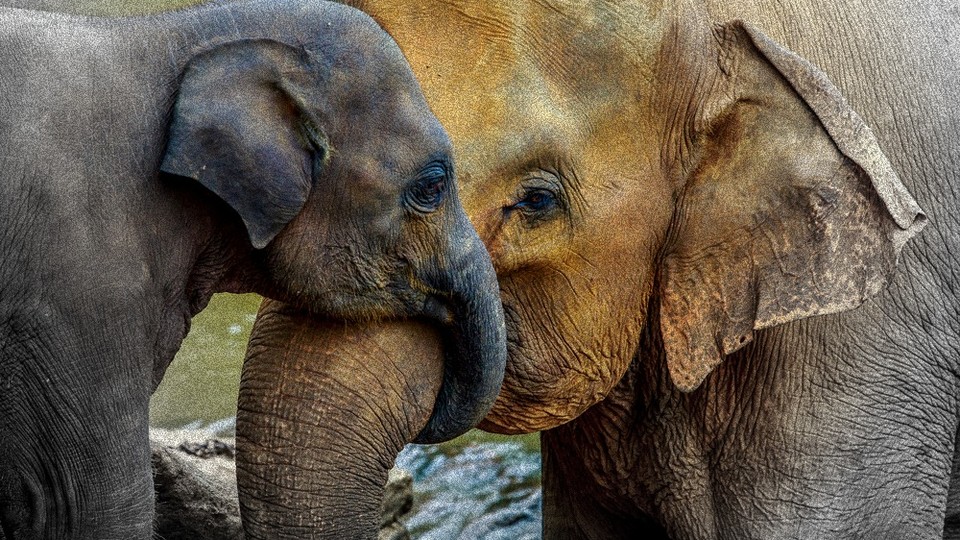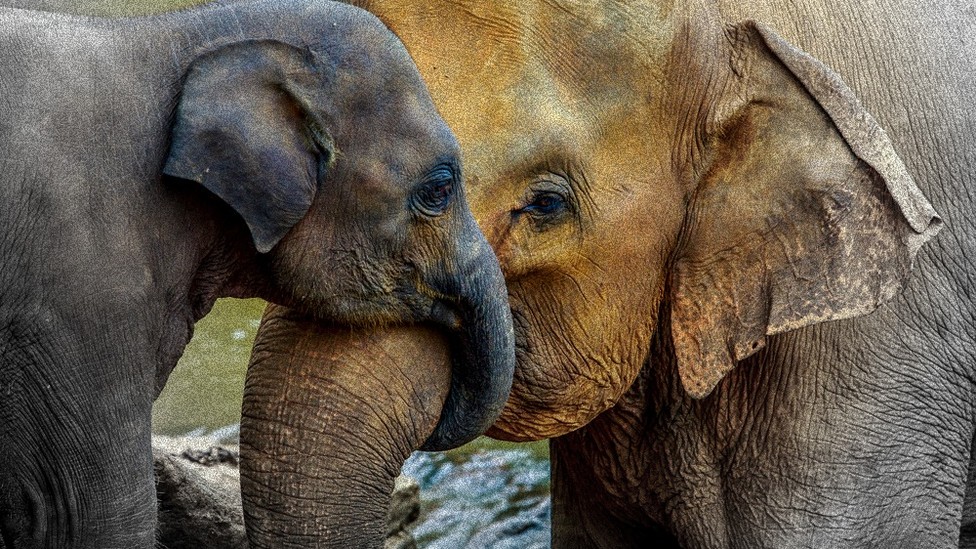 I still remember the first time someone spoke to me about grit. It wasn't when I lost my dad and saw my mother fall apart.
It wasn't when my mother died, and I felt like I was falling apart.
It wasn't when people who I believed would invest in my business didn't. It wasn't when the great recession hit our advertisers and my business had to stop publishing a magazine.
It was when I was thinking of pulling my 3-year-old out of a preschool in which she clearly wasn't thriving. She was anxious, frozen, a shadow of the child she used to be before she started there.
But it was a co-op preschool, meaning I couldn't just turn around and leave. When you sign up to join a co-op, you also sign up to work various jobs around the school and to commit to being an active part of a larger community. In other words, I had to talk to the other parents at the co-op about my decision. One of them cautioned me: "What about grit?" she said. For a minute, I was taken aback. Was she talking about me or my 3-year-old?
She wasn't talking about me.
It shouldn't have shocked my system. I've often felt like a misfit around parents when they talk about how kids have it too easy these days or how important it is to inculcate a sense of independence in them as early as possible.
This is the story of my struggle to allow myself to be the kind of parent I want to be. I grew up in India, but moved to the U.S. in my 20s and became a mother here in my 30s. I had never felt like an outsider, ever—until I had a child.
I read a lot of books so that I would be the best mom I could be. And I suddenly found myself wondering, did the Indian parents I saw in my parents' generation—and many in mine—get it wrong? My father was a big believer in the importance of a child's first five years. I often heard him tell people how he couldn't scold me until I was five. He reprimanded his younger brother for raising his voice at his kids before they turned five. Raised voices or not, we didn't have any concept of time-outs anywhere around us. I can't recall a time when I cried and a grown up didn't come to console or hold me. They always did. I slept with my mother until I was five. My father would tease me and say I was my mother's tail, but neither of them did anything to get me to sleep alone or in a different room with my siblings.
My parents weren't the only ones with this kind of approach. The phrase I would hear in almost every home we visited during my childhood was some version of 'Let the kids enjoy themselves.' They have the rest of their lives to be grown up. And the social fabric of our world supported them. We would go to the fanciest of restaurants with our parents and run around and play tag. No one would stop us—not the managers, not the other diners. It was normal. Soon enough, the servers would join in. It was lovely.
I'm not suggesting for a moment that my parents and their friends necessarily had it right. Some of them produced kids who were happy, some of them didn't; some of them raised CEOs, some of them raised stay-at-home moms. I'm just saying that it's okay to be an elephant mom, an elephant dad—an elephant parent.
If you're wondering what 'elephant parent' means, it's the kind of parent who does the exact opposite of what the tiger mom, the ultra-strict disciplinarian, does. Here's a short video clip that shows how real elephants parent. And that's what I'm writing about here—parents who believe that they need to nurture, protect, and encourage their children, especially when they're still impressionable and very, very young.
My elephant mom was a doctor with infinite patience. I failed a Hindi test when I was in fifth or sixth grade, and I remember going to her, teary-eyed, with my results—and hearing her tell me that it didn't matter. There were many more tests ahead. As I sobbed in her lap, she stroked my hair, hugged me, and told me there would be another test, and I could pass that one. (I did get the annual proficiency prize for Hindi a year later at the same school.)
My grandparents were doting parents, too. On both sides, the families lost everything in the partition of India. They had to flee to India from what is now Pakistan. My naana (mother's father), originally a doctor from a wealthy family, began saving every rupee to educate his girls. He stopped going to the movies, his favorite past time. Both he and his wife stopped buying new clothes and began stitching them at home instead.
My father knew grit. He came to Punjab in India on a train with bullets flying around him—and people dying in front of his eyes. (Riots accompanied the 1947 partition that divided India and Pakistan.)
After his father died suddenly, he looked after his mother and brought up his four siblings in India. He and my mother paid for them to study in school and college and funded their weddings. Yet, my father never talked to me about grit. If anything, my parents protected me from pain; perhaps they knew that life would eventually have some pain in store for me, sooner or later. They learned how to raise their kids from their parents. And I learned how to raise my kid from them.
But my husband, who is also Indian, and I are raising our daughter thousands of miles away from where we were grew up. There aren't any families of Indian origin at my daughter's preschool or even in our immediate neighborhood. "Our way" isn't a way that everyone around us understands. When she was a baby, we wouldn't let her cry herself to sleep. It wasn't a judgment on those who followed the sleep expert Marc Weissbluth's advice. It was and is a cultural belief. Even now, our four-year-old will often ask us to put her shoes on, and feed her, much to the consternation of many fellow parents. But we do it because it connects us to our uncles and aunts who would have said she has the rest of her life to do it herself.
To make sense of the world where I was raising my child, I went to meet Angela Jernigan, who runs Parent Connect East Bay in Berkeley. She helps people find and build a support structure in their parenting journey. "We don't have the village anymore," she said. "It's very hard for parents to be connected (to their kids), to give their kids the experience of being felt and heard." For that to happen, parents need to feel connected and supported themselves, which in our fragmented world can be hard to do, she explained.  

Jernigan has heard words like grit and resilience thrown around in her own child's elementary school. "I explain that us having adult-like standards for children is the wrong way to build resilience. Parents have to be nurturing to build a core of strength with children," she said.
Nurturing. Vulnerable. Empathetic. That's how parents need to be, she suggests, when kids are having a "big feeling" (in other words, a meltdown).
I heard something similar in a TED talk by Brené Brown, a research professor at the University of Houston's Graduate College of Social Work, who studies the human connection. "You can't selectively numb those hard feelings," Brown said. She was referring to emotions like guilt, vulnerability, and shame—emotions kids and adults feel. In an uncertain world, Brown said, we like to make things certain. "We perfect, most dangerously, our children."
And why we do that probably warrants an entirely different discussion about our cultural fears and insecurities. Have we failed as parents if our kids aren't the most well-behaved, toughest, and smartest kids in the neighborhood? Jernigan's clients are more often than not people who are trying to be the perfect parents, raising perfect kids.
Literature, discussions and forums about parenting abound. As we look for the best ways to raise our kids, we gravitate toward what makes sense to us. After meeting Jernigan, I couldn't help but think that if there were so many parents flocking to her group to learn how to better connect with their kids, maybe many of the differences I'd noticed weren't as fundamental and deep-rooted as I'd believed. Perhaps parents, regardless of where they're from, have more in common than not. The mom who spoke to me about grit also, on a separate occasion, spoke to me about wanting a slow separation from her child.
Studies and facts indicate that, regardless of what parents might say about being tough with their kids, they are spending more time and money on them than previous generations have done. A 2012 study by sociologists Sabino Kornrich and Frank Furstenberg that was published in Demography found that parents spent more on their children's education and care than on consumer goods from 1972 to 2007. Studies out of the University of California at San Diego show that college-educated parents in the U.S. have dramatically increased the time they spend with their kids over the past twenty years.
So what does any of this mean? I suspect that, even though it's the tiger mom who makes the bestseller list, and everyone's petrified of looking too soft, maybe everyone around me is a little softer than they think they need to be. I've realized that the best parent you can be is the one that you want to be; and there is no perfect parent, just as there is no perfect kid.
The journey that started at my child's first preschool ended well. I knew I had found the right preschool when a matter-of-fact educator named Janet Bronson, who helps run a small preschool in Berkeley, said to me during a school tour: "What I want to do is make sure that a kid feels emotionally safe here, not just physically safe." And then a teacher named Nyisha Galvez said, "Teach me some words in Hindi so that I can make her feel comfortable and at-home."
My daughter had found her habitat. And perhaps I had, too.