Doctors Without Documents
For the first time, medical schools in the U.S. are accepting undocumented students.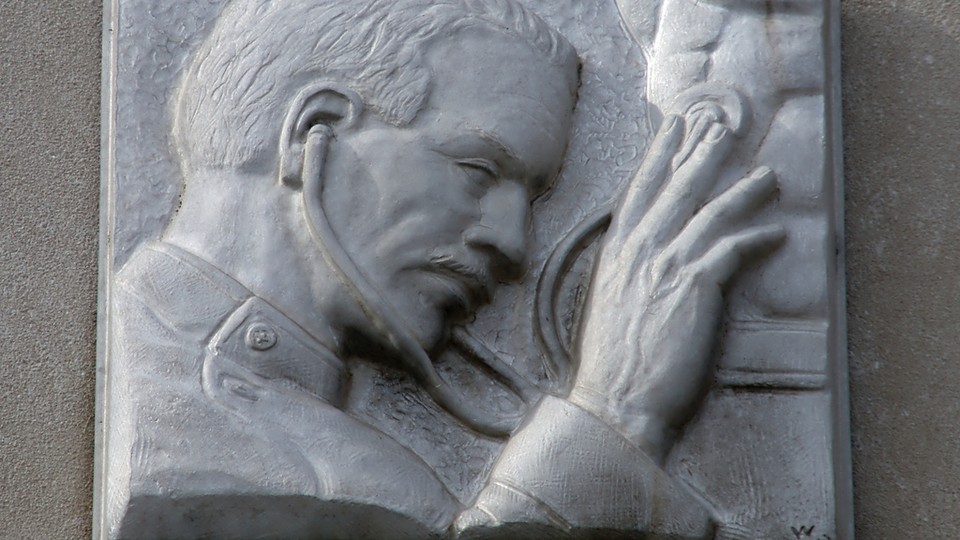 College advisers didn't know what to say to Jirayut Latthivongskorn. The pre-med student was about to graduate from the University of California, Berkeley, and he wanted to go to medical school. But the advisors had never heard of a medical school admitting someone in his situation. Was it even possible?
"People who were supposed to have answers were telling us that they didn't know how to help us," said Latthivongskorn, who was born in Thailand and moved to the San Francisco Bay area as an undocumented immigrant when he was 9 years old. "It felt disempowering, very discouraging."
So Latthivongskorn got together with two fellow "Dreamers"—young undocumented students brought to the country as children—and they decided to do their own research. They called admissions offices, mentors, and friends around the country to see if they knew a fellow Dreamer who had made it into medical school. No one did.
Although California's public universities have a policy of admitting undocumented students at the undergraduate level, no such policy exists for graduate schools. It started to seem unlikely that Latthivongskorn would get into the school of his dreams: the University of California, San Francisco, one of the top-ranked medical schools in the country.
Latthivongskorn applied to the school in 2012 after graduating from UC Berkeley. He didn't get in, but that didn't stop him. He applied again last summer, along with more than 7,000 other aspiring doctors. This time he got an interview. Then he got the acceptance call.
"It's surreal and crazy that I'm here even," said Latthivongskorn, who is finishing up his first semester at UCSF. He hopes to work as a doctor one day in poor, immigrant communities like his own. That doesn't seem so far-fetched now.
His school is part of a small group of medical schools opening their doors to undocumented students for the first time. Many used to throw away applications from these students, knowing they wouldn't qualify for federal loans, medical residency programs, or physicians' licenses.
That started to change in 2012, around the time President Barack Obama granted temporary legal status to millions of so-called Dreamers. Last year, the Stritch School of Medicine at Loyola University in Chicago was the first to openly accept applications from undocumented immigrants who qualified for deferred action. The school admitted seven of them this fall. Now, about a third of 119 medical schools surveyed accept applications from undocumented students, according to the Association of American Medical Colleges.
This group of students still can't get federal loans or a physician's license in most states, but they can legally work—at least for now.
Admissions officers at UCSF were initially worried about how Latthivongskorn would pay for school, and if he would even be able to practice medicine. They had never accepted a student without legal status, said David Wofsy, the medical school's associate dean for admissions.
"Ultimately, we decided we had a here-and-now issue to deal with, and we weren't going to discriminate against people based on guesses about what might happen in the future," he said.
Luckily for Latthivongskorn, California had recently passed laws allowing undocumented immigrants to apply for state-funded financial aid and student loans and to obtain professional licenses. His biggest obstacle now is the uncertain future of Obama's Deferred Action for Childhood Arrivals. If the next president abolishes DACA, and if immigration reform remains stalled in Congress, then he cannot legally work at a hospital as a medical resident.
That seemed far from his mind as he analyzed slides of microscopic cells during a recent class about heart disease. The most important thing now, he said, is to make sure he isn't the exception. He and his two friends from Berkeley have created a national network of more than 300 undocumented students who share their dream of becoming doctors and nurses. The group, Pre-Health Dreamers, will continue reaching out to medical schools and showing students that their dream is not as crazy as it seems.
"We really are at that pivotal moment when schools are now beginning to listen to us," Latthivongskorn said. "Students are putting themselves out there and are sharing their stories and are letting schools know that hey, as undocumented students we have so much to contribute to these fields."