Can a School's Tech Program Take a Rural Town out of Poverty?
Across the country, 70 percent of schools lack a high-speed Internet connection.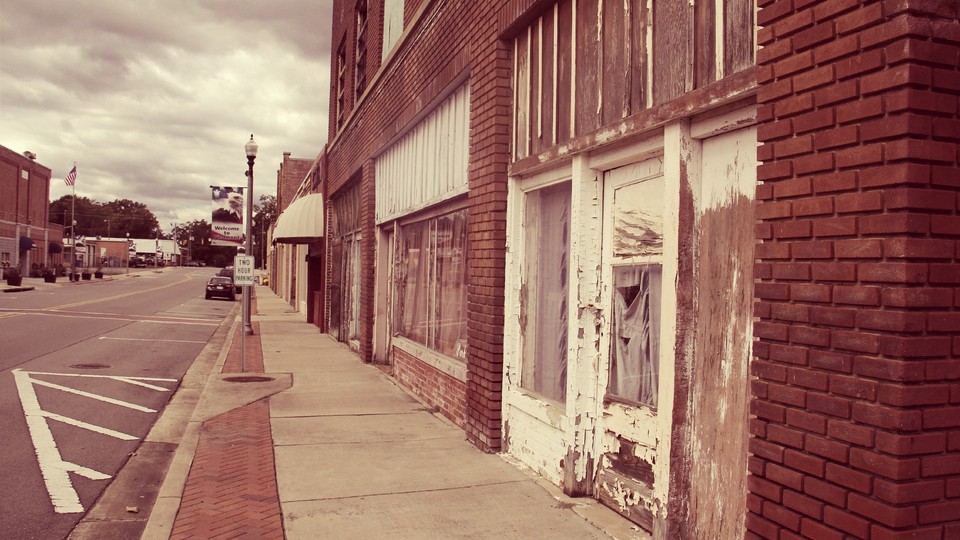 PIEDMONT, Alabama—For years, Chasity Tucker got frustrated when she tried to use her home computer for schoolwork. The 17-year-old senior at Piedmont High School in this rural northeastern Alabama town said her computer was slow and frequently got viruses. Then, in eighth grade, Tucker received a free laptop through the Piedmont School District as part of a new program.

Tucker was immediately hooked. She could use her computer to quickly research topics and complete assignments. When she got to high school, she took an online Spanish class and used her laptop to research new potential careers. When she came across the website for the United States Air Force, she was impressed. She used her computer to look up the recruiter's phone number, take a practice test and watch videos about her dream job, becoming a dental hygienist for the Air Force, which she will join after she graduates in the spring. "If I didn't have that computer, I probably wouldn't have joined the Air Force," Tucker said.
Students in Piedmont have had more access to computers and the Internet since 2009, when the district adopted a one-to-one laptop program—equipping every pupil with a device—in its oldest grades. Since then, the district has been adding online courses, and in 2012 it installed a wireless network over the entire town, so that students and their families can access the Internet at home.
Unlike many school districts with digital programs, Piedmont has a goal that's broader than creating high-tech classrooms. According to Matt Akin, the superintendent of Piedmont City Schools, the district hopes to resuscitate a dying rural town. "That's always been the bigger picture," Akin said. "What can we do to revive a community?"
It's an ambitious goal for a district of 1,240 students located in the foothills of the Appalachian Mountains, about 15 miles west of the Georgia border. In recent years, several major factories have shut down operations in Piedmont and relocated elsewhere, taking hundreds of jobs with them. The modest downtown area is lined with abandoned buildings and empty storefronts, with a few businesses, like a café and a clothing store, clustered together on the main street.
The town of about 4,800 has a median household income of only $33,000, about $20,000 lower than the national average, according to census data. More than 9 percent of the town's residents are unemployed, and 25 percent of its adults age 25 and older have less than a high school diploma. Nearly 37 percent of Piedmont's children live in poverty.
"It's hard to bring jobs in," Akin said. "But if the school district increases in enrollment and if the community becomes an attractive place to raise your kids … that would be great for economic development."
A technology program of Piedmont's size is an unlikely sight in rural Alabama, a state so far behind on technology use in schools that it earned an F on a "digital learning report card" published this year by Digital Learning Now, a group that advocates for more online learning. (Roughly a dozen other states also received Fs, including Illinois and Connecticut.) The ratings were based on whether schools have high-speed broadband, whether teachers and students have Internet-capable devices, and whether the state has met certain benchmarks to ensure effective use of technology.
Across the country, 70 percent of schools lack a high-speed Internet connection, a disproportionate number of them in poor urban and rural communities, according to estimates from the Federal Communications Commission. On Thursday, the FCC will vote on an initiative to increase spending on Internet connections for schools and libraries by about $1.5 billion a year.
In Alabama, less than 60 percent of residents have access to high-speed Internet, compared to the national average of 71 percent, according to census data. Rural areas like Piedmont often have even less access. Educators say that the technology and Internet gap compounds the state's educational challenges. On national standardized exams, the state's fourth- and eighth-grade students rank near the bottom compared to students from other states.
Outcomes for the state's rural residents are even more dismal. More than four out of every 10 students in Alabama attend rural schools, and they have posted some of the lowest scores on standardized tests in recent years, compared to rural students nationwide. More than 55 percent of the state's rural students qualify for free or reduced-price lunches, and nearly 80 percent of rural adults in Alabama lack a high school diploma. Rural Alabama adults also have one of the highest unemployment rates compared to rural adults in other states, and one of the lowest median household incomes in the nation.
That's why technology can be critical, advocates say. Research shows that access to technology and the Internet in rural areas can close critical information gaps and expand opportunities. With computers and high-speed Internet, rural residents can access college and scholarship information, take online courses, fill out job applications, and find educational resources such as study guides.
"Technology allows people in rural areas to reap the benefits of a rural lifestyle while not sacrificing access to learning opportunities," said Karen Cator, president of Digital Promise, a nonprofit that helps schools integrate technology. In rural areas, access to technology helps students become "digitally literate," she added. And it's not just about formal education. "If you're in a rural area, it doesn't mean you have less-varied interests than students in other parts of the country," Cator said. "If you have access to technology, it's much easier to … pursue your interest, whether it is computer coding or technology or photography."
In Piedmont, the district's adoption and rollout of a technology program has been slow and cautious. Before the one-to-one initiative, each classroom had a handful of large desktop computers. In 2009, a group of teachers and administrators drove 350 miles to Mooresville, North Carolina, whose schools many regard as a model for how students can use laptops, to see a technology program in action. The team was impressed and eager to get started. That fall, Piedmont high school received several carts of laptops from a federal grant.
Despite the influx of technology, many students still struggled with access and lacked the Internet at home. When teachers assigned online assignments or videos, students had to download the material before they left—or else return to sit outside the schools at night to connect to the district's network, according to Jerry Snow, principal of Piedmont Middle School.
In late 2011, the district received a federal E-rate grant—part of a program in which the government subsidizes Internet access for schools— to install a wireless network over the town. It not only helped students, but it also "removed barriers for our teachers," who now had fewer limitations on what they could assign for homework, Snow said.
Unlike larger or more-urban districts, Piedmont has not had access to digital experts or a large technology staff. District leaders have relied on student workers from the high school and a nearby college to troubleshoot. They have also opened their doors to student teachers so that older employees have more help implementing the technology, and so that the aspiring educators can learn how to use computers in classrooms.
In 2010, students in grades four through 12 each received a laptop, and in 2013, Akin expanded the program to include grades one through three. This year, the district introduced iPads in kindergarten classrooms. Instead of buying computers, the district leases them from Apple for several years at a time, which Akin said "forces us to keep the newest technology in students' hands."
Sandra Akin, the counselor at Piedmont High School (and the superintendent's wife), said the program brings resources that many families have never before had. "A lot of them don't have computers, or [the computers] are dinosaurs, or they have trouble staying on the Internet," Akin said. "It really has leveled the playing field."
* * *
On a recent morning in a classroom at Piedmont High School, nearly 35 students sat at tables on the perimeter of the room in what looked like a high-tech study hall. Some were hunched forward wearing headphones, silently working on laptops as a teacher circulated the room to offer assistance and troubleshoot. Others chatted quietly with friends, laptops untouched in front of them. The students were part of an independent-work class in which they could complete one of nearly a dozen online classes like health and Latin.
In 2011, Piedmont contracted with Vermont's Middlebury College to offer online foreign language classes, including Chinese, Latin, and German for high school students. "The odds of us having a Latin teacher are zero," Akin said on a recent afternoon as he watched students work on their online courses. The increase in online classes, he said, also frees up some teachers to teach new courses, like robotics, computer science and film studies.
For years, the district only had Spanish classes due to staff availability. Now, the high school offers five languages through the online program, as well as some classes that fulfill graduation requirements for math and science. Most seniors take an online class the first period of the day.
For the past two summers, the district has offered online health and foreign-language classes for middle and high school students. Forty percent of the district's middle school students earned a high school credit last summer through the online offerings, according to Akin. "You just don't typically take a foreign-language class in the summer in middle school," Akin said. "And especially not in a rural district."
In the high school's science classrooms, teachers use technology to show virtual labs and experiments. In the high school's special education classroom, teacher Rebecca Hudgins says that the technology makes it easier to meet individual student needs. "It gives us a lot more leeway to get creative and give them extra help," Hudgins said. "We have some students on second-grade level and some almost on grade level. Now I don't have to go borrow [resources] from the elementary school."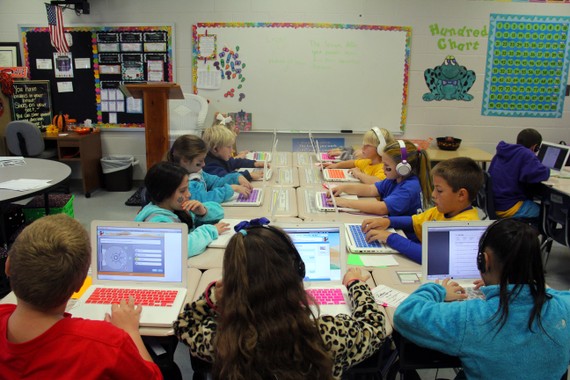 About 150 students at Piedmont High School participate in dual-enrollment classes with nearby Jacksonville State University. Akin said this can be critical to preparing rural kids for a better future. Some research shows that although rural students are less likely than their non-rural peers to attend college, participation in dual-enrollment programs can increase the likelihood that they will do so. However, rural schools often have challenges in offering dual-enrollment courses due to a lack of qualified teachers, transportation, and funding.
The laptops have also increased parental involvement and, in some cases, boosted opportunities for adults. Parents frequently use the laptops and wireless network to take online classes, practice for the GED, and apply for jobs—all of which fit into Akin's vision of improving opportunities for the entire community. Even the local day care center is wired to the Internet network so that students of all ages can work on homework after school.
Early on in the process, Akin and his administrative team decided not to block student access to pages like YouTube and Facebook, and they don't seem to mind when they hear students talk about using their computers at home to play games. Akin said he'd rather students learn to overcome possible distractions now, rather than when they get to college. "We have to teach them how to use technology responsibly," Akin said.
Still, although students welcome the new opportunities, some have mixed feelings about online classes. Maggie Smith, a 15 year old at Piedmont High School, said she'd prefer that certain classes were only offered in school. "I would rather do physical science in person," Smith said. "Because it's physical science." (The online course also includes an in-person lab component at the high school.)
Allison Majesky, a senior at Piedmont High School, said that although her online French class was "not as good as learning in person," she still recognizes the benefit of learning to pace herself and work independently. "It teaches us how to do classes in college," Majesky said. "We're already steps ahead of other schools."
Some students get derailed when technical issues arise. One recent day, nearly 35 students were sitting in a room at the high school, growing restless as they tried to complete online assignments while the Internet wavered in and out. "It gets aggravating sometimes," Smith said. "Like today, the Wi-Fi doesn't work."
Although Piedmont's original motivation for adopting technology was to broaden opportunities and access, it now also focuses on using the resources to address specific academic needs in the district's three schools. Last year, teachers across the district rolled out a "personalized learning" initiative that includes a wealth of online programs that test students frequently and then provide practice problems and lessons customized to their individual levels.
Piedmont had relatively strong academic scores before its technology boom, but disparities still existed among student groups. In the 2010-11 school year, only 31 percent of Piedmont's third-grade students living in poverty received the highest-possible score on the state reading exam, compared to nearly 78 percent of non-poverty students. On the state's fifth-grade math exam that year, only 36 percent of black students scored the highest achievement level, compared to 61 percent of white students.
The district's new personalized learning approach hopes to target both kids who perform below their grade level and those who do and might be bored, Snow said.
* * *
On a recent morning in Liz Harper's colorful first-grade classroom at Piedmont Elementary School, students sat quietly in front of computers, mesmerized by the screens in front of them. One student was working on a lesson about syllables. He quietly whispered the word "elephant" when it showed up on the screen and clapped his hands three times to count each syllable. He looked at his four answer choices, and chose the one that said "3 syllables."
Next to him, another first-grader was answering questions about the setting of a story he had just read. A few desks over, a girl was working on identifying letters based on a sound she had heard. "This should be kindergarten," explained Chris Hanson, principal of Piedmont Elementary School. "But that's what she tested on. [The computer program] brought her back to her appropriate level." Two desks away, another student was reading a complex story about bats, far above a first-grade level.
In nearly every classroom in the district, teachers float back and forth from conducting short, whole-group lessons to monitoring students as they work independently on laptops or iPads. Kids are frequently assessed by various online programs, and then receive computer-based lessons and assignments geared to their academic levels. Instead of handing in papers, students submit most assignments online and receive grades electronically. When they have "mastered" a standard or learning goal, as shown through a computerized assessment or verbal exam, they can move on to a more challenging topic, even if their teacher hasn't taught it yet.
"They can work at their own pace now," said Snow.
Teachers say the increase in technology means an increase in data, which helps them identify kids who are struggling. They can pull those students into a small group while the rest work on material tailored for them. "It fills in the gaps," said fifth-grade teacher Amanda Cooper. In the past, Cooper said, she struggled to provide remediation for students because she never felt she had a good grasp on each student's ability level. "Before, I would have had to pass out worksheets. I used to be at the copier running 20 or 30 handouts, hoping I got what he needs, or what she needs."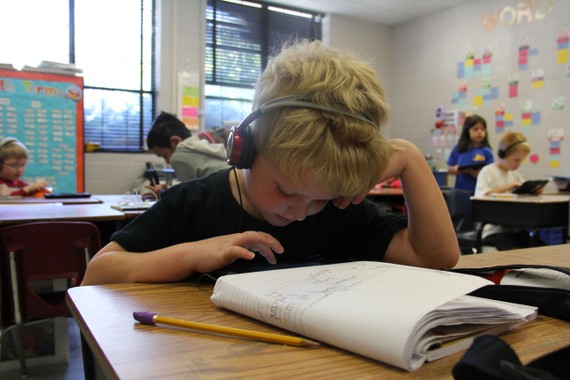 But it's taken time to get to the point at which teachers say they are finally starting to use technology in a meaningful way.  Fifth-grade teacher Michele Downey said that, at first, many teachers used technology to create "glorified worksheets," like uploading documents as PDFs and having kids fill them out online. "The first year, to me, we were surviving," Downey said. "We thought we were doing grand things. 'Look, I uploaded this PDF!'"
Now, Downey said, teachers are using computers in more innovative ways: Students are asked to complete more research assignments, create projects and portfolios with various computer programs and take assessments online. It helps prepare them for college.
As districts like Piedmont add more technology, there's no guarantee that it will improve learning. Research results on the benefits of using technology in classrooms have been mixed. A widely cited 2011 study found that technology can help students learn but tends to be more effective when it supports student learning rather than simply delivering content or instruction.
In Piedmont, some parents say that their children's grades have improved and that they're more engaged in school, which has translated into higher achievement. Chasity Tucker's mom, Superior Cobb, said that before the laptops, Chasity was easily distracted in class and rarely received high grades. Now,  her grades have improved to mostly As. "It's helped focus her," Cobb said. "She stays on task. I don't have to stay over her."
Although teachers in Piedmont say they, too, see an increase in student engagement, some experts are wary. Larry Cuban, a Stanford University emeritus professor of education, warns that the engagement could be temporary. "The kids are going to be very excited about [technology], but that novelty effect wears off," he said. And as more technology is introduced in schools without necessarily having teachers weigh in beforehand, Cuban said, a teacher's job only becomes more challenging. "The daily stuff of integrating the use of tablets, picking the online courses that are just right for that particular student rather than the whole class—all of that takes an enormous amount of work on the part of the teacher."
Teachers in Piedmont admit it isn't always smooth sailing. On days when the Internet is down and lessons are derailed, they have to pull out textbooks and quickly switch to a backup plan—or they risk wasting time and losing their students' attention while waiting for the technology to work. And even when the Internet is working, teachers say the individual computer programs that they rely on may be down.
Justin Reich, co-founder of EdTech Teacher, which helps schools integrate technology in the classroom, said the best way to determine success is to compare outcomes with what a district's initial goals were when it adopted technology. But that can be challenging,  "I think schools have a really hard time coming up with a clear reason for why they're buying technology," Reich said. While many districts are buying laptops to prepare for new online assessments, "far fewer schools are having conversations about 'what are we doing now, how can we do it better, and how does technology fit into that?'"
It can also be hard to find a balance between working directly with students and letting them use computers. According to Reich after a class gets technology it doesn't mean they need to use it every day. "The goal of tech is not to maximize its usage; the goal of technology is to maximize learning."
In Piedmont, despite the encouraging signs of success, there's no guarantee that the district can sustain the program. Piedmont's limited technology budget is largely funded by federal grants, and it has few private funding sources. When the federal funding for the town's wireless network ran out earlier this year, it took several months of negotiations with local officials to reach a deal so the district could keep paying for the network.
"We just want kids to have the same opportunity that kids in other places have," Akin said. "The opportunities that our kids have, and the opportunities that any kid has, shouldn't depend on where they live."
---
This story was produced in collaboration with The Hechinger Report.