Evangelical Colleges: Unlikely Allies in #BlackLivesMatter
On conservative Christian campuses across America, demonstrations and protests have sprung up that would seem to defy conventional wisdom about the religious right.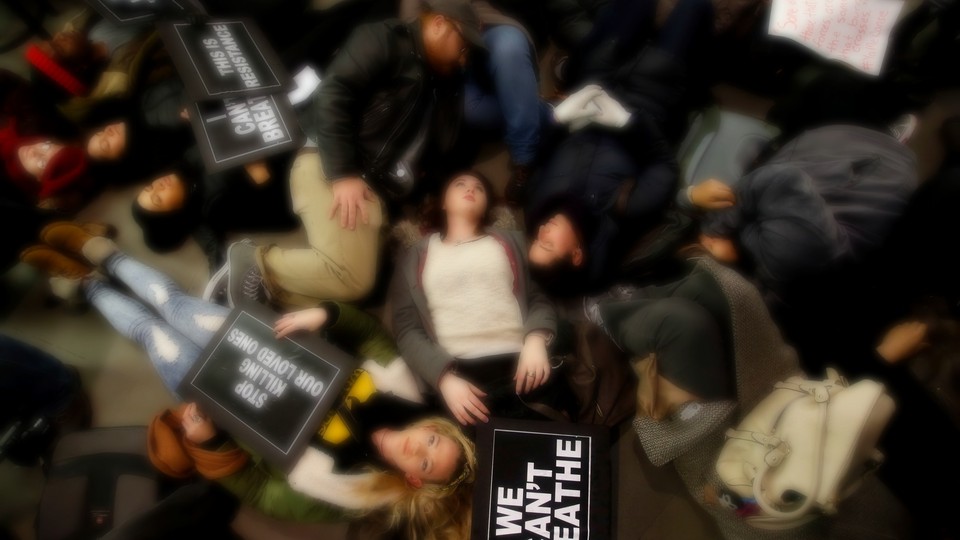 Responses to the non-indictment of Officer Darren Wilson in the death of 18 year-old Michael Brown have mostly been split down party lines. But on evangelical Christian college campuses across America, demonstrations and protests have sprung up that would seem to defy conventional wisdom about the religious right.
Students at campuses like Seattle Pacific University and Westmont College (my alma mater) have been organizing walk-outs, die-ins, and vigils to show their solidarity with proponents of movements like #BlackLivesMatter and #HandsUpWalkOut, which aim to raise awareness about law enforcement's criminal treatment of blacks and protest the deaths of people like Michael Brown and Eric Garner, a black man who died in Staten Island, New York, after being put in a chokehold by a white police officer.
Students at Taylor University are fond of emphasizing its relative isolation from the rest of the world by saying the institution sits "in the middle of a cornfield." Founded in 1846, Taylor is one of the oldest evangelical Christian colleges in America. It enrolls nearly 2,000 undergraduate students and, in its Life Together Covenant, bans students and faculty from drinking alcohol, smoking cigarettes, and engaging in any non school-sponsored dancing. Taylor's history of conservative social values makes it an unlikely breeding ground for what some would see as liberal political activism.
It was at Taylor, though, that senior Andrew Whitworth, 22, was initially moved to action as he followed the outrage over Brown's shooting in August and then the non-indictment of the officer in the Garner case. Both victims were unarmed black men whose run-ins with police officers over petty crimes ended in their death. "I saw the Eric Garner decision, and people on Twitter I was following were, like, at what point does this end? I hit that point, too, where I need to do something," Whitworth said. He reached out to Charnell Peters, a 20-year-old junior who sat next to him in his creative writing class, and together they organized a demonstration. To protest the killings, Whitworth, Peters, and their peers kept silent at a basketball game when the Taylor team scored its 10th point—a moment during which Taylor students traditionally cheer wildly after waiting quietly at the beginning of the match. The protesters held signs saying #BlackLivesMatter in solidarity with the thousands of others who had been marching and demonstrating around the country.
"It was a really surreal feeling," Peters said. Though she was tempted to celebrate with her classmates, "my heart and my mind also wanted to be standing up for this." Both Peters and Whitworth were quick to cite their faith as the reason for the demonstration. "Christians should really be the first people speaking out against injustice and standing with those who are experiencing injustice," Whitworth said.
They weren't alone. Several other evangelical colleges became sites for demonstrations in recent weeks, bringing the national conversation about racial justice to the front door of some of America's most traditionally conservative higher education institutions. Many of these schools have typically figured on the other side of racial-justice disputes: Bob Jones University, a fundamentalist Christian college in South Carolina, for example, only dropped its ban on interracial dating in 2000. Writer Christena Cleveland highlighted this divide in a series of blog posts called Black to School, describing the racial aggressions faced by black students on majority-white evangelical campuses. These incidents range from the ignorant (one black student was asked to teach everyone how to twerk at a school dance) to the hostile (an African American was asked to leave a table by a group of white students).
Many people on the Christian right have come out in favor of the decision in Ferguson not to indict Officer Wilson. Dinesh D'Souza, a former president of the conservative New York school The King's College, said there was "a common thread between ISIS and what's going on in Ferguson," comparing the looting of stores during a protest to the beheading of captured journalists, for instance. Well-known pastor John Piper tweeted that "an indictment of Wilson may not have been the way" before asking for equal treatment of blacks and whites under the law. Voddie Baucham, pastor of Grace Family Baptist Church in Spring, Texas, suggested that the "sad truth" is that Michael Brown "reaped what he sowed" when he was killed.
Whether the college years actually make students more liberal is still an issue up for debate, but it would seem that many Christian colleges are creating space for their students to have difficult conversations about political issues that they often avoided in the past. A Christian college experience may lend itself to thinking about empathy and justice in ways that are new to some students. "The role of the Christian college at a time like this is to teach, to educate our students to think Biblically about the world in which they live," said Theon Hill, a communications instructor at Wheaton College in Wheaton, Illinois. Christian colleges have always paid special attention to shaping the character of their students, but conversations around issues of race are new for many.
That includes faculty, students, and staff at Wheaton. "It lingers on my conscience that the evangelical world largely sat out the civil rights movement of the 1960s and 70s," said Provost Stanton Jones. "I see our role as dealing forthrightly with these issues on campus, developing students who are thoughtful and informed on how they engage the issues."
Wheaton for its part appears to be taking a proactive role in reversing that legacy. Historians at the school, which is the alma mater of Billy Graham and Dennis Hastert, among other conservative Christian luminaries, have recently discovered evidence supporting the notion that the school was a stop on the Illinois Underground Railroad. Jones told me that Wheaton are in the process of putting African American religious art up on the first floor of its administrative building, Blanchard Hall, "as a testament to these roots." Some of Wheaton's students are eager to see their work for racial justice build upon the school's abolitionist legacy.
One such student is Justin Massey, 21, who moved from Laguna Niguel, California, to attend Wheaton because he consistently heard it was "the best of the best" among Christian colleges. Massey joined dozens of his peers at Wheaton for a demonstration that took them to five different locations on campus. At each site, the students did a "die-in," laying still on the floor for four-and-a-half minutes to represent the four-and-a-half hours Brown's body was left on the ground before being removed in Ferguson. Massey said he was motivated to protest because of his Christianity: "In my time at Wheaton, I've really come to recognize the fact that our faith is not something that is just personal. It has big implications for the way that we engage with the world."
The demonstration wasn't without its detractors. So the student organizers were careful in framing their message. "Instead of saying we're aligning ourselves with the left, which is more divisive, we say that as Christians we're all called to pursue social justice. When we argue from that point of view, most people don't argue against it," said Jennifer Fu, a 21 year-old senior at Wheaton. Fu saw some apprehension from students and faculty members, people who were concerned that organizing a rally was unnecessarily disruptive or that the issue wasn't big enough to protest. One of Fu's co-organizers, a black female student, received an anonymous letter saying, "I hate you." Overall, though, even the students who disagreed with the protesters were "pretty respectful," Massey said.
"The unique role of the Christian college [is] what I call going 'beyond protest'"—praying for racial conciliation, for example, said Wheaton's interim chaplain, Dave McDowell. Some staff and faculty members at Wheaton, including McDowell, joined with students during protests, and Wheaton's President Philip Ryken attended the die-in at Blanchard Hall.
For the most part, students are the ones who organize the protests, though the administration initiated at least one in response to Ferguson. After Brown's death, Seattle Pacific University Provost Jeffrey van Duzer called on faculty members to organize a forum. About 500 students and school employees attended the event, and the school organized a second gathering in the fall. In previous years, "There was no public discourse about [racial justice]—just individuals finding other individuals who are like-minded," said Seattle Pacific theology professor Brian Bantum. "We are having much more substantive conversations about it than we have in the past."