Are Black Colleges Boosting Minority Representation in the Sciences?
Despite finite resources and less racial diversity, colleges that historically cater to African American students could offer lessons on how to train successful, confident scientists.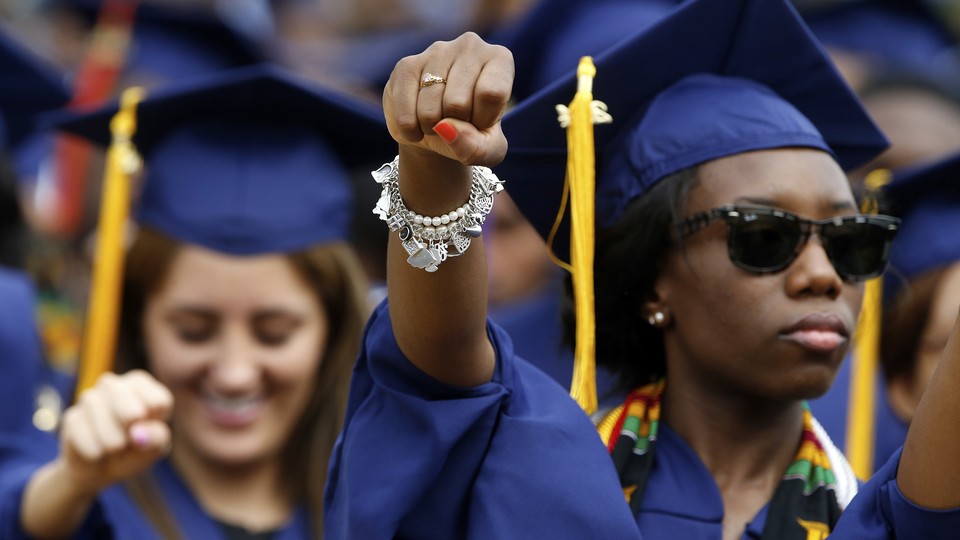 Caleph Wilson, an immunologist at the University of Pennsylvania medical school, always loved science, but even as a teenager he didn't have his heart set on being a doctor. None of his family members had college degrees, and Wilson enjoyed working with his hands; he had an after-school job on a construction site building cabinets out of wood. Wilson was a good student and generally stayed out of trouble, although he says that in middle school, "There were a couple of instances where I was really excited about taking a test, but because I was a young black male student, my teacher took that the wrong way and I ended up in in-school suspension."
After graduating from high school in Mississippi, Wilson enrolled in Alcorn State University, a historically black institution in Lorman. After a semester of excelling in biology courses—combined with his desire to "do something that my hometown peers were not doing"—Wilson declared a pre-med major. Though his family was very supportive, he said, some people weren't so enthusiastic about his career choice. When he visited home during a college break, Wilson told his former football coach that he had declared a pre-med concentration. The coach looked confused, according to Wilson, and asked if he was still building cabinets. "It's if he was saying, 'You should probably keep that skill because I don't think you'll make it [as a doctor],'" Wilson said. "That's how I interpreted it." Many of Wilson's teachers perhaps doubted that he—and his black peers—could take on such challenging and competitive disciplines.
Science, technology, engineering, and math—or STEM—fields notoriously lack racial diversity; Hispanics, African Americans and Native Americans make up 26 percent of the country's workforce but only 10 percent of STEM positions. To change this disparity, many organizations and individuals have endeavored to engage students in STEM at all stages of their academic lives. College is often the culmination of these efforts, the point at which students decide if they want to pursue careers in the sciences. To succeed, they need both technical skills and "soft skills" like communication and professionalism. Historically Black Colleges and Universities are providing exactly that: With finite resources, they prepare thousands of minority students for careers in STEM every year, trying to minimize the obstacles that these students will almost certainly face because of their background.
"My philosophy has always been that training underrepresented minorities is not for just them alone—anything you do to help them is of value to anyone else," said Andrew G. Campbell, a medical science professor at Brown University. "We have a workforce [in STEM] that's not diverse." By investing in minority students, Campbell said, the school is investing in a stronger overall workforce.
African American students face numerous challenges even in the path leading up to college. Some black students skip out on STEM careers altogether, discouraged by negative stereotypes and self-doubt, according to a 2011 article in BET. Socioeconomic factors can also undermine black students' exposure to STEM, often because they attend schools lacking computers, which could expose them to new career paths and spark interest in the fields.
In school, students of color (especially boys) are much more likely than whites to receive disciplinary action; according to a six-year study conducted in Texas, African American and Hispanic students were twice as likely to receive out-of-school suspensions for a first offense than their white peers. Efforts by nonprofits like Black Girls Code are working to offset some of these obstacles by engaging students in their own education, giving them the confidence and technical know-how to pursue majors in STEM. Underrepresented minorities now make up 10 percent of STEM workers, up from 7 percent in 1993, according to a report from the National Science Foundation, likely in part due to initiatives like these. That number is still not as high as it should be—African Americans made up 13.2 percent of the U.S. population in 2013—but it's progress.
The 106 colleges that qualify as Historically Black Colleges and Universities—or HBCUs—were established before 1964 with the primary intention of serving black students. In 2010 more than 260,000 black students were enrolled in these institutions, making up about 9 percent of all black college students in the country. People go to HBCUs for lots of reasons, including small class sizes and generous financial aid. Karl Walker, now a computer science professor at the University of Arkansas at Pine Bluff, knew he wanted to go to an HBCU because he was immersed in their culture of loud, fun athletic competitions from a young age. "HBCUs were the schools that were always around, that I was always involved with," Walker said. "I would go to a lot of the football games—I was surrounded by [the culture]." He enrolled in Morehouse College in Atlanta on a full-tuition scholarship.
But UPenn's Wilson, who grew up thinking that mentors expected less of black students, enrolled at Alcorn for a different reason. "I really wanted to figure out: Is all the negativity about young black kids true? Or is it a bunch of nonsense?"
Wilson was impressed by what he found at Alcorn, where the student body is 93 percent African American. "In high school I had a B-plus average, but I was sitting in classrooms with students who were valedictorians of their classes," he said. Academic excellence was the norm at Alcorn, Wilson said, and he was even more surprised to find that he could hold his own. Wilson felt reaffirmed both as an individual and as a black man trying to enter the sciences.
Still, some HBCUs have struggled to break even and maintain their good reputations in recent years. All of them accept non-black students—some, like West Virginia State University, no longer serve majority-black student populations—but HBCUs still tend to be less racially diverse than other institutions. This lack of diversity can hinder students who are trying to get jobs in industries where connections are helpful, wrote Ciandre Taylor, who attended the HBCU Morris Brown for one year before transferring to a non-HBCU, in a recent article. "I knew I wouldn't work in an all-black environment, so there's a con in attending an HBCU."
Plenty of students still find good reasons to opt for HBCUs. These colleges charge lower tuitions (the average tuition for the top 10 HBCUs is around $19,000 per year) and offer students ample financial aid. But as a result HBCUs also tend to have lower endowments and fewer resources than other institutions, obstacles that can compromise the labs where science students learn. "We have very good equipment, but we may not have the most cutting-edge equipment on the market," said Lorraine Fleming, dean of the College of Engineering and Architectural Science at Howard University in Washington, D.C. Talented professors, she says, make up for this disparity through creative use of multimedia, ensuring that students understand how to analyze the data they collect in any lab facility.
But many HBCUs offer extra support that may help offset these challenges. Some institutions, for example, incorporate training in soft skills to help students succeed in STEM. At Howard University, introductory engineering courses emphasize professionalism, focusing on the way students present themselves via social media and other places online—ensuring that students don't use email addresses "like sexylady@gmail.com," Fleming said. Katherine Harper, a biology professor at West Virginia State University, emphasized the value of the personal mentorship she can offer her students because of small class sizes. Indeed, like many other institutions these historically black schools place a strong focus on communication, teaching students that they must be able to articulately present and write about their work in order to be successful in STEM fields. HBCUs start this training early, sending students to present their research at events such as the Annual Biomedical Research Conference for Minority Students and the meeting of the National Society of Black Engineers.
Many minority students who graduate from HBCUs do so with the understanding that they can hold their own in their field of choice, no matter how technical it may be. This confidence, several HBCU graduates told me, is what stops them from giving up when they feel overwhelmed by the subject matter or intimidated by others in their field. Jelani Zarif, now a postdoctoral fellow at Johns Hopkins University in Baltimore, Maryland, grew up in public housing on the South Side of Chicago before graduating from Jackson State University in Mississippi. He recently earned his Ph.D. from Michigan State University. He thinks this confidence is a way to avoid stereotype threat, a phenomenon in which individuals feel overpressured to succeed in order to debunk stereotypes about their minority group: "I think that, as a black scientist, you become a representative for black America. A lot of students experience that. But I think [some of the pressure] is just an illusion. Just be comfortable with yourself and your abilities—those are things that I keep in my head."
HBCUs also create a strong network of minority students that boosts this confidence. "I had constant encouragement from faculty [at Morehouse] but I also got a lot from other students—that camaraderie was really good," Arkansas' Walker said, adding that his college experience allowed him to explore his true passions without feeling like he was an outsider. This is something that non-HBCUs, Brown's Campbell mentioned, have not been able to do as effectively without a critical mass of minority students.
UPenn's Wilson also spoke of the value of a strong network, noting that he was able to consult a black colleague when he noticed that, as a graduate student, he wasn't going about his work with as much enthusiasm as his white counterparts. "Why are we walking around acting like we're surprised we're here?" he asked his friend. Sometimes the confidence that educators work hard to instill can be eclipsed by a new and challenging academic setting; support from people who have taken similar paths can help reaffirm it.
Black scientists value mentorship, and many go to great lengths to advise students earlier in their academic careers. Every doctorate student or postdoctoral fellow I spoke to for this story was mentoring younger students on top of conducting their scientific research and completing their programs of study. William J. Tomlinson Jr., an HBCU alumnus working on his Ph.D. in computer engineering at Northeastern University in Boston, said that after he spends a few years working in a lab he wants to start a nonprofit to help bring more black students into STEM.
This desire to help others succeed—to lower the ladder for others to climb up rather than raise it after reaching the top—is pervasive among African Americans in STEM. And it could mean that their representation in these fields will increase exponentially in the near future. "It's the need to do more for our culture, for our race," Tomlinson said. "That's what keeps us motivated in the STEM fields."