Adjusting College Rankings for Rape
The Princeton Review doesn't grade schools based on how they handle sexual violence on campus, so one organization has come up with its own solution.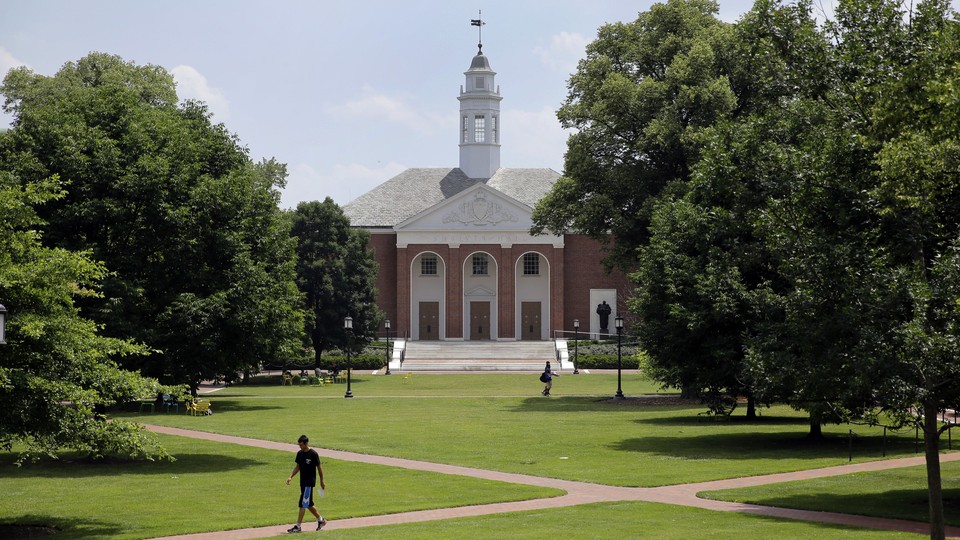 The Princeton Review ranks the country's top colleges for drinking beer or smoking pot, and lists which universities have the tastiest food or are most LGBT-friendly, so why wouldn't it also publish some tips on the best and worst schools for avoiding on-campus sexual violence?
But The Princeton Review—the go-to resource for all things college that boasts ranking 379 schools on some 62 different topics—apparently doesn't think the topic deserves some scrutiny, and it probably isn't going to change its mind anytime soon. Even a petition that garnered tens of thousands of signatures in May failed to convince the company to publish a list.
UltraViolet, the women's advocacy organization that spearheaded what's now an ongoing petition, is again pressing the issue. The group recently rolled out a massive, scathing online ad campaign that discourages prospective students from applying to roughly three dozen sought-after colleges and universities that have been spotlighted for allegedly mishandling sexual violence issues on their campuses, including Brown University, Dartmouth College, University of California at Berkeley, the University of North Carolina at Chapel Hill, and Arizona State University. Whether the ads will take away business from the schools remains to be seen, but the move is a hard-hitting reminder to the institutions that the public can and will hold them accountable for sexual violence—and a nod to The Princeton Review that it has a responsibility to its readers, too.
"The era of sweeping it under the rug is over," said Karin Roland, who heads organizing efforts for UltraViolet.
The campus sexual assault epidemic has been grabbing headlines for months, with dozens of higher education institutions, including some of the nation's most prestigious, coming under fire for egregiously mishandling the issue. Nearly 100 schools are under investigation as part of a federal Department of Education probe into their compliance with Title IX of the Civil Rights Act, which prohibits gender discrimination but is also used as a tool to regulate sexual violence policies. Meanwhile, a White House task force has developed guidelines in its effort to solve the issue, including a recommendation that every college conduct a campus-climate survey to gauge the prevalence of problems like sexual violence.
In some of the more high-profile controversies—such as the federal complaints involving Columbia University, which for its part has since responded with a website about its commitment to "Sexual Respect"—the school administrations are accused of discouraging rape survivors from reporting their experiences and failing to properly adjudicate cases. Unfortunately, it's easy to see why the institutions might have taken this approach: Better support means more transparency, and that's not good for the schools' reputations. The Princeton Review, it seems, is reinforcing this mentality by failing to provide information on which schools appropriately respond to reports of sexual violence—and which ones don't.
Robert Franek, The Princeton Review's senior vice president and publisher, said in a statement that the company is doing its due diligence to address the sexual-violence epidemic, pointing to its webpage on campus safety. The site offers tips on how parents and prospective students can ask colleges about their sexual assault policies, but it doesn't delve into school-specific data. Earlier this year, in response to feedback from students and parents, the review also added links on its website to 1,200 colleges' Clery Act reports, the documentation schools are required under federal law to post online annually detailing campus-safety information such as crime statistics.
"Every year, colleges and organizations suggest new lists and information," he said in the statement. "We believe student safety is paramount and we are constantly looking at new ways to provide the best data for students and prospective students."
But Roland doesn't buy it. The Clery Act information, she noted, is self-reported by the schools themselves. The Princeton Review's rankings, on the other hand, are based entirely on student surveys—a democratic tactic the company proudly describes on its website. If the review developed a sexual-violence list, those rankings would reflect the campus atmosphere according to the students; it would avoid the conflict-of-interest risks inherent in self-reported data and afford respondents the off-the-record anonymity integral to getting accurate results on sensitive subjects such as this. Roland even speculated that The Princeton Review has an incentive not to take action on the issue, pointing to its strong relationships with the very schools that might rank poorly on this front.
"There's no way to easily tell what's going on on campus, how [the schools] stack up against each other," Roland said, citing the justice department statistic that one in five women in college will be sexually assaulted before she graduates. "[The Princeton Review] is only benefitting the schools that are doing the worse."
"The truth is, students are only going to benefit," Roland continued. With rankings, they "can really compare apples-to-apples how schools are doing."
Indeed, if the student protests at places like Columbia or the University of Virginia or San Diego State University are any indication, the rankings might look a lot different than what the colleges are telling us. So that's where the UltraViolet ads come in. The advertising is simple and identical for every school, with the exception of the institutions' names. The images feature a photo of a young woman in a library looking apprehensive, her head leaning on one arm as she stares directly at the camera. They display a simple yet forceful message: "SCHOOL X HAS A RAPE PROBLEM. FIND OUT MORE BEFORE YOU APPLY." (The full collection of ads can be viewed on Flickr here.)
---
---
As an online campaign, the ads can reach prospective students across the country and are tailored based on the demographic characteristics of the Internet user, Roland said. The ads also include a link that will take visitors to the petition against The Princeton Review. According to Roland, it's the first ad campaign of this scope to target colleges, though UltraViolet has organized similar small-scale efforts in the past.
Of course, the timing of the ad launch isn't arbitrary. This is crunch time for millions of prospective college students across the country. High school seniors are anxiously polishing up their college applications and starting to think seriously about their next steps; some are already receiving decision letters from colleges to which they applied early. And many parents are under just as much—if not more—pressure. Not only are these mothers and fathers likely scrambling to figure out how to afford ever-rising tuition, but many are also fretting over the security and reliability of the places their kids will soon call home: Will they be safe environments, schools that can be entrusted with taking care of their precious children?
The universities targeted specifically in the campaign are under federal investigation or are widely known to have major problems when it comes to their approach to sexual violence on campus, Roland said, though she wishes UltraViolet could take on every school.
"I don't think there are very many schools in this country that can honestly say, 'We are doing everything possible, and we are doing enough,'" Roland said. "One student being sexually assaulted on campus is too much … As far as I'm concerned, instead of arguing that they're not the worst, these schools should be competing to be the best."