When Private School Tuition Costs More Than College
Private high schools in New England charge more than $35,000 a year on average in tuition.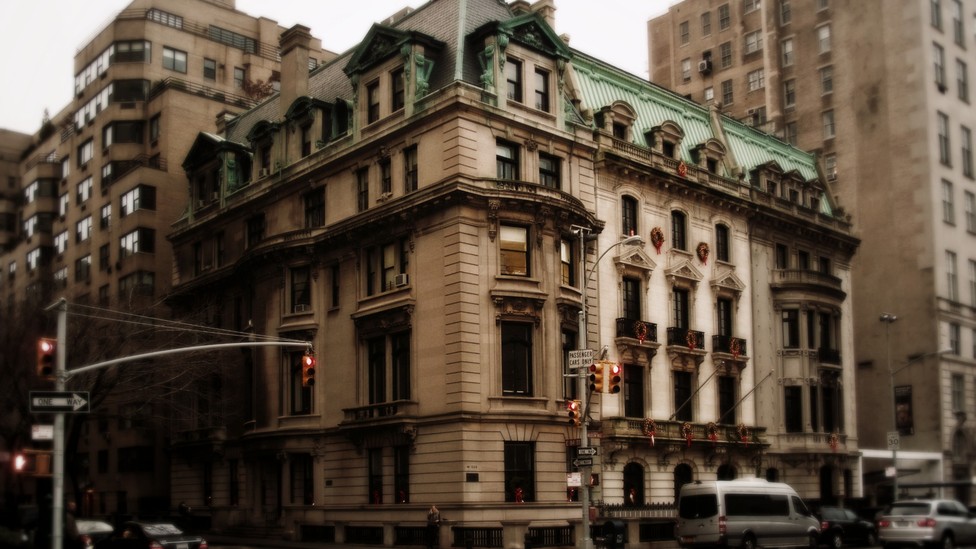 Tuition for a typical private high school in the Southeast costs a relatively modest $18,900 a year. But move a few hours north and that price tag becomes far more daunting. A private school in New York or New Jersey, for example, costs $34,400. In New England, tuition could be $35,100—nearly twice as much as it'd cost down south.
New data from the National Association of Independent Schools (NAIS), which represents hundreds of private schools across the country, shows just how much the going rates for a private education vary within the United States. The data offers a peek into how private institutions spend the tuition money parents pony up—and the extent to which families in different parts of the country will sacrifice their hard-earned cash to sidestep the public school system.

Private schools are the least expensive in the south—particularly the Southeast, which encompasses states ranging from Mississippi to North Carolina and where a private elementary school costs roughly $13,500 a year on average.
Private high schools in the Western states—from California to Alaska—cost, on average, about $29,000, while elementary schools go for approximately $20,000. The Northeast is home to by far the most expensive private schools, with high school tuition averaging well over $30,000 a year, as detailed above. Meanwhile, elementary schools cost $22,500 on average in New England and a whopping $27,300 in the tri-state area. The figures exclude boarding schools—a favorite along the East Coast—which often charge thousands on top of tuition for room and board.
---
Average Cost of Private High School Tuition by Region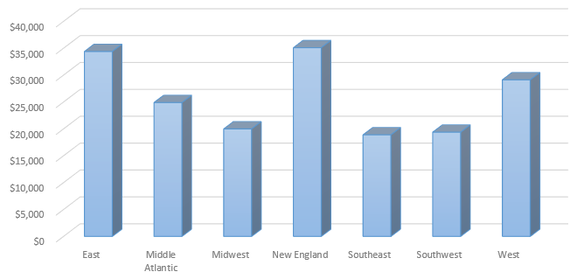 ---
The trends in private K-12 school costs also seem to correspond with those for private colleges. New England is home to the most expensive private, four-year colleges in the country, their tuition and fees averaging $39,200 this year, according to the College Board. Private, four-year colleges in the South, on the other hand, charged $27,400 on average this year.
It would appear, then, that denser population centers come with higher sticker prices for private schools. And that makes sense—but not necessarily because private schools charge more in places where there are more people or a larger demand for private education. Rather, densely populated places tend to have higher costs of living, and higher costs of living mean higher costs of doing business, says Myra McGovern of NAIS.
"You're running a nonprofit, a small business," McGovern said. "You want to make sure your employees can afford to live in the areas they have to work, particularly because independent schools require a pretty big time commitment from staff."
About three-fourths of a private school's budget typically goes toward salaries and benefits, according to McGovern. (That distribution generally mirrors public school spending, with about 80 percent of public education budgets nationwide spent on salaries and benefits during the 2010-11 school year, according to the National Center for Education Statistics.) That explains why private schools in areas with higher costs of living such as New York City generally cost much more than those in less expensive parts of the country, like Memphis: The tuition has to support the schools' teachers—teachers who, it's worth noting, generally earn less than their public school counterparts.
"It's not a perfect correlation," McGovern acknowledged. "But it is a clear correlation."
Still, other factors unrelated to a region's local economy could be at play, too. Private schools on the East Coast tend to be older and often subscribe to conventional, college-prep pedagogies; in other words, they can charge more because they're prestigious. Long legacies also tend to mean more diverse, individualized course offerings—and more programs mean more costs, McGovern noted.

Demand for private school education does tell part of the story, but it's ultimately hard to draw comparisons with price, according to McGovern. The Northeast has the highest rate of private-school attendance: 14 percent of its school-age children were enrolled in private institutions in 2009, the most recent year the National Center for Education Statistics tracked such data. But in the West—home to some of the highest tuition figures—just 8 percent of students were enrolled in private schools that year, the lowest attendance rate in the country. Nationally, one out of every 10 students was in a private school that year.
"There's a perception out there that private schools just charge whatever the market will bear," McGovern said. "That's really not how the majority of schools factor tuition at all."