The Politics of 'Pre-K'
Preschool and prekindergarten are the same thing—aren't they?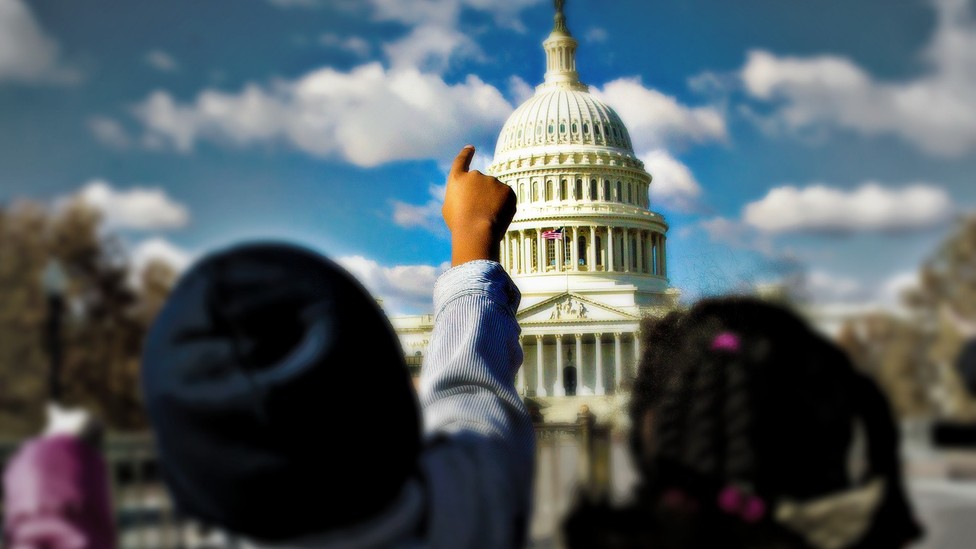 Less than half of all 3- and 4-year-olds across the country are enrolled in any sort of early education, largely because of how pricey these programs can be. That's a shame, advocates argue, considering the research showing the positive, long-term impact a quality early-education experience can have on a child's life—all the more so if that child comes from a low-income family. In particular, these advocates want every child to have the opportunity to attend prekindergarten.
Therein lies a significant, though nuanced, distinction, says Larry Cuban, a former high school teacher and professor emeritus of education at Stanford University who recently wrote a book about classroom reform in the United States.
"Pre-k" and "preschool" are often used interchangeably in education circles and by the news media. (Even I, admittedly, have treated the words as synonyms.) After all, the two can mean the same thing: schooling that happens prior to kindergarten. But rarely do politicians who've declared early education a top priority say they want to expand access to preschool. It's all about the single year that precedes kindergarten: pre-k.
That lexical distinction reveals how politicized early education is, Cuban says. It also highlights the growing emphasis placed on the quality and accountability of early education programs and the widespread belief that access to early learning should be a basic government function—something to which every child is entitled. And this is deliberate.
"When I am governor, there will be universal pre-k for all children," said Massachusetts Attorney General Martha Coakley, who lost her Democratic bid for governor this year, on the night of the primary election. Tom Wolf, a Democrat who will soon take office as Pennsylvania's next governor, touted the need for universal pre-k throughout his campaign and listed it as a goal on his election website. As did Maryland's Democratic gubernatorial candidate Anthony Brown, who lost.
And it wasn't just the Democrats. Rick Snyder and Greg Abbot, both of whom won their Republican bids for governor, highlighted their support for pre-k in Michigan and Texas, respectively. (Their Democratic opponents did, too.)
In edu-speak, pre-k typically refers to a specific category of early learning that focuses on ensuring kids are prepared for kindergarten. The premise is that a child's readiness for kindergarten can put that student significantly ahead of one who isn't ready. This is what causes the achievement gap, and that gap only widens over time.
Pre-k programs are often funded by the government and, at least theoretically, entail high standards: qualified teachers with bachelor's degrees, small class sizes, low teacher-student ratios, family support services, and nutrition requirements, among others. Many of them are operated in conjunction with public school districts. The federal Head Start program, which contracts with private agencies to provide early education and social services for low-income families, has similar qualities to pre-k, though it serves a broader age group (from newborns to 5-year-olds) as well as expecting mothers.*
A number of states offer universal pre-k, pre-k for all 4-year-olds, while most target it at specific populations. (Nine states lack any form of state-funded pre-k.) A few states have as many as three-fourths of their 4-year-olds participating in government-funded pre-k, including Oklahoma, Florida, and Vermont. But nationally, just a small fraction of 4-year-olds participate in those kinds of programs: 28 percent, according to 2012-13 data from the National Institute for Early Education Research, or NIEER.
The push for pre-k traces back decades, though the movement has undergone a revival in recent years. In his state of the union speech last year, President Barack Obama pledged to develop a federal $75 billion universal pre-k program that would involve partnering with the states, though the initiative has made little progress. Meanwhile, governors and state policymakers across the country have campaigned for expanding access to early education.
And other sectors have joined the cause, too, including business leaders and big-box corporations that say pre-k is key to developing a skilled workforce and stimulating the country's economy. Moreover, pre-k is seen as an economic investment because it's believed to reduce the chances a kid will drop out of school, get arrested, and rely on social services, as well as significantly increase that person's earning potential.
Ron Haskins, a preschool expert who co-directs the Center on Children and Families at the Brookings Institute, says the movement is symptomatic of the country's failure to reduce poverty and stymie growing inequality. Pre-k is seen as a solution to those problems. Preschool, on the other hand, connotes nursery school. And when people imagine nursery school, they think of daycare. A babysitting arrangement.
Framing the final year of preschool as pre-k, some say, implies that it's an essential building block in a child's educational experience. The benefits of early education aside, critics question the accuracy of that message, particularly because pre-k isn't considered compulsory. After all, few states even mandate kindergarten.
"It was a political decision to call it prekindergarten," said Cuban, who's also a prominent critic of universal pre-k. "It implies that schools can solve all these problems of achievement gaps, these differences in adult performance between whites and minorities. It makes it a school decision.
"It's a denigration, an implied criticism about preschool as childcare," he continued. "The flaw that I see is that we need quality childcare as much as we need quality prekindergarten."
Cuban says the premise that childcare has no bearing on to a child's success—an assertion widely held by respected researchers and children's advocates—is misleading. He pointed to parents who deliberately opt not to put their kids in school before kindergarten, choosing instead to enroll them in a less-academic setting such as a programs at a local church or a neighborhood playgroup. The focus, Cuban argued, shouldn't be on expanding pre-k but rather on enacting higher standards for childcare.
"The argument for funding prekindergarten for low-income minority kids is an educational argument—to try and reduce the gap between kids of color and middle-class kids," Cuban said. "That's the educational way of trying to do that. It doesn't mean that that it has to be the only way of doing it."
Meanwhile, Bruce Fuller, a researcher at the University of California, Berkeley, questions politicians' treatment of universal pre-k, pre-k that targets middle-class kids along with the low-income ones, as a panacea for America's public-education challenges.
"Some political leaders really believe that pre-k will lift all children. Even Bill de Blasio talks about ending the tale of two cities," Fuller said, referencing New York City's new universal pre-k initiative. "If we could magically raise the quality of pre-k and steadily raise the quality of elementary schools in this country then pre-k might actually lift middle-class kids. But we only know that we can help close disparities in early learning between poor kids and middle-class kids. It's very encouraging but the advocates have oversold pre-k by telling politicians that it lifts everybody."
But Steven Barnett, director of NIEER, says there's a societal value to thinking of preschool as pre-k because it promotes equality. Rather than treating early education as a private service to which only wealthy kids have access, thinking of preschool as pre-k makes it a learning experience that is—or should be—available to every child, rich or poor. The preschool-prekindergarten dichotomy, in contrast, creates a two-tiered education system.
Every state, according to Barnett, treats the words differently. "I've wondered if we might eventually get to the point of calling everything for 4-year-olds and 5-year-olds kindergarten," he said. Wisconsin for its part calls pre-k "4K," he pointed out—4-year-old kindergarten.
---
* This post originally defined Head Start as a pre-k program. We regret the error.