A Surge in U.S. High School Graduation Rates
"... this is very exciting to see the needle move."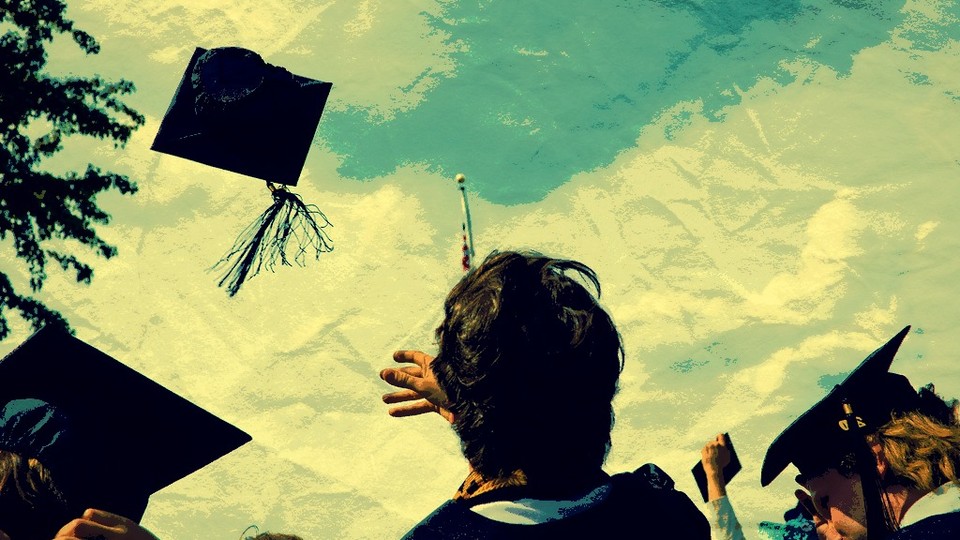 This year, high school dropout rates are at their lowest point ever. And that means graduation rates are at an all-time high, too.
Last year, 86 percent of students took home high school diplomas, while only 7 percent dropped out—down from 13 percent two decades ago, according to Census Bureau data.
"When you say more kids are seeing value in their education—they're staying until the end, they're getting that diploma—that's huge," says Lily Eskelsen García, president of the National Education Association (NEA), a labor union that represents 3 million education professionals and works to advance public education.
The national average reflects improvements across all demographics but is boosted by significant gains among black and especially Latino high-schoolers. Part of that success could be attributed to the growing number of native-born Latino students. But there seem to be a number of outside factors fueling progress much more, says Richard Fry, who tracks these trends closely as a senior researcher for the Pew Research Center and its Hispanic Trends Project.
---
Share of Young Adults With High School Diplomas, by Race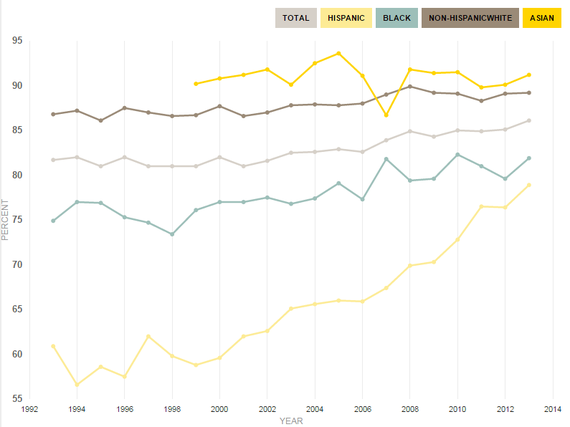 ---
"This isn't just changing demographics," Fry said, pointing to Latino students. "There really is something going on."
Fry highlights two points in the timeline that could explain part of the trend. First, the turning point for both graduation and dropout rates was 2000, the same year that No Child Left Behind went into effect. Most people just think of the act for its testing standards, but it also held school districts accountable for their graduation rates, which was used as a condition for funding.
From there, both trend lines continued to diverge and then accelerated when the recession hit in 2007. The theory is that with fewer employment opportunities to lure students away from the classroom, more chose to stick it out for their diploma and wait for better prospects.
"For some young Hispanic high-school students, they are on the margin between staying in school and going and getting skills by finding a job," said Fry. "During the recession, the employment option was less attractive or available, so they couldn't find work, so they basically stayed in school."
---
Share of Young Adults Who Dropped Out of High School, by Race
---
But Fry points out a third factor—a more proactive approach from schools and teachers themselves—that García says has been critical in both inspiring students and bringing parents and teachers together to support their success. García attributes the progress to a long-term, across-the-board effort to make a difference for students—from reaching out to parents to developing more engaging curricula and focusing less on test scores, as well as providing more training for teachers, especially for working with English language learners.
"None of this happened overnight. This has been going on for well over a decade, and what we're seeing is that there was no silver bullet," García said.
One thing that García knows is that their efforts are working to actively engage Latino parents, based on evidence and feedback from their NEA members.
"Involving parents when you are in a high Latino population doesn't mean you send a flyer home and tell them what hours you're doing back-to-school night," García said. "It means you make it so that they actually feel welcome. For so many of our immigrant families, there's a language barrier."
Schools that have worked to create a welcoming environment for parents and bring them on as partners have also noticed a corresponding boost in graduation rates, García said.
"All of a sudden there's a two-way communication that didn't exist before and we know that graduation rates go up when parents are part of that school community and kids come to school more often," she said. "That is a key factor in improving achievement and improving graduation rates."
NEA has also responded to a huge demand for additional training and teaching tools for its members to better empower English language learners and their parents. NEA offers training modules and provides a number of tools to equip teachers with ideas and more engaging teaching strategies.
From here, García said the NEA plans to do more analysis to try to pinpoint which of their efforts might have been most influential in improving graduation rates, and then continue to invest in what works.
"I'm just thrilled. And it isn't over, obviously," she said. "What we saw is that we have tried a lot of different things, what we want now is to really do an analysis of was there any of these that worked better than something else … and then we keep moving, but this is very exciting to see the needle move."