Charter Schools Try to Retain Teachers With Mom-Friendly Policies
With teacher turnover rate at 36 percent, charter schools are trying a bold new strategy: on-site childcare for employees.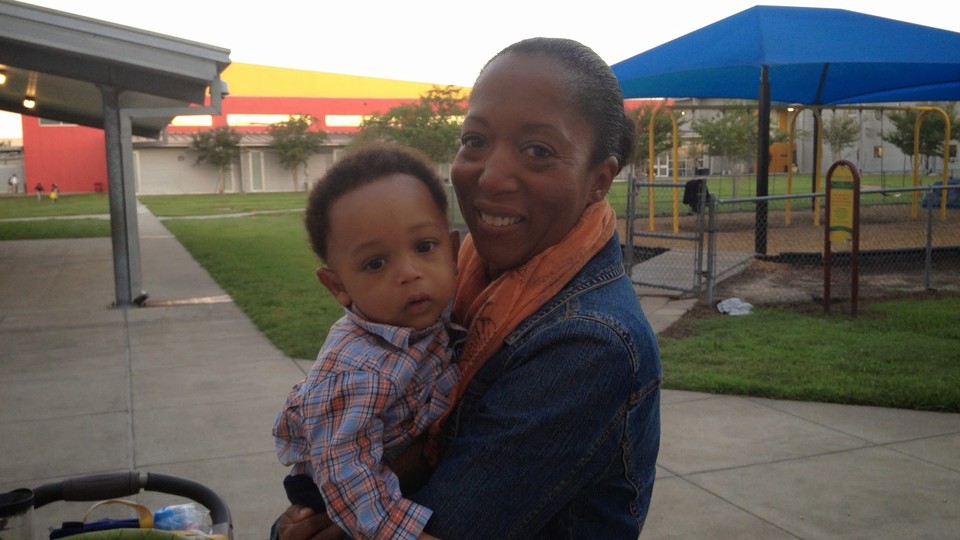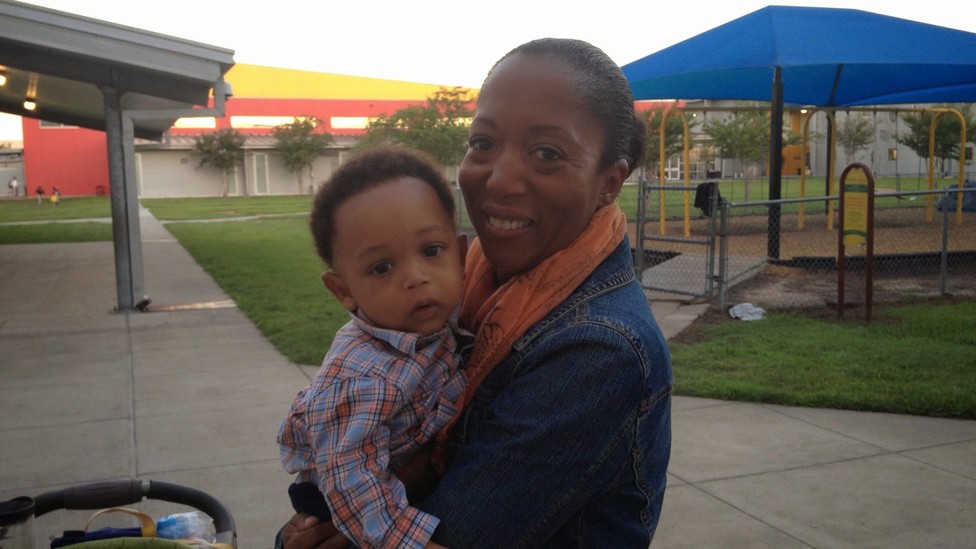 When second-grade teacher Noelle King arrived for work on a balmy September morning, the moon was still lighting up the gray-blue sky just before 7 a.m.
While the early hour wasn't unusual for a charter school teacher working long hours, the bundle King had with her was.
Crawling and not yet talking, King's son, Colin, has been coming to work with her at a Knowledge Is Power Program, or KIPP, charter school in Houston since he was just eight weeks old, spending school days in a brightly decorated classroom filled with plush rugs and cribs, toys and puzzles. As part of an effort to keep its teachers, KIPP—which is among the nation's largest charter school networks—has joined the slim ranks of employers with on-site daycare for staff members' children, including Colin, who's now eight months old.
The charter school movement may be better known for burning out their staffs than for working hard to keep them, but some schools—the KIPP network among them—are trying to stem the tide of departing employees by addressing the needs of their mom (and dad) teachers. They've set aside space for daycares and lactation rooms, offered flexible schedules or shorter hours, and even made sure staff members' kids have priority in competitive lotteries for admission.
"I feel lucky to be able to drop him off right downstairs," King said, noting it made the return to work after maternity leave less fraught. "There wasn't very much contemplation or hesitation or fear."
KIPP is known for producing impressively high test scores while serving a population that might not otherwise have access to a quality education. Of its 58,000 students, more than 88 percent qualify for free or reduced-price meals at school, and 95 percent are black or Latino. Researchers have attributed KIPP's successes to its longer day and school year, which allow more time for core academics.
At the same time, however, those long hours seem to have contributed to a high turnover rate among its staff.
As the number of KIPP students has doubled over the last five years, with schools in 20 states and Washington, D.C., the charter school network has been pushing to sustain its results, publishing a number each year that speaks more to its weaknesses than its strengths. A third of KIPP teachers left their classroom jobs in the 2012-13 school year, according to the latest annual report.
In Houston, an astounding 36 percent of teachers left their positions, according to data for the 2013-14 school year. Still, if you factor in teachers switching into leadership roles and out of the classroom, the retention rate rises: three-fourths of teachers stayed with KIPP Houston in some capacity—a notable improvement from the previous year, when KIPP Houston only kept two-thirds of its teachers on its payroll.
"At KIPP we take the long view, and we continue to be our own biggest critics," said KIPP founder Mike Feinberg, acknowledging that KIPP has a "high" teacher turnover rate.
While charter schools debate the merits of pushing teachers to spend a lifetime in the classroom, critics of teacher turnover argue that high departure rates negatively affect student learning, create instability in the classroom, and are costly to taxpayers because districts and schools must recruit new teachers.
Charter schools, which are publicly funded but privately run, had an 18 percent turnover rate during the 2012-13 school year, according to the latest National Center for Education Statistics survey. That's a marked drop from the survey conducted four years earlier, which found a 24 percent turnover rate.
The rate is slightly slower at traditional public schools: during the 2012-13 school year, nearly 16 percent of teachers moved on, a number that has held steady. And the problem is worse at high-poverty schools. In the 2012-13 school year, at public schools where at least 75 percent of students qualify for a free or reduced-priced lunch, 22 percent of teachers left their jobs.
Research on the Los Angeles school district found higher turnover at charter schools between 2002 and 2008. But Los Angeles charter school teachers 30 years or younger were twice as likely to stay put as their public school peers. It was only later in their careers that charter teachers were more likely to leave.
The Los Angeles turnover report included no information on the teachers' reasons for staying or going, but the researchers are now looking more closely at trends at some of the schools.
"There is a big moment in the lives of these teachers when they get married and start to have kids," said University of California at Berkeley professor Bruce Fuller, one of the report's authors, noting that's likely part of the "age effect" found in the first study.
Teachers leave their jobs for any number of reasons, including unfavorable work conditions or higher pay elsewhere. But offering family-friendly policies could have all the more impact given that women generally bear more of the brunt of childcare responsibilities and the teaching force nationally is three-quarters female. The gender imbalance in the profession has, surprisingly, increased over the last generation, even as other professions have opened up to women.
* * *
In 2006, 12 years after founding the first KIPP school in Houston, Feinberg, who was then superintendent of the region, helped open the on-site daycare at KIPP SHINE in response to a need expressed by teachers. KIPP SHINE, the network's first elementary school, is where King works.
"We knew we weren't trying to run a sprint," said Feinberg. "We were trying to run a marathon. We were thinking well beyond what can we do to make sure our kids in May have good test scores. We were thinking about four or five Mays from now our kids having good test scores."
Steve Mancini, KIPP's national public affairs director, says other forces were also at work behind the network's embrace of family-friendly policies.
"It was started by two young guys, and they were single," he said. "They were very committed to education, and then both our founders got married and they both now have two kids."
In 2001 KIPP started replicating its model in other cities. The daycares, Mancini noted, are in older and larger KIPP regions—New Orleans, Arkansas, Houston—which are each run by superintendents who are themselves parents.
"I think what you're seeing is very natural, very organic—that the leaders of these schools are young, they're growing up, they're having families, so they're very attuned to this larger issue of sustainability," Mancini said. "One way it manifests itself is daycare."
Traditionally, KIPP ran middle schools. But KIPP SHINE offered a convenient location for the daycare: On the first-floor hallway with prekindergarten classes, which in Texas public schools can begin at age three. KIPP subsidizes the daycare with roughly $1,000 per family annually, charging parents $34 a day for infants and $33 for older children.
Across the country, just under a third of KIPP teachers now have access to on-site daycare, KIPP officials estimate. The centers provide various conveniences, such as opening early to accommodate teachers' start time and vacation days that match their schools' schedules. The network of daycares has expanded to include two in Houston, one in Arkansas, and another in New Orleans.
KIPP's Houston schools also offer flexible hours to teachers as well as priority in admission for employees' children. While KIPP officials have long advocated more classroom time for kids, this year they trimmed Houston teachers' workweek by two hours. Other charter schools, including Boston Collegiate and Colorado's Academy Charter, have adopted similar strategies in part to retain staff.
Daycares and flexible hours are, by far, the exception in charter schools. So too are the occasional high-profile scandals involving charter schools that fire or mistreat their teachers—as in the case of a Colorado teacher allegedly fired for insisting on her legal right to breast pump or in that at Imagine Schools, which settled a federal pregnancy-discrimination lawsuit in 2010.
While the scandals may be rare, critics say that charter schools have generally overlooked the problem of high turnover.
"Part of what KIPP would tell you is that they treat people like a family," said American Federation of Teachers president Randi Weingarten, who at the same time praised the effort to offer daycare and other benefits to teachers who are parents. "That begs the question of why there is so much churn and burn."
"The fact that charters are doing this is a huge recognition of two things: number one, that their philosophy that churn and burn was okay is wrong and, number two, that they have to do something about it," she said. "As they are evolving and maturing, what they're realizing, like every other school, is that experience actually matters and that stability actually matters."
* * *
At KIPP SHINE's daycare, when King handed Colin over, he happily leaned into the arms of Juana Gutierrez—"Ms. Juana"—who has been with KIPP from the start, first as a mother of a student in the original middle school and then as a caregiver when the daycare opened.
With 45 minutes to prepare for her students, King headed to her second-floor class, flipped on the brightly colored lamps lining the edge of the room and set up her laptop to project images that would go along with the day's reading, Beauty and the Beast.
Last year, King also asked for flexibility around scheduling so that she could leave at 4:00 p.m.—an hour before the long KIPP school day ended. The school leader arranged the classes so that her second-graders went to Spanish their last period.
She wasn't the only one to work out a flexible schedule; KIPP's Houston school leaders have wide latitude to arrange shorter days to accommodate teachers' needs. So, at the request of its teachers, and not just teacher-moms, this year all of the teachers at KIPP's Houston locations can finish at 4:15 p.m. instead of the regularly scheduled 5:00 p.m. Mondays through Thursdays. (Fridays now end at 3:00 p.m., instead of 2:00 p.m., and every day still starts at 7:15 a.m.)
With the system-wide change, King now has her planning periods built back into her workday, an evening commute with less traffic, and more free time when she leaves.
"I don't bring anything home," King said, noting she's even been getting to the gym after work. "I can focus on being a mom."
Like KIPP, Boston Collegiate has something to offer its teachers who become parents. And by at least one measure, the charter school has succeeded in establishing its reputation as family-friendly place to work: A dozen staffers were pregnant last school year, something of a challenge for a school with a 65-person teaching staff.
"Everyone here is so excited for everyone else when they're having a baby," said Sarah Muncey, director of family and community relations. "It's a real community of moms and dads."
The school started a daycare in 2010 after it opened a new building—a feature of the school that visitors always notice first, Muncey said.
With so many babies arriving, there's been competition for the daycare, which charges $60 a day and has space for 15 children. Muncey asked for a spot when she was just six weeks pregnant.
In the Boston Collegiate upper-school building, there's also a room dedicated to mothers—teachers who want to breast pump when they return from maternity leave. For lower-school teachers with babies in the daycare, it's a quick trip to nurse during breaks or planning periods.
When she started her 12th year at the school, sixth-grade math teacher Bridget Adam, 34, was among the first teachers with a baby at Boston Collegiate, which opened 17 years ago and is a small standalone school with 700 students.
In the early days, the administration didn't seem to trust staff members. Getting time off—even for a funeral—wasn't automatic, said Adam, who has a 6-year-old son and a daughter who's almost three.
"You requested a day off, and you were told no. People worked so hard," she said. But the culture mellowed as the school became more established and as new administrators joined the leadership.
"We have made some significant changes," she said, including by enlisting teachers on a formal committee aimed at retaining staff. (The committee, notably, helped raise pay at the school, bringing it to 90 percent of that offered by the district.)
With her first child she arranged a schedule so that she could arrive an hour later and drop him off at daycare. When the daycare opened, after her daughter was born, Adam was able to breastfeed at school. "They've been flexible with me," she said.
But combining motherhood with the intensity of a charter school teaching job still has its challenges: "There was really no time by myself," she said. "I always had one kid attached to me or 25 kids raising their hands asking for help."
The effort to accommodate families appears to be paying off. Boston Collegiate saw 85 percent of its teachers return on average for each of the last six years – up from 80 percent on average between 2000 and 2007.
***
Though on-site daycares at charter schools are still rare, it's been much more common for charter schools to grant children of staff and founders automatic admissions. This practice has its roots in the early charter movement, when parents sought to build schools for their own kids. In some places, the admissions preference has been part of an effort to compete for teachers with districts that have a similar policy.
But lately preferences have also served as a way to keep teachers happy.
In D.C., after a change in the law this year, charter schools will be able to offer preference to staffers' kids, though they can't account for more than 10 percent of the student body. The idea was championed by teachers at some of the highest-performing charter schools in the city, school officials said.
At Academy Charter School, among the first charters in Colorado, all but one of the 21 staffers with school-aged kids send them there, officials say. That's just a fraction of the roughly 600 students in kindergarten through grade eight, just 6 percent of whom are low-income.
The school also began offering childcare in 2001. Children as young as two can attend a preschool specifically dedicated to staffers' kids for $30 a day.
When Christie Marble, 54, started as an Academy Charter teacher in 1997, her son Jesse attended the middle school. Now Jesse's daughter Livvy, 2, attends preschool, thanks to the school's willingness to extend the benefits to grandchildren.
"[Jesse] knew what an amazing education it was," she said. "He's said for forever that 'when I get married and have kids, they're going there.'"
Fifth-grade teacher Tara Lindburg, 39, even moved to the neighborhood so that her children— Annika, 6, and Soren, 3—would live in the community where they go to class. The quality of education that her children will receive is part of what keeps her at the school.
And while they're young, at least, it's a special treat for the family to be in the same place.
"As you get older it's not as cool to be at school with Mom," said Lindburg, who's in her ninth year as an Academy Charter teacher. "Hugs in the hallway turn into high fives, turn into looking away."
At KIPP SHINE, King said it's too early to decide whether to enroll Colin in the charter school after he turns four, partly because she has access to good schools where she lives and partly because she's uncertain about her own professional future.
"If I am still working here, he would definitely be attending SHINE," she said. "It would be a great thing for him to be here with me."
---
This story was produced in collaboration with The Hechinger Report.