A Missed Opportunity to Teach Kids About Midterm Elections
Schools across the country are being used as polling stations, but the students who attend them may not understand why these elections matter.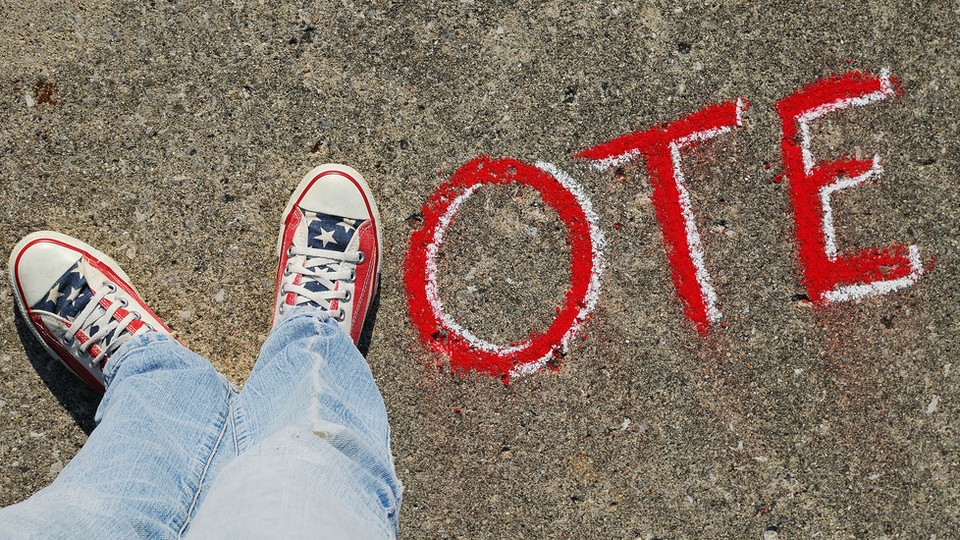 Today is a day off from school for millions of students as campuses in some districts and states—including Michigan and New York—are converted into polling stations for the midterm elections. For Peter Levine, the director of the Center for Information and Research on Civic Learning and Engagement, that's a missed opportunity to demonstrate democracy in action.
"I'm sure there are practical reasons why the schools have to be closed," said Levine of CIRCLE, which is based at Tufts University in Boston. "But it seems like a shame not to show the students firsthand how elections work, and why voting matters."
Indeed, in some communities schools provide essential space for polling, and classes are canceled out of safety concerns. But plenty of school districts are also using the midterms for instructional inspiration. In Stoughton, Massachusetts, students who wanted to participate in their school's mock election were required to  bring a parent with them; this usually results in some of the adults registering for the real election, the Patriot Ledger reports. But over the past decade—with heavy pressure from the No Child Left Behind Act's emphasis on test scores in mathematics and English language arts—civics has taken a backseat, Levine said.
Civics is still a required course for most U.S. students. But for many high schoolers, the course comes in the spring of the 12th grade, when "'senioritis' has set in for many of them," Levine said. "The message is that civics isn't really a priority." (In 2010, just 24 percent of 12th graders scored at or above the proficient level in a national civics assessment.)
There's also a significant disparity when it comes to access to civics education, with students living in more affluent areas more likely to take the subject and get involved in related activities than their peers in lower-income communities, Levine said. That's only helping to widen the racial and socioeconomic gap among young adults who actually end up voting.
Why does civic knowledge matter? For starters, it's one of the reasons we even have public schools. The core purpose of public education was to create an informed and engaged citizenry, one that would see the value in sharing the responsibility for maintaining the republic.
In recent years, a number of states—including Alaska, Illinois, Massachusetts, Oregon, and Virginia—have put a new emphasis on schools' responsibility for civics education and added more resources and opportunities for teachers and students to focus on the issue, according to the Education Commission of the States. However, as of June 2014, only two states—Florida and Tennessee—required civics assessments, the ECS reported.
In the 2012 report Fault Lines in Our Democracy, researchers for the Educational Testing Service outlined "the dismal state of civic knowledge among our youth." Older adults with the most education and the highest income levels are the most likely to vote, according to the study. The authors concluded that improving high school graduation rates would in turn boost voter turnout. They also suggested that policymakers consider making voter registration a requirement for graduation.
High school graduation rates have been increasing, reaching a historic high with a national average of 80 percent for the class of 2012. But it's going to take more than just additional graduates to produce more voters, experts say. In the 2010 midterms, less than half of voters ages 18-29 cast a ballot, and the top reason given was that they weren't interested or didn't believe their vote would make a difference, according to a 2014 report by CIRCLE, which examined voter habits nationwide.
Younger voters tend to align themselves more with a specific issue than with a political party affiliation. But CIRCLE's research has found that having hot-button topics like gun control or marijuana legalization hasn't resulted in a surge of young voters at the polls. (The exception, Levine said, is when there's a dedicated and well-funded campaign by ballot measure advocates to target that particular demographic.)
Education Week has put together a handy primer on the big education issues looming nationwide in the midterm elections, including key races and ballot questions. It will be interesting to see where younger voters turn out, and how the numbers shake out overall for education measures. Outside of the obvious "winners" and "losers" on election night, there will be lasting implications for public schools.
Among the results to watch:
In Nevada, voters are being asked to approve a new tax on big businesses to fund education. Supporters, including the state's teachers' union, say it's a much-needed infusion of revenue from a segment of the private sector that isn't paying its fair share. But some business leaders argue the tax increase will force companies to cut jobs to cover the additional expense. The Silver State currently ranks near the bottom nationally for per-pupil funding. The Las Vegas Sun put together a helpful Q&A on the ballot measure, including what the studies say about the potential impact (and who paid for the competing research).
Early childhood education is on the ballot in Hawaii, where voters will be asked to support allocating public dollars for private programs, a move that would require a constitutional amendment. In Seattle, competing ballot measures give voters a choice of preschool initiatives.
And in California, the race for state schools superintendent isbeing watched closely by the national education community. Incumbent Tom Torlakson, who has the backing of the state's teachers' union, says he shepherded the state through its toughest financial crisis in recent memory and lobbied aggressively for additional school funding. Challenger Marshall Tuck, a former charter schools administrator, wants schools to be more innovative, such as developing videos highlighting the best practices of successful teachers for others to follow. Leading editorial pages are backing Tuck, but his critics say overseeing 17 underperforming campuses going through turnaround isn't sufficient experience for a job responsible for educating some 7 million students. The race is the most expensive political fight in the state this year. Torlakson had eked out a slight lead in an Los Angeles Times poll published Monday. Observers are expecting it to be a close fight. As one voter told the Sacramento Bee: "I haven't made up my mind yet. I might not do that until I get in the polling booth."
---
This post appears courtesy of The Educated Reporter.