Why Did the Los Angeles Superintendent Resign?
In his efforts to improve his district, John Deasy took risks and made impressive gains. He also made mistakes and earned some enemies along the way.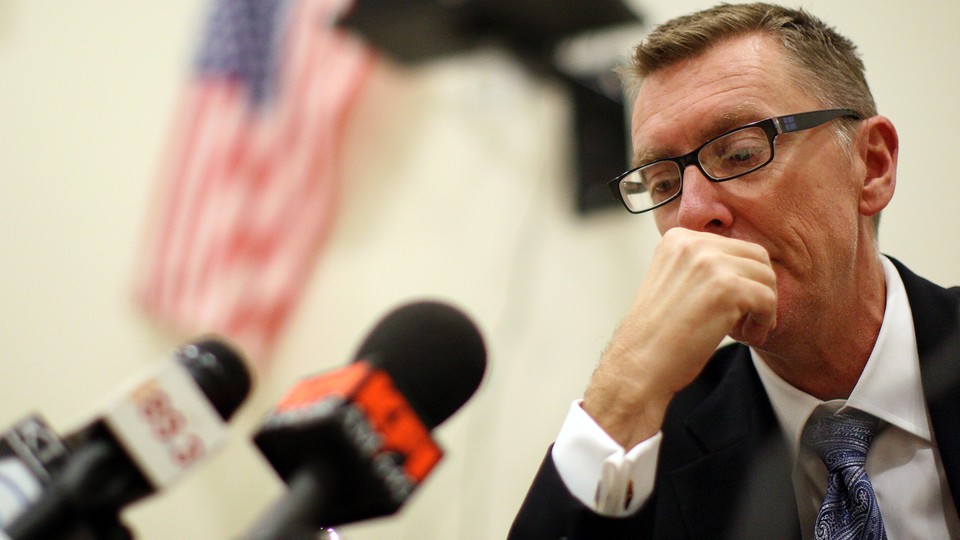 Los Angeles Unified School Superintendent John Deasy resigned on Thursday, ending weeks of speculation over whether he'd be ousted by the school board or leave the post of his own accord.
"Needless to say this has been hard work, in fact exhausting, work." The beleaguered superintendent wrote in his resignation letter. "I have neglected my family, my health, and my parents' heath. We all carry the ball for a while, and then give it to others to continue. I have had this amazing opportunity and privilege. I am proud and honored, but it is time for a transition."
After three-and-a-half years, much of it mired in controversy over technology missteps like the rollout of a $1.3 billion iPad program and a court case that struck down teacher tenure laws in California, the schools chief and the board have agreed to part ways.
Deasy will stay with the nation's second largest school district on a paid "special assignment" through the end of the year, while his predecessor as schools chief, Ramon Cortines, will fill the position until a new superintendent can be tapped. Cortines served a brief stint as Los Angeles Unified superintendent in 2000 and held the position again from 2009 to 2011, when Deasy took over.
Deasy's tenure has been contentious because of what his critics say was his unwillingness to compromise on hot-button issues, including teacher evaluation and employment. But he also presided over improved test scores and graduation rates even as the district was mired in debt. Suspension rates have dropped dramatically and dropout rates are on the decline.
School board member Steve Zimmer believes at least some of those improvements will continue if the new superintendent is equally committed and can also find ways to bring along some of Deasy's opponents. "I don't think the ending of the Deasy era is a happy moment," says Zimmer. "How do we keep our urgency and refocus our energy on the collaboration needed to bring the change this district needs?"
Under Deasy's leadership, the projected graduation rate for the 2013–2014 school year is 77 percent, an increase of 12 percentage points over the previous school year, and almost 30 points higher than the rate for 2008.  While dropout rates have declined more slowly, with a three-percentage-point drop from the previous year, the suspension rate has seen a drop from 8 percent in 2008 to today's 1.5 percent, largely a result of Los Angeles Unified's ban on suspensions for "willful defiance," back in May 2013.
Zimmer credits Deasy with leading the way on restructuring school discipline policies. "He is someone who relentlessly combs data through an equity lens," says Zimmer. "He uncovered the willful defiance issue and no one could turn away from it. The effort will have lasting impact for educational equity in Los Angeles."
But on other controversial issues, he was often a lone crusader who failed to win critical support from the school board.
Take the Vergara v. California trial, which in June overturned state's laws governing teacher tenure, seniority, and dismissal. Deasy was the prosecution's star witness. According to Zimmer, who supports some of the changes in teacher protection, Deasy never even discussed the case with the school board. Zimmer was particularly disturbed that Deasy seemed to enjoy taking down laws that were put in place to protect the 28,000 teachers he leads.
"You take something that needs a scalpel and careful instrumentation and instead you take out the sledgehammer," says Zimmer. "Deasy wasn't careful enough to avoid the perception that he enjoyed using the sledgehammer.  He fought for things he really believed in, which is fine, but he wasn't careful about how it would be perceived by the people who have to teach our kids everyday."
Frederick Hess, director of education policy studies for the American Enterprise Institute in Washington, D.C., isn't a big fan of the Vergara lawsuit, yet he admires the way Deasy stuck to his principles. "For a superintendent to make it clear that he hopes his own district will lose a lawsuit in order to effect change takes a little bit of chutzpah," says Hess. "I think he probably takes a lot of grief from people who are wondering why he is making it clear that he is supporting those who are suing the system. It's an admirable trait that he stood for principle."
Deasy's refusal to compromise also pitted him against the union. "He has pushed too many autocratic programs without real consideration of the consequences for educators," says United Teachers Los Angeles president Alex Caputo-Pearl.
Caputo-Pearl cites the bungled $1 billion iPad program, an effort, at the start of the 2013 school year, to put a tablet in the hands of every student in the district. The rollout began amid confusion over whether students would be allowed to take the devices home and who'd be held responsible if they were lost or stolen. There was public outcry over the program's billion-dollar price tag.  Deasy ended the program after emails revealed he discussed a possible contract with Apple before bidding took place; he has denied any wrongdoing. Still, Caputo-Pearl refers to the situation as a "scandal."
Deasy's biggest offense, according to Caputo-Pearl, was offering teachers merely a 2 percent raise, even though they've taken close to 8 percent in cuts over the past seven years. "He's stuck on a pay offer that feels hypocritical, considering that he gets a 19 percent raise over three years," says Caputo-Pearl. "It shows his stubbornness."
Caputo-Pearl has other complaints that he says show that Deasy didn't understand teachers' needs: the restructuring of struggling schools—an effort that disrupted school programs and forced educators to reapply for their jobs—and the introduction of defective software designed to track student attendance, grades, and schedules. The software glitch caused students to go without schedules, and possibly without transcripts, at a time when many were applying to college. "Many people who are very familiar with the [computer] program told him not to roll it out," says Caputo-Pearl, "but he did anyway, and it resulted in widespread chaos."
Yet Deasy didn't get the job as schools chief on the condition that he would collaborate. According to David Menefee-Libey, politics professor at Pomona College, Deasy's initial mandate was just the opposite.
Former Los Angeles mayor Antonio Villaraigosa brought Deasy into the district with backing from billionaire Eli Broad, with the hope of growing the charter school system, confronting the teachers union, and changing the terms of teacher employment in Los Angeles. "To be fair to Deasy, that's why he was hired," says Menefee-Libey.  "He tried to follow through on what he promised and what they hired him for."
Deasy joined Los Angeles Unified as deputy superintendent in August 2010 and went on a mission to overhaul teacher evaluations, a subject he knew from his previous job at the Bill and Melinda Gates Foundation. He is a 2006 graduate of a superintendent-training program funded by Broad, who favors teacher evaluations based on test scores.
In April 2011, Deasy became Los Angeles's superintendent by a unanimous vote of the school board with one member, Zimmer, abstaining because there was no nationwide search. Deasy led three school districts before Los Angeles Unified: Prince George's County Maryland public schools from 2006 to 2008, Santa Monica-Malibu Unified school district in California from 2001 to 2006, and Coventry public schools in Rhode Island from 1996 to 2001.
But despite that background and the support he initially won, he ultimately ran into the same obstacles that face other leaders of large urban districts who want to create major change, says former New York City schools chancellor Joel Klein. "[If] you think the status quo is just hunky-dory," says Klein, "you can sit back and do the same old, same old because it makes it easier or congenial. You'll be less controversial, but also less effective. If you're not willing to do things that are controversial, then in my view you're not going to change things for kids, and if you're not going to change things for kids, then why be a superintendent?"
Klein cites test scores as a measure of that change. Since 2011, Los Angeles Unified fourth graders saw the second-highest gain in reading—four points—of 21 urban districts where students took the National Assessment of Educational Progress test. White and African American fourth graders scored higher gains in reading than in any other urban district. Los Angeles also attained the highest gains—15 points—in reading scores for eighth graders compared with other districts over the past 10 years. For Hispanic, Asian, and low-income eighth graders, L.A. surpassed the gains of all other urban districts in reading. Over that same period, math scores for eighth graders in Los Angeles Unified increased by 13 points, which was higher than the national average.
"Los Angeles has had remarkable improvement," Klein says. "You would think the board would be exhilarated by that. Isn't this what it's supposed to be about? You would think that people would be saying, whatever else, John Deasy is doing a world-class job for our kids. But I'm sure that what people are focusing on are political issues and on adult issues."
Menefee-Libey says Deasy's style was typical of so-called reformers who sound alarm bells over the state of public education and claim the emergency demands radical change.
"Deasy came in saying, 'This district is in crisis and I'm going to turn it around,'" says Menefee-Libey. "That's not how large organizations like this work. These are large complex organizations that don't change fast. These people who want to bring radical change end up destabilizing districts, which makes bringing change even harder to do."
"Large urban school districts are hard to run," Menefee-Libey says. "This is rocket science. It's too much for one person to run if he wants to be some kind of radical change agent. He has to be willing to collaborate with people with whom he may disagree. This is a diverse district and to govern it inclusively is a hard thing to do."
Hess says it's unlikely that any activist superintendent would have fared differently. "The idea that good leadership is a superintendent and school board playing patty-cake is a pipe dream," says Hess. "If they're not fighting over anything it's probably because nothing important is happening. We shouldn't rush to imagine that all tension and argument is necessarily a bad reflection on the political process."
---
This story was produced in collaboration with The Hechinger Report, a nonprofit, nonpartisan education-news outlet affiliated with Teachers College, Columbia University.