Tennessee Set to 'Review' the Common Core
The state has appointed a review panel and is inviting the public to make recommendations. But how much are the standards really likely to change?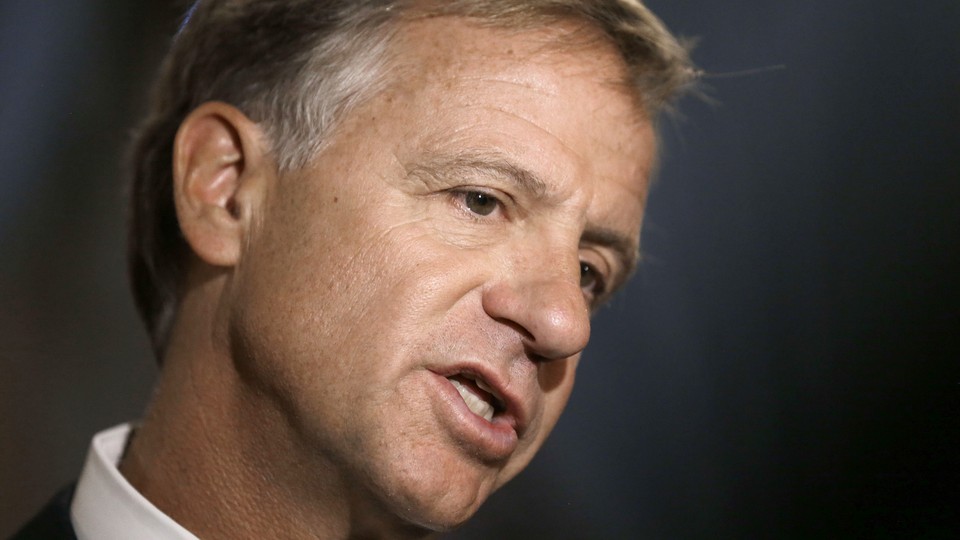 Tennessee governor Bill Haslam, who has been a staunch defender of the Common Core, this week announced that the Volunteer State will launch a review of the standards, including inviting public input on what specifically should be changed. This decision appears to represent a big shift for Haslam, who last spring spoke before a packed ballroom at the Education Writers Association's National Seminar with a message of staying the course on the standards for English/language arts and mathematics in the face of political resistance.
The action once again raises questions about the future of the Common Core. In 2010, state after state adopted the standards in rapid succession. About two-thirds of states did so over that summer, a remarkable pace. When the dust settled, 46 states and the District of Columbia had signed on. Now, it seems, state after state is calling into question its earlier commitment, either by formally calling for a review of the standards, such as in Missouri, North Carolina, and now Tennessee, or reversing their adoption altogether (in Indiana, Oklahoma, and South Carolina).
And yet, it's still not clear how many states will follow suit, and what all the pushback will actually produce. Will much change with the actual content of state standards? The recent example of Indiana, and early signals in a few other states, suggests perhaps not. Just as important, what exactly will states decide to change?
I'll return to these larger questions in a moment, but first, back to Tennessee. For the latest on the situation, here are three stories to check out. One, from Joey Garrison of The Tennessean, a second from Grace Tatter of Chalkbeat Tennessee, and a third from Andrew Ujifusa over at Education Week. (He also penned a big-picture piece this summer exploring what the pushback will amount to when it comes to the content of state standards.)
Suffice it to say there are complicated politics at play in Tennessee that have surely placed enormous pressure on Haslam to call for a public review of the standards. His plan is to produce a set of recommended changes by the end of 2015. The Tennessean reports that the state board of education has already named members of review panels that include K-12 educators and representatives of higher education. In addition, the state plans to create a website where anyone can post their specific recommendations. Typically in Tennessee, state standards are reviewed every six years, but this review will come sooner, after four years. (It's worth noting here that all states will eventually conduct reviews of the standards. Every state from time to time updates and revises its academic standards.)
Here are details on his announcement.
And here are some key takeaways  from Gov. Haslam's keynote address on May 19, 2014, at EWA's National Seminar in Nashville, hosted by Vanderbilt University:
"This past legislative session, we've had a huge battle over the whole issue of implementing the Common Core in our schools. We're in our third year of implementation. We've trained about 40,000 teachers, and as you can imagine, as you've read in other places in the country, it's been just as contentious, if not more, here. But I honestly thought it was incredibly important we not back up on those standards."
Gov. Haslam also offered a pretty nuanced discussion of the standards:
"I am a Republican governor, and there are a whole lot of folks in our party, and actually in both parties, … that have pushed back really hard against Common Core. We've worked really hard to define what it is and what it's not. It's not curriculum design. That's still [a] local school board [decision]. It's not textbook selection. That's still local school boards with the state board of education. What it is is a group of states that came together and defined what every child should know at that point in his or her education career."
The story in the Tennessean quotes a couple of Common Core critics from the legislature, including Republican representative Billy Spivey, who said: "We've been asking that the administration listen to the legislature and the voice of the people, and I think if we're going to ask somebody to listen, we have to be willing to listen as well."
The Tennessee action is not the same as the more aggressive stances taken in states such as Indiana, Oklahoma, and South Carolina, where measures to undo the state adoptions of the common standards have been approved. What this really means remains to be seen.
Oklahoma and South Carolina are still in the early stages of replacing the Common Core. One South Carolina official recently indicated the state doesn't have time for a major rewrite. In Indiana, meanwhile, the revised standards apparently bear a striking resemblance to the Common Core. In fact, some Common Core critics in Indiana were upset to see that not much had changed. (Incidentally, this seems to have flown below the radar, but while Alaska is not considered a Common Core state, I'm told the state standards there are virtually identical to the common standards. Based on a quick glimpse, they look awfully similar to me.)
Although the process of review has accelerated in Tennessee, as well as Missouri and North Carolina, every state eventually will come to a point when it's time to revisit their standards in English/language arts and mathematics. This has always been the case.
Looking ahead, education journalists should go beyond the political rhetoric and find out what exactly people are proposing to change about the standards. Much of the criticism—though not all of it—has been focused on the process of developing and adopting the standards, not what the standards actually say.
Reasonable people surely can disagree on particular dimensions of the standards. For reporters, here are a few questions to keep in mind:
What specifically are critics saying that they find troubling about the content of the standards, and how do they propose to change it?
If a state "pulls out" of the Common Core, what does this really mean? How much of the standards do they intend to change?
If a state that adopted the Common Core does change its standards in those subjects, what is the nature of those changes? Do the changes make the standards stronger or weaker? (And what makes standards "strong" or "weak"?)
If a state changes the Common Core in significant ways, does the substitute still cohere? Many experts will surely caution against patchwork changes that undermine the integrity of standards.
It will be fascinating in coming weeks and months to see what comments the public in Tennessee—and in other states—supplies about the content of the Common Core.
---
This post also appears courtesy of  The Educated Reporter.