In Atlanta, Educators Stand Trial for Cheating on High-Stakes Tests
When public school employees fudge scores, kids may miss out on qualifying for services that could help them make legitimate academic gains.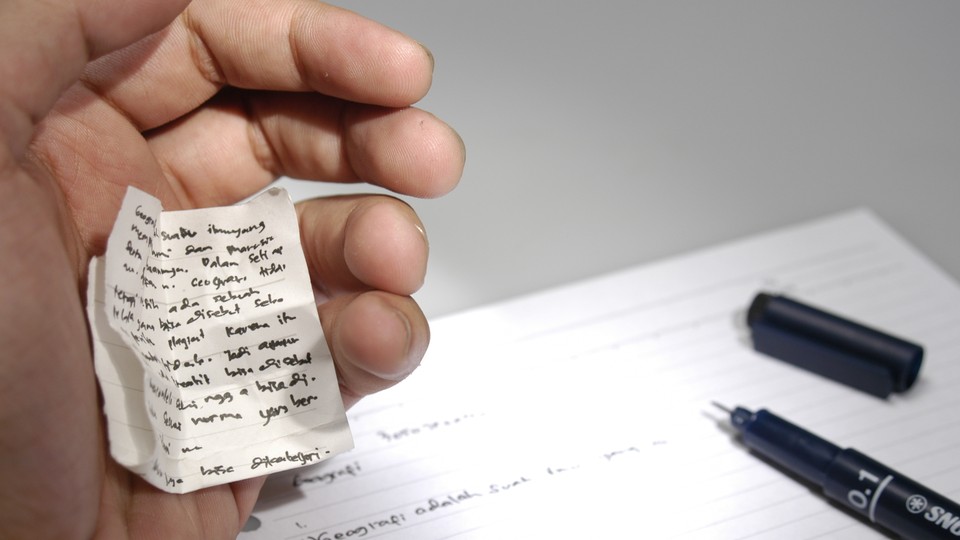 In Atlanta this week, opening arguments are underway in a racketeering trial where prosecutors will argue that public school educators engaged in a massive conspiracy to cheat on high-stakes tests.
From the Atlanta Journal-Constitution's coverage of Monday's opening arguments:
"This conspiracy was cleverly, cleverly disguised and the purpose of the conspiracy was this—to illegally inflate test scores and create a false, false impression of academic success for many students in the Atlanta Public School system," said prosecutor Fani Willis. "It was done to those students' detriment."
The defense is expected to blame a corrosive environment where boosting test scores had become the sole priority, and that teachers and administrators were motivated by fear—rather than personal gain—when they changed students' answer sheets on statewide exams.
Some of the most damning charges have been laid at the feet of 67-year-old Beverly Hall, a former national Superintendent of the Year who prosecutors say fostered a work environment where dishonesty was rewarded. The judge in the current case ruled over the summer that Hall, who has been diagnosed with advanced breast cancer, would not stand trial with the 12 other defendants. If her health improves she will be tried at a later date, according to the AJC.
A state investigation implicated more than 180 educators at 44 schools, according to media reports. Charges were originally brought against nearly three dozen Atlanta public school employees, many of whom took plea deals. The AJC's investigation into testing anomalies in 2008 triggered the district attorney's inquiry, which later led to the subsequent indictments. More recently the paper looked at problems nationally with how high-stakes tests are handled before and after the questions are put to the students. And Rachel Aviv's profile for The New Yorker on one of the indicted teachers is a must-read.
Even as the Atlanta scandal is grabbing headlines, it's important to remember that reports of cheating on standardized tests nationally represent just a tiny fraction of the total assessments administered each year in public schools. However, in a 2013 report, the Government Accounting Office reported 33 states had at least one incident of school officials cheating on tests in the prior two years. The feds clearly have a stake in the state-level accountability systems, having spent more than $2 billion to help develop school tests since 2002, according to the same report.
High-profile school cheating allegations with potential criminal consequences are also in the news in Philadelphia. And in Dallas, five teachers and an instructional coach resigned amid cheating allegations, and the district confirmed that separate investigations were underway at another three schools. The superintendent even took the extraordinary step of sending a letter to teachers reminding them "not to cheat," according to the Dallas Morning News.
While the Atlanta investigation focused heavily on erasure analysis (tracking how often the wrong answers were erased and replaced with the correct ones) there are plenty of other ways districts can cheat, according to FairTest, a national advocacy group. Just one example: Schools might "skim" the student population by identifying kids who are likely to be weaker test takers, and then reporting them as absent so that their answer sheets don't have to be turned in. (For more on the skimming angle, take a look at the Columbus Dispatch's award-winning investigation from 2012.)
So why does this matter? When educators cheat, there's more than just the lost of public trust in the school system. If an assessment is considered a valid measure of what a student has learned during the academic year, falsifying their answer sheets can hurt their long-term academic progress. In some cases kids may have missed out on qualifying for interventions and services that could have helped them make legitimate academic gains.
To be sure, frustration with high-stakes testing appears to be reaching a tipping point. On the most recent Gallup Poll, the percentage of parents who said they wanted teacher evaluations to be tied to student  test scores dropped to 38 percent from 52 percent in 2012. Some states are scaling back not only the number of tests students take each year, but also the emphasis that's being placed on the outcomes of those exams. In August, U.S. Secretary of Education Arne Duncan announced a two-year moratorium on requiring states to link student test scores to teacher evaluations as part of a previously approved federal waiver. That move was tied in part to many states transitioning to new assessments aligned to the Common Core grade-level standards.
In the meantime, the Atlanta trial is expected to fuel the national debate over high-stakes testing, and whether cheating is an inevitable result of the current school climate.
"This scandal is a cautionary tale," Tim Callahan, a spokesman for the Professional Assn. of Georgia Educators, told the Los Angeles Times. "If we continue to overemphasize test scores, there will be more bad apples."
---
This post appears courtesy of The Educated Reporter.