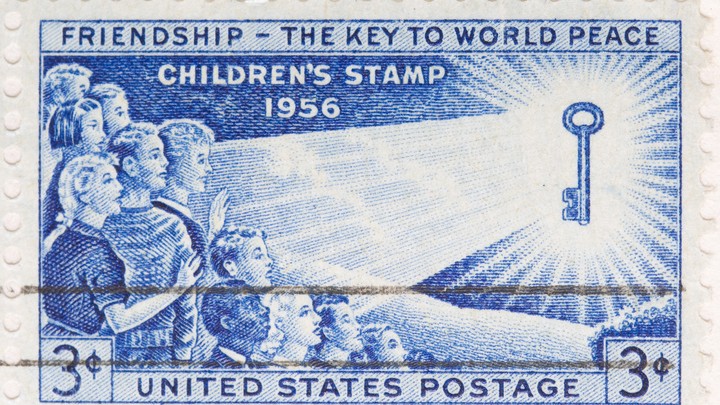 When the unrest in Ferguson erupted, my husband made an observation that broke my heart: "The kids were supposed to start school today."
For me, the perfume of synthetic fibers and freshly sharpened pencils always signals the start of a new school year, and it makes me ecstatic. As a child, the ritual began with a trip to the uniform store. My older sister and I trekked onto Clark Street via a city bus. Each year, we found ourselves before the counters of what had to be the world's largest purveyor of Catholic school uniforms. "St. Margaret Mary, please," we would say. The elderly salesman would fetch my mostly polyester wardrobe for the upcoming school year—a plaid jumper, pleated skirts, Peter Pan-collared blouse, acrylic cardigans—carefully folded in individual plastic bags.
I loved the preparations for the first day of school so much that I became a college professor. I've spent most of my 34 Augusts anticipating a school year.
From the beginning of the situation in Ferguson, news reports alerted the public that Michael Brown was to start college soon. Before surveillance videos and photographs of protestors with their hands up were available, people saw a stoic Brown in a bright orange, probably acetate graduation gown. He will not have a first day ever again. And for the children of Ferguson, who have yet to have their first day, they may remember the smell of death, the odor of tear gas, the stench of an American tragedy.
In this kind of situation, people all say, what can I do? I have few talents in a crisis, but I do know I'm pretty good at teaching, and I knew Ferguson would be a challenge for teachers: When schools opened across the country, how were they going to talk about what happened? My idea was simple, but has resonated across the country: Reach out to the educators who use Twitter. Ask them to commit to talking about Ferguson on the first day of classes. Suggest a book, an article, a film, a song, a piece of artwork, or an assignment that speaks to some aspect of Ferguson. Use the hashtag: #FergusonSyllabus.
From a children's book about living with someone with PTSD to maps of St. Louis's school-desegregation struggles to J. Cole's "Be Free," the Ferguson archive was tweeted, re-tweeted, mentioned, and favorited thousands of times. A small community has formed; the fabric of this group is woven across disciplines and cultural climates. Some of us will talk about Ferguson forcefully, others gingerly, but from preschool classrooms to postdoctoral seminars, Ferguson is on the syllabus.
The following list was compiled by a community of teachers, academics, community leaders, and parents to teach about some aspect of the national crisis in Ferguson, Missouri. This is a snapshot of the recommendations that has been edited. The contributions continue on Twitter.
Teaching About Race and Ferguson
"The Danger of a Single Story" 
Chimamanda Ngozi Adichie, TedTalk 
"A Talk to Teachers," in The Price of the Ticket, Collected Non-Fiction 1948-1985 
James Baldwin
"Constructing a Conversation on Race" 
Charles M. Blow, New York Times
"Ferguson Killing Inspires Young Black Activists" 
Frederica Boswell, NPR 
"On Recognizing My White Privilege as a Parent in the Face of Ferguson"
Elizabeth Broadbent, xoJane
"5 Ways to Teach Michael Brown and Ferguson in the New School Year" Christopher Emdin, blog
"#FergusonSyllabus" 
Kathee Godfrey, blog
"Teaching About Ferguson" 
Julian Hipkins, Teaching for Change
"#FergusonSyllabus: The #FergusonFiasco and Teaching African American Theology" 
Andre E. Johnson, blog
"What Do We Teach When Kids Are Dying? #MichaelBrown"
Chris Lehman, blog 
"What White Children Need to Know About Race"
Ali Michad and Eleonora Bartoli, nais.org
"Between the By-Road & the Main Road: Curated Bibliography on Whiteness, Silence & Teaching"
Mary Ann Reilly, blog
"Reading Ferguson: books on race, police, protest and U.S. history" 
Hector Tobar, Los Angeles Times
"Educators Use Twitter To Teach About Ferguson, Build Syllabuses"
Erica Smith, "St. Louis on the Air," St. Louis Public Radio
Healing Days: A Guide For Kids Who Have Experienced Trauma
Susan Straus
"12 Things White People Can Do Now because Ferguson" 
Janee Woods, Quartz
"#Ferguson"
zotero.org
African-American History/Civil Rights in the United States
"SNCC Women, Denim and the Politics of Dress"
Tansha Ford, Journal of Southern History
100 Years of Lynchings
Ralph Ginzburg
Bombingham
Anthony Grooms
African-American Identity in the Gilded Age
The Library of Congress
Stalking the Angel of Death: The Lynching Calendar
The Autobiography of Malcolm X
Alex Haley
Sister Citizen: Shame, Stereotypes, and Black Women in America
Melissa Harris-Perry
"Black Power"
Speech delivered by C.L.R. James, 1967 
"How the Children of Birmingham Changed the Civil-Rights Movement"
Lottie L. Joiner, The Daily Beast
Black Liberation in the Midwest: The Struggle in St. Louis, Missouri, 1964-1970
Kenneth Jolly
"Letter from a Birmingham Jail"
Martin Luther King, Jr.
"On Ferguson, Missouri: History, Protest, and 'Respectability'"
Clarence Lang, Labor and Working Class History Association blog
March: Book One
John Lewis, Andrew Aydin, Nate Powell
"Learning from the 60s"
An address by Audre Lorde, 1982
At the Dark End of the Street: Black Women, Rape, and Resistance—A New History of the Civil Rights Movement from Rosa Parks to the Rise of Black Power
Danielle L. McGuire
"'We have to make them feel us': Open Letters and Black Mothers' Grief"
Emily Owens, African American Intellectual History blog
Ella Baker and the Black Freedom Movement: A Radical Democratic Vision Barbara Ransby
Family Properties: Race, Real Estate, and the Exploitation of Black Urban America
Beryl Satter
The Red Record
Ida B. Wells
The Miseducation of The Negro
Carter G. Woodson
Native Son
Richard Wright
Children's Books
Noughts & Crosses
Malorie Blackman
Smoky Night
Eve Bunting and David Diaz 
What Shall I Tell My Children Who Are Black?
Margaret Burroughs 
I am Rosa Parks
Brad Meltzer
Ruth & the Green Book
Calvin Ramsey
Tar Beach
Faith Ringgold
As Fast As Words Could Fly
Pamela Tuck
The Skin You Live in
Michael Tyler
The Other Side
Jacqueline Woodson
Shining Star
Paula Yoo
Community Organizing, Leadership, Activism
"Fighting Police Abuse: A Community Action Manual"
American Civil Liberties Union
"When the Boss Feels Inadequate: Power, Incompetence, and Aggression"
Nathanael J. Fast and Serena Chen, Psychological Science 
"From Eric Holder: A Message to the People of Ferguson"
Eric Holder, ‪St. Louis Post Dispatch 
"The Mindless Menace of Violence"
Robert F. Kennedy
"The Transformation of Silence into Language and Action"
Audre Lorde
Radical Equations: Civil Rights from Mississippi to the Algebra Project
Bob Moses and Charlie Cobb
Thinking in an Emergency
Elaine Scarry
Educational Issues
"U.S. Schools: Desegregation court cases and school demographic data"
Brown University
"Race and the Ferguson-Florissant School District"
Shaun R. Harper and Charlee Davis, III, University of Pennsylvania Graduate School of Education
See Unending Struggle: The Long Road to an Equal Education in St. Louis, Gerald W. Heaney and Susan Uchitelle
"Self-Segregation: Why It's So Hard for Whites to Understand Ferguson" 
Robert P. Jones, The Atlantic
"Reflections on Ferguson — What does education mean in a world like this? " Daniel Katz, blog
"Michael Brown's High School Is An Example Of The Major Inequalities In Education"
Rebecca Klein, Huffington Post
Savage Inequalities: Children in America's Schools
Jonathan Kozol
Stepping over the Color Line: African-American Students in White Suburban Schools
Amy Stuart Wells and Robert L. Crane
Film
"Banished: How Whites Drove Blacks Out of Town in America" (2006)
"Chicago 10" (2007)
"Do the Right Thing" (1989)
"Eyes on the Prize: America's Civil Rights Movement, 1954-1985" (1990)
"Little Rock Central High School: 50 Years Later" (2007)
"The Pruitt Igoe Myth" (2011)
"Freedom Summer" (2014)
Media Studies and Journalism
"In Ferguson, Photographs as Powerful Agents, Smartphone cameras are the 'weapon of choice' for many protestors"
Maurice Berger, New York Times
"Unethical journalism can make Ferguson more dangerous"
Malcolm Harris, Al-Jazeera America
"I will not be returning to Ferguson"
Ryan L. Shuessler Blog
White Victims, Black Villains: Gender, Race, and Crime News
Carol A. Stabile
"Embarrassed to Photograph Ferguson"
VDC Photo Blog
Music
"Be Free"
J. Cole
"Black Rage"
Lauren Hill
"Mississippi Goddam"
Nina Simone
Other Educational Hashtags on Twitter
#sschat
#TTTI
#HipHopEd
#KidLitforJustice
Personal Reflections
"Dear White Mom"
Keesha Beckford, blog
"Men Without a Country: Mike Brown, Trayvon Martin, My Father and Me" Arthur Chu, The Daily Beast
Black Body: Rereading James Baldwin's "Stranger in the Village"
Teju Cole, New Yorker
"Blue on black violence and original crime: a view from Oakland, California" Brad Erickson, anthropelia.com
"The Coming Race War Won't Be About Race"
Kareem Abdul Jabar, Time
"How Does it Feel to be a Problem?"
Relando Thompkins, blog
Different Rules Apply 
Matt Zoller Seitz, rogerebert.com
Poetry
"Riot"
Gwendolyn Brooks
"If There Be Sorrow"
Mari Evans
"I, Too, Sing America"
Langston Hughes
"If We Must Die"
Claude McKay
"The Still Voice of Harlem"
Conrad Kent Rivers
"Not an elegy for Mike Brown"
Danez Smith
"See the Heart"
Jean Toomer
"Horses Make a Landscape More Beautiful"
Alice Walker
Policing
The Rise of The Warrior Cop: The Militarization of America's Police Forces
Radley Balko
"Database: How many grenade launchers did Michigan police departments receive?"
Detroit Free Press staff
"In Ferguson, cops hand out three warrants per household every year"
Kevin Drum, Mother Jones 
"The Ferguson Shooting and the Science of Race and Guns"
Erika Eichelberger, Mother Jones 
"The Surprising History and Science of Tear Gas"
Brian Clark Howard, National Geographic 
Black in Blue: African-American Police Officers and Racism
James Loewen
"To What End?"
Michael Maderino Blog
Police Brutality: An Anthology
Jill Nelson
"The Etiquette of Police Brutality: An Autopsy"
Rion Amilcar Scott, AsItOuttoBe.com