What My Grandmother Learned in Her World War II Internment Camp
The author discovers long-forgotten notes from a sewing class—and a new dimension of the Japanese-American experience.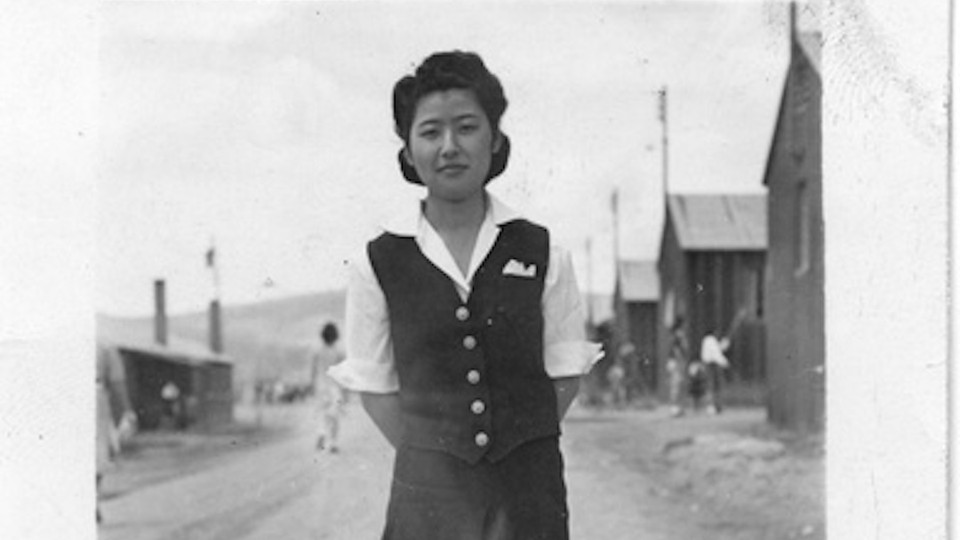 My grandmother was 17 when she was sent to the Heart Mountain internment camp in Wyoming with her family. Like many internees, she did not talk about camp later in her life. Instead, she closed that chapter and went on to marry, start a family, and secure a job as a seamstress with a family-owned garment factory in Los Angeles.
Growing up, I knew that when my grandmother sewed clothes or accessories she made her own pattern pieces from newspaper. She was confident in her work. Whenever she went out in public she put on lipstick, a pair of low heels, and her best outfit, often taking compliments in stride as she replied, "I made it." Assuming she was self-taught, I thought her skill was simply one of a group of creative hobbies that included playing piano, folding origami, and knitting. My assumptions proved wrong.
Last November, I returned to Los Angeles to visit family and archive my grandfather's photographs, some of which he had taken at Heart Mountain. I had not been inside my grandmother's two fabric rooms since she passed away in August 2012, and it was comforting to step inside once again—to look around at the furniture, the dresser drawers, and the trunk full of sewing materials. As I turned to leave, I saw a red binder open on a table. It contained a series of pattern-drafting instructions and sketches from sewing classes my grandmother had taken at the internment camp. These unearthed notes, alongside her Evacuee Case Files at the National Archives in Washington, D.C., allowed me to reconstruct her sewing education at Heart Mountain and explore how those skills had launched her career. I also came away with a deeper understanding of Japanese-American internment during World War II.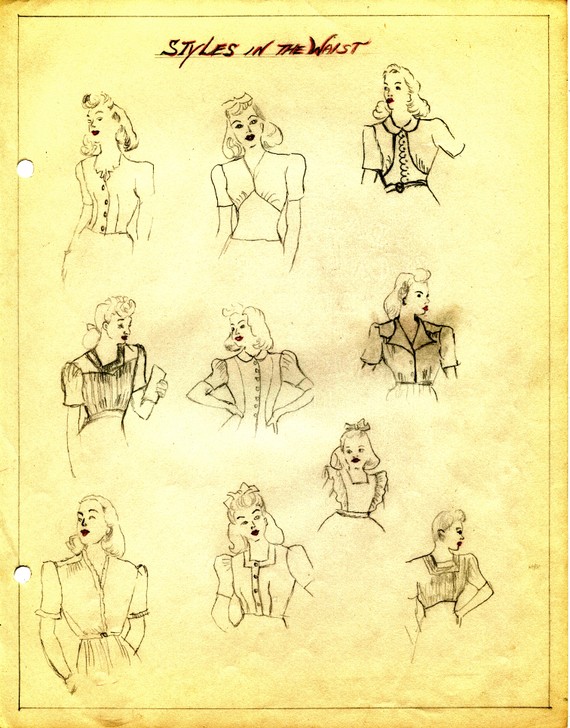 When Heart Mountain was operating at maximum capacity, the internment camp held 10,767 people, making it the third largest city in Wyoming.  The camp imprisoned three groups of Japanese Americans: the Issei, who had emigrated from Japan; the Nisei, who had been born to Japanese parents in the United States; and the Kibei, a minority who had been born in America but sent back to Japan temporarily to live with relatives and acquire a traditional education and cultural upbringing. Executive Order 9066, signed by President Roosevelt in February 1942, allowed the U.S. government to relocate all of these groups from their homes to 10 camps in rural and isolated areas of the country.
My grandmother was part of the Kibei minority. Born in Seattle in 1925, she was the eldest daughter, with two older brothers and two younger sisters. When she was 17 months old, her parents sent her to Japan to be raised as a proper Japanese woman. She attended grammar school, high school, and sewing school in Iwakuni, a city in the Yamaguchi prefecture of Japan, with the aim of becoming a sewing teacher. At her parents' request she returned to the family farm in Yakima, Washington, in the fall of 1941, where she helped her family harvest vegetables and acclimated to American life.
In America, she faced a significant language barrier. She was fluent in Japanese but did not speak English well. Additionally, she experienced a rift with her siblings, all of whom had been educated in the United States. Though she attended Garfield grammar school in Yakima from September 1941 to March 1942 to improve her English, the cultural and educational divide persisted into internment when she and her family were transferred from the Puyallup Assembly Center to Heart Mountain in September 1942.
While at Heart Mountain, she worked in the kitchen at the camp hospital, met other Kibeis, and took English language and sewing classes. (In Heart Mountain: Life in Wyoming's Concentration Camp, Mike Mackey notes that sewing was one of 27 official activities that were open to all Heart Mountain internees and organized by the Camp Activities Supervisor Marlin Kurtz.) Classes and activities drew about 6,000 adults each week. My grandmother's teacher, Yakow Otera, had a background in tailoring, and he distributed typed instructions—"Drafts With Seams" and "Drafts Without Seams." From his instructions, my grandmother learned how to design clothes and draft patterns that complimented "intermediate" as well as "stout, regular, and slender" body forms, how to correct the effect of "very sloping shoulders," and how to achieve "an appearance of slenderness" through clothing design.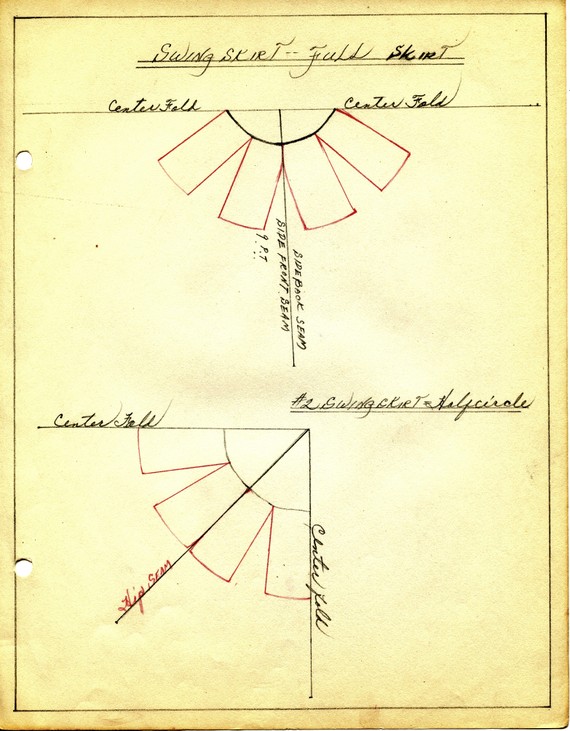 As her notes show, my grandmother learned how to draft her own patterns for several styles of shirts, coats, jackets, dresses, blouses, skirts, pants, rompers, pajamas, and 54 types of collars, sometimes cutting the pieces out of newspaper or blank paper forms before pasting them onto other sheets of blank paper. Drafting in pencil, she noted measurements and marking lines for seam allowances, darts, pleats, and flares. With each piece she created, she wrote the name of the garment at the top of the page in sweeping cursive script.
When the War Relocation Authority allowed Japanese Americans to resettle on the West Coast in 1945, my grandmother was one of 25,000 to 28,000 who moved to Los Angeles County. A 1947 report by the United States Department of Interior notes that for young, recently interned Japanese women, secretary positions in downtown offices were difficult to obtain. Women without those administrative skills worked in the garment factories, and even those who had trained at the Little Tokyo dressmaking schools in downtown Los Angeles had a hard time obtaining positions. My grandmother was one of those young women, but the education she had received at Heart Mountain allowed her to find employment after she and my grandfather married in 1948.
While my grandfather worked as a gardener, my grandmother worked at various downtown Los Angeles garment factories before becoming a permanent fixture at a small family-owned garment factory in East Los Angeles in 1955. The family held her work in high regard and often used the samples she sewed as examples for other seamstresses to follow. As an ongoing bonus, the family let her choose fabric bolts and remnants to take home. When she passed her fabrics down to me, she made me promise that I would use them to make beautiful clothing and accessories.
When my grandmother told me about her experience at Heart Mountain, she did not dwell on the racism and mass hysteria that had driven her there. Instead, she described how she'd spent the time: working, pursuing her interests, making lifelong friends, and meeting her future husband. Just as she fashioned new clothing from fabric remnants, she used every opportunity to craft a comfortable life for herself. Though she passed away two years ago, her fabric and stories inspire me to cultivate my sewing skills, and to make the most of every circumstance that comes my way. I owe my interest in fashion not to glossy magazines but to a wise woman who had a passion for sewing and a talent for making every scrap into something beautiful.