An Awkward Public-Private Partnership That's Actually Working
When Michigan business leaders came up with a plan to save their struggling state, it was outside everyone's comfort zone. But the result may transform higher education.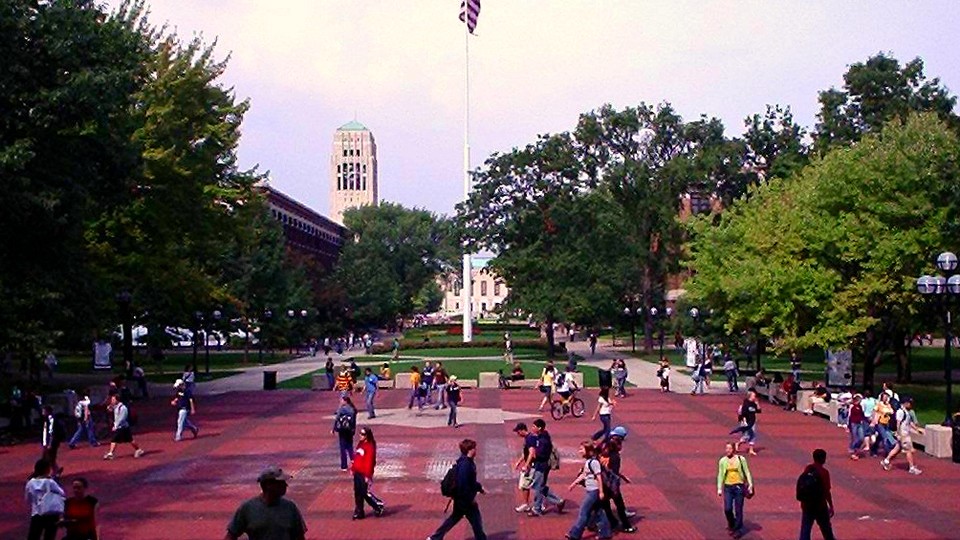 Michigan was in bad shape. That much was clear. From 2000 to 2010, the state accounted for half of the 2 million jobs that were lost in the entire country. Residents' personal income fell by 14 percent. It was the only state to lose population. The recession that peaked nationally in 2008 started early for Michiganders. By 2006, high-level college executives in other states already were looking down their noses at Michigan universities.
"We kept hearing, 'Oh, poor Michigan,' " says Michigan State University President Lou Anna Simon. "We had to change the dialogue."
"If that [narrative] started to stick, our ability to attract talent and professors and R & D would be diminished," agrees Cynthia Wilbanks, vice president of government affairs at the University of Michigan. "We really couldn't afford to lose that in addition to what we were losing in the state."
The sheer enormity of Michigan's economic plight also raised alarm bells among business leaders. A Detroit-based business roundtable, originally set up to revive the flailing city, took its organization statewide in 2009.
"We said to ourselves, 'We can work Detroit until we're blue in the face, but if the state is going down the tubes, what good does it do?' " says Doug Rothwell, president of the group now called Business Leaders for Michigan, whose members include giants like Whirlpool, Domino's Pizza, and Ford.
The realization that Michigan's stock was falling fast drove together these two typically divergent communities—businesses and universities—in what may be the country's most influential partnership to change higher education. Over the last three years, the Michigan Legislature has increased funding for state universities by 6 percent, reversing a steep, decade-long decline. What's more, the universities have agreed to tie their funding to performance indicators such as the number of graduates they turn out and the number of disadvantaged students they enroll.
What is remarkable about this achievement is that these unlikely partners did something that the federal government and other states have not managed to accomplish. They took a well-accepted economic idea—that more college degrees from a more diverse population creates more growth—and turned it into a set of concrete benchmarks. The plan is outside of everyone's comfort zones. The universities squirmed at being measured. The Legislature needed coddling to agree to increase funding. At each step, the partners have leveraged their alliance with each other to coax their reluctant comrades to go along.
The key players still are shocked that their collaboration is actually working. They agree that the experiment could have fallen apart at any stage. "It was pushing a boulder uphill," Wilbanks says.
On the higher-education side, the transformation started when the state's three biggest universities—University of Michigan, Michigan State, and Wayne State University—formed a research corridor designed to compete with other research clusters in California, North Carolina, and Texas. They wanted to combat the notion in university circles that Michigan's higher-education system was on the decline.
Michigan had gone from being a top 10 "affordable college state" to being in the bottom 10 in high college costs. Tuition and fees in the state's 15 public colleges doubled between 2000 and 2010, from roughly $4,000 a year to more than $8,000. Those fee hikes were directly related to budget cuts over the same period, resulting in a loss of nearly 20 percent of state funding to public universities.
As part of their efforts, the trio of schools joined the newly broadened Business Leaders of Michigan, or BLM, in an attempt to bolster their credibility among state lawmakers and the public. BLM is a political force in Michigan. Its member companies make up one-fourth of the state's economy. They are responsible for 320,000 jobs. When they need something, they get a bunch of their presidents to start making phone calls to lawmakers, who are often surprised by their tenacity, according to Domino's Pizza President Patrick Doyle, BLM's vice chairman: "After five or six or seven, that prompts a phone call to [BLM President] Doug, saying, 'How many more of these do I have coming?' "
The state universities needed strong allies like that, especially useful because they were outside of the higher-education world. "We needed to break down what were political barriers to advancing higher education," says Michigan State's Simon. "We had to be viewed as an asset, not a liability."
"Liability" was exactly how a lot of business types and state legislators saw the universities. "The public in Michigan historically has placed a pretty low value on higher education," says Doyle. For a long time, he says, Michigan kids have graduated from high school and gone straight to the factory floor and made "a pretty good living." The auto industry's demise hasn't altered the public's view of that trajectory, even if the economics show otherwise.
In fact, Doyle says the reason that BLM recruited the universities to be members was because an independent analysis it commissioned showed higher education to be a critical economic driver for the state. That surprised him. Michigan is a blue-collar state. His business is pizza. "I knew nothing about it other than the obvious, which is feeding higher education for many, many years," he jokes.
The universities had to convince executives like Doyle that they weren't spending student tuition dollars willy-nilly. They demonstrated, for example, that their employees paid upwards of 30 percent of their health care premiums and contributed to their own retirement funds. They don't have cushy pension plans. "We were burdened with old perceptions," Doyle says. "I didn't understand that the tuition increases were completely a factor of funding cuts, dollar for dollar."
The universities already were implementing system-wide cost-cutting practices and evaluating their progress with outside accountants, but BLM insisted that they make those efforts more transparent. The three University Research Corridor schools created websites and public reports. Then, using their membership in BLM, they cajoled the state's other 12 universities to do the same thing.
To convince a skeptical public, BLM's members put their marketing skills to work. They conducted public-opinion polling and then crafted public-service announcements around their findings to counteract negative attitudes toward the state schools. They held town halls and contacted every editorial board in the state.
And when it came time to convince the Legislature to increase the budget for state universities, BLM turned to students. They set up kiosks outside campus dining halls with cell phones and computers primed with lawmakers' email addresses and phone numbers so students could contact their legislators. Sometimes they gave away free coffee.
Everyone agrees these outreach efforts would have been for naught if the universities hadn't agreed to be measured and make their funding contingent on their scores. The Legislature wasn't just going to give the money away. Through painful negotiations and a lot of data analysis, the three research-corridor universities and their business partners came up with an evaluation system based on six metrics—critical-skill degrees, research and development, their six-year graduation rate, total degrees awarded, institutional support from donors, and the number of Pell grant students. It awards each school full points for each metric in which they are in the top quintile of comparable universities around the country, a lofty benchmark.
Three years into a 10-year project, evidence of a turnaround is in sight. Public opinion of the university system has improved by 25 percent, according to BLM. All of the state's editorial boards support them. They got 80 percent of the money they wanted for the schools this year. Doyle says his goal is to have the state university system funded at $2 billion annually by 2019.
It will take longer for the economic impacts of the scheme to be apparent, but BLM is in it for the long haul. The system they came up with, much like the cars and appliances that Michigan is famous for producing, is built to last. It should endure through multiple legislative sessions and gubernatorial administrations, through economic upturns and downturns, and hopefully through several generations of students. President Obama, who has made college completion his own crusade, would be proud.