Reading Rainbow Rises From the Millennial Nostalgia Graveyard
LeVar Burton has started a Kickstarter campaign to revive the program—and it's going pretty well so far.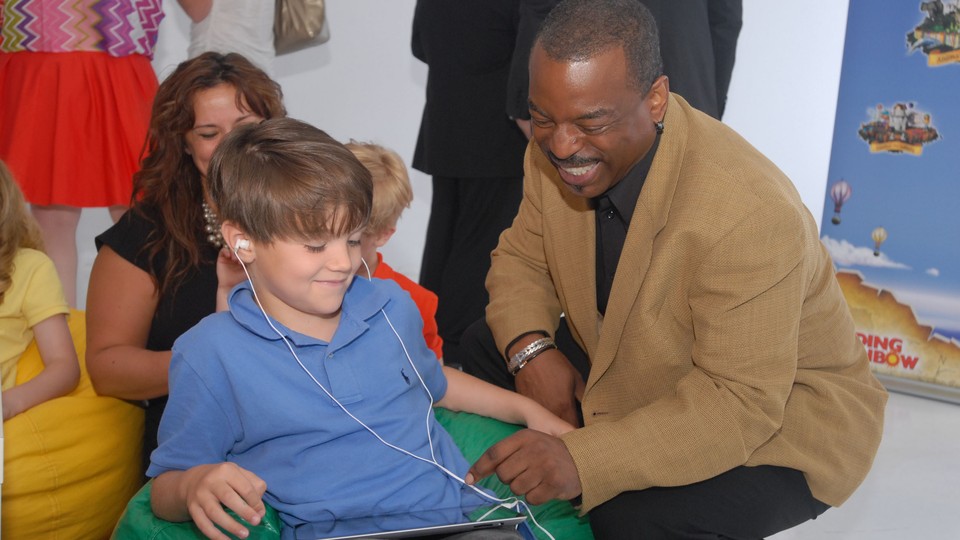 Anyone who grew up in the '90s will recognize LeVar Burton. If you're a Gen Xer, he may be more recognizable to you as Geordi La Forge from Star Trek: The Next Generation. But if you're a millennial, he will always be the soothingly voiced host of Reading Rainbow, which ran on PBS from 1983 to 2006.
Now, Burton is picking up the torch for literacy once again. Using the crowdfunding site Kickstarter, Burton wants to bring reading tools to parents, teachers, and children around the country—for free. The Reading Rainbow program would allow students to practice their reading skills at home or in the classroom, and comes equipped with a library of free e-books and "digital field trips."
Having an easily accessible database of open software seems like a commonsense idea, and one many people can get behind—Reading Rainbow has already raised nearly $400,000 of its $1 million goal.
If funded, it would be a welcome tool for American students who struggle with reading comprehension. According to 2009 National Assessment of Educational Progress
reading tests
, 33 percent of fourth-grade public school students were at or below the "basic" level of reading comprehension, and 26 percent of eighth-grade public school students performed at or below the "basic" level.
There are huge disparities in the quality of public schools in different states. That's because nearly half of school funding comes from local property taxes, giving schools in a higher tax-bracket area more funding than schools in impoverished areas. So a public school student living in rural Mississippi will not have nearly as much access to resources as a student who goes to school in an affluent New Jersey suburb. Those resources can include books, field trips, and extracurricular programs.
What Burton's Kickstarter hopes to do is to level the playing field, by making his Reading Rainbow curriculum free to all public school students. But it's sad that it takes people like LeVar Burton to compensate for our country's literary failings.