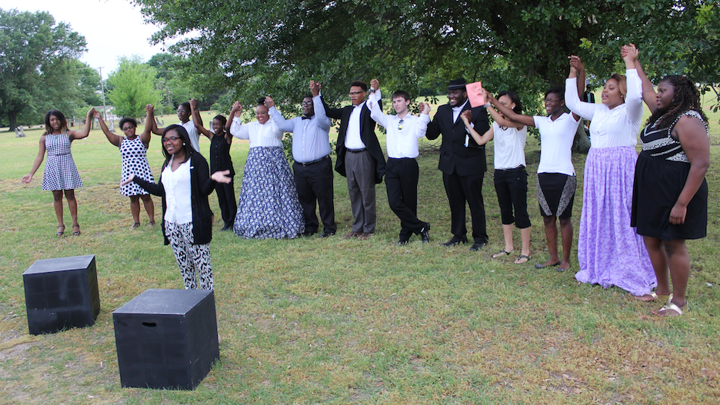 Reinvention and resilience across the nation
Read more
Over the months Deb Fallows has reported on a variety of impressive and innovative public schools around the country. For instance: the Sustainability Academy in Burlington, Vermont; the Grove School in Redlands California; the Shead School in Eastport, Maine; several English immersion schools in Sioux Falls, South Dakota; the Governor's School for the Arts and Humanities in Greenville, South Carolina; the A.J. Whittenberg Elementary School for Engineering, also in Greenville; and the Camden County High School near St. Marys, Georgia.
Recently she has spent a lot of time at the Mississippi School for Mathematics and Science (MSMS), in Columbus, Mississippi. MSMS is a public, residential high school for students from across the state, about which Deb will be reporting in detail soon. But before the day ends, we wanted to note a moving presentation by MSMS students this evening in a historic cemetery in Columbus.
The Emancipation Proclamation officially took effect on January 1, 1863. But in this part of Mississippi, the 8th of May has been celebrated in the black community as Emancipation Day. It was on May 8, 1865, that Union troops arrived from across the state line in Alabama and effectively put an end to slavery.
For the last few years MSMS history teacher Chuck Yarborough (above, center, talking with his students before tonight's performance) has organized 8th of May presentations in Columbus's historic Sandfield cemetery, where many of the area's prominent black residents were buried. This evening's program alternated songs by the Voices in Harmony choir from MSMS, with re-enactments of African-American political, religious, and business figures from the decades after the Civil War.
Here is student Terence Johnson, in the role of Robert Gleed, who served in the Mississippi State Senate during Reconstruction, fled to Texas with his family to avoid persecution for his political prominence, and was eventually buried back in Columbus at this same cemetery.
Johnson and other student re-enactors and singers after the performance.
Student Mamadou Fadiga, who is headed this fall to Vanderbilt, by the grave of the person he portrayed, entrepreneur Jack Rabb, and Rabb's wife Gillie.
Student and choir director Tylicia Grove, opening the presentation with her poem, "An American Thing." Its refrain was, "It's not a black thing. It's not a white thing. It's an American thing." It's our thing.
Back to the school after the show:
Our partners from Marketplace were there for the performance; I hope and assume they'll have some of the music and sound for their report. It was an American thing.
We want to hear what you think about this article. Submit a letter to the editor or write to letters@theatlantic.com.
James Fallows
is a staff writer for
The Atlantic
and has written for the magazine since the late 1970s. He has reported extensively from outside the United States and once worked as President Carter's chief speechwriter. He and his wife, Deborah Fallows, are the authors of the new book
Our Towns: A 100,000-Mile Journey Into the Heart of America,
which has been a
New York Times
best seller and is the basis of a forthcoming HBO documentary.