Advice to High-School Graduates: 'You Are Not Special'
English teacher David McCullough Jr. thinks students need to stop trying to excel at everything.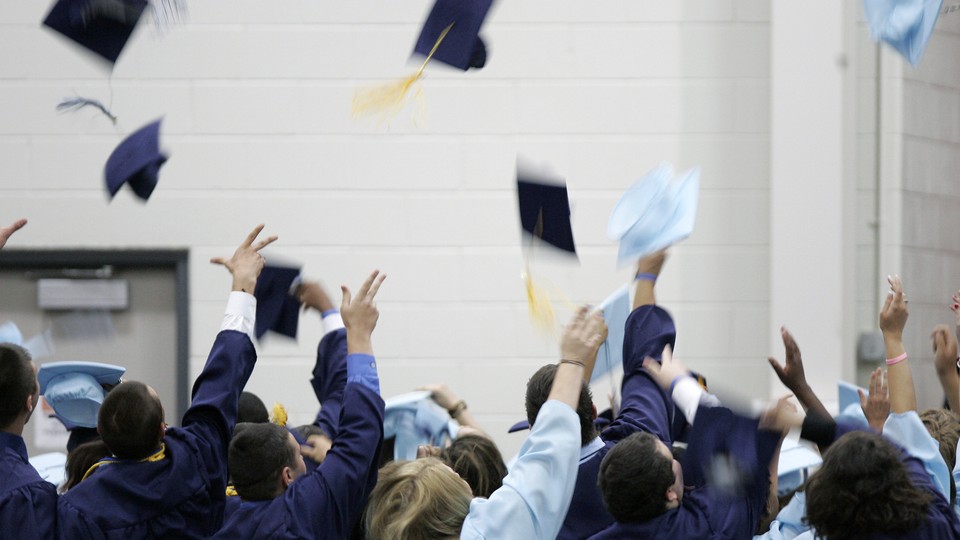 On a spring day in 2012, Wellesley High School English teacher David McCullough Jr. stepped onto the school's football field, then covered in a sea of seniors dressed in identical caps and gowns. Clad in a blazer and striped tie, McCullough made his way to the podium, donned his reading glasses, and began his commencement speech. Nothing about the event seemed out of the ordinary. McCullough, after all, was participating in a ritual that happens hundreds of thousands of times across the United States each year. He had given graduation speeches before.
But compared to the countless other remarks given by comedians, journalists, and politicians that year, McCullough's speech stood out for its blunt, four-word message: "You are not special."
The immediate reaction to the address was positive. After the ceremony, a grandmother thanked McCullough and complimented the speech. She asked for a copy of the remarks, so he handed her the piece of paper from which he had read. And as McCullough and his son walked to the parking lot, a friend of McCullough's called up to him, "That was awesome!" But soon after its delivery, the speech's influence spread far beyond Wellesley High School: Across the country, it was quoted, sound-bited, discussed, analyzed, dissected, tweeted, and re-tweeted. Quite simply, it was the graduation speech of 2012.
The reaction caught McCullough by surprise. He had attended several other graduations that weekend, including his son's, and by the following Monday, he said, his speech felt like "three graduations ago." He was not prepared for the avalanche of emails, interview requests, and even book deals that followed.
"I was floored. I thought I was speaking merely to the people sitting in front of me. I was aware of the grandstand full of friends and family. I was unaware that it was being videotaped," said McCullough. "I was concerned that suddenly I became the story and we were taking away from the kids." But his ideas had clearly attracted interest, and last month, he published a book: You Are Not Special and Other Encouragements, which argues that the pressure to excel prevents students from taking chances and learning from failure.
***
Wellesley, Massachusetts is a special place. The town, home to Wellesley College, Babson College, and several other private schools, is affluent and well-educated. Former astronauts, famous writers, and brilliant scientists have all resided in Wellesley. The town is known for its excellent public school system, its many golf courses, and its proximity to downtown Boston.
The town also has a nurturing atmosphere in which children thrive. According to Boston Magazine's "Best Schools in Boston 2013," Wellesley High School's students have a 98.3 percent graduation rate, and 95.1 percent earn a score of 3-5 on AP exams. Wellesley students' SAT scores average a 623 in reading, 631 in writing, and 631 in math. These kids are born and bred for success.
That's what worries McCullough. "If you remove from the kid the notion that every step is crucially important, all expectations are spectacular achievement, and allow him to operate free from adult scrutiny and be a regular kid and follow his interests, it makes for a much healthier educational attitude," he said.
Since he first began teaching 26 years ago, McCullough says, priorities have shifted greatly. "[Students] have become ever more intent on assembling an impressive GPA... A 'B' is now understood to be an average grade. And because the grade is the point and to be average is to be a bit of a loser—everyone has to be high achieving."
Today's adults grew up with asphalt playgrounds, playing outside unsupervised until dinner. But today's kids are strapped in car seats from birth, and McCollough sees his students slowly losing autonomy. "The kids now seem so directed and scheduled—they're tutored and coached and the degree to which parents are involved in their lives is … well, one notices," he said. "They're getting very little experience conducting their own lives and living with the consequences of their decisions. When they stumble, their parents step in, denying them very important formative experiences."
"You are not special" may sound like the lament of a grumpy old man. But McCullough's book is not about bashing students, their parents, or society. Instead, he sees himself as a mentor who wants the best for his students amid worries about a generation defined by college admissions decisions. McCullough hopes teenagers will "think about why they do what they do, follow new interests, not worry so much about material reward, invest themselves in the moment, [and] trust that results will take care of themselves." He wants today's kids to worry less about impressing people. "It becomes a novel idea that you study because it's fun to learn [...] not clearing the way for the next step," he said.
McCullough encourages his students to go out and see the world—travel, buy a boat, climb mountains, work in Haiti, join the armed forces, or go to the library and simply start reading anything and everything that interests them. "Climb the mountain not to plant your flag, but to embrace the challenge, enjoy the air and behold the view. Climb it so you can see the world, not so the world can see you."