The Crucial Role of College Counselors
Acceptance letters are only one part of going to college.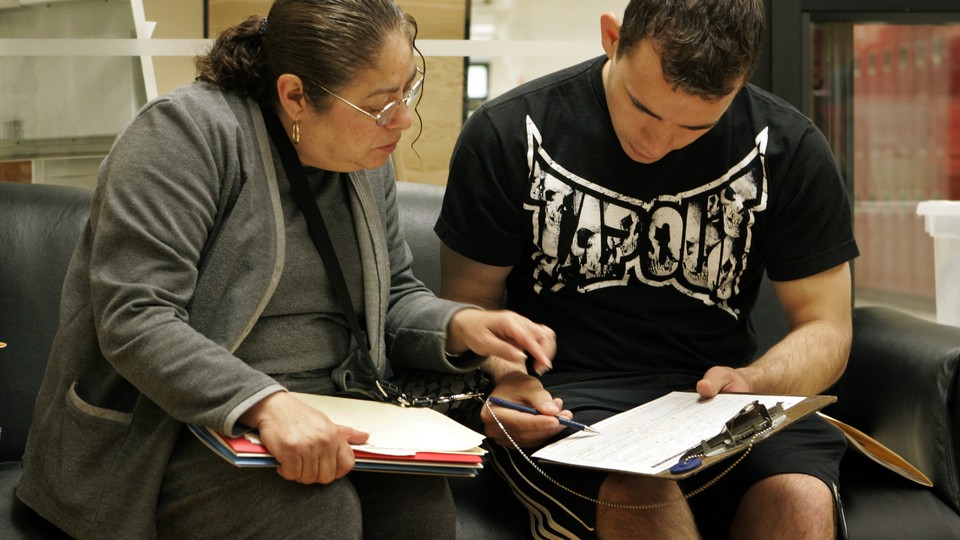 When Michael Forbes, a student at an underfunded public school in Brooklyn, received his college admissions results, most would have expected him to be thrilled with his range of choices. Mike, who was living in a homeless shelter, was accepted to five prestigious New York State liberal arts colleges, as well as Morehouse College and Clark-Atlanta University. Most offered him substantial funding as well as academic and social support. But Mike told the college counselor at his high school that he had decided to stay in New York City and attend the less selective Brooklyn College. He did not even want to visit the other colleges to which he had been accepted.
Joshua Steckel, Mike's counselor, was not completely surprised. Though Mike had thrown himself into the process of applying to highly selective residential colleges, in recent months he had become increasingly doubtful about whether leaving New York City was the right thing to do. Mike's mother, who was battling stomach cancer, worked 15-hour days and depended on Mike to care for his two younger brothers. Mike wanted to get away, but he didn't want to leave his mother on her own and feared what might happen to his brothers without his presence and positive influence.  To Josh, what had at first seemed like a common-sense decision—that a student who was homeless would accept a full scholarship to a highly selective residential college—no longer seemed so simple.
Josh had left a private school job two years before to begin work at Mike's school as its first college counselor. One of his goals was to help students gain access to the kinds of four-year colleges in which his previous, more advantaged students enrolled. Josh believed that for many of his new students, attending a residential liberal arts college would provide opportunities for transformative growth and a pathway to the middle class. But perhaps the best option for Mike was to attend the City University of New York, whose application had taken 20 minutes to fill out. Josh knew that the CUNY experience could be bureaucratic and impersonal and that Mike would still have to study under the daily stress of holding his family together. But staying in Brooklyn would allow Mike to move forward with his education without launching into a world that would distance him, physically and psychologically, from the people he loved.
Throughout his two years of work with Mike, Josh saw himself in the traditional role of a college advisor: marshaling his college admissions knowledge and experience to guide Mike through the application process. He had helped Mike make lists, fill out the Common Application, write essays, prepare for interviews, and complete the endless legwork required of low-income students—including assembling financial documents to confirm eligibility for the state's opportunity programs, collecting third party letters attesting that Mike's father did not contribute to the family's income, and completing federal, state, and institutional aid applications. Now, with all the forms submitted and the acceptance letters received, Mike needed a different kind of guidance from Josh. He needed help making a choice that set his dreams for his future against his responsibility for his family.
***
The vast majority of American high school students receive little guidance from college counselors. According to a 2009 U.S. Department of Education survey, public school students receive an average of 38 minutes of college admissions advice from their guidance counselors—a tiny percentage of the time needed to navigate a process that is challenging for even the most highly educated families. Effective college guidance for low-income students involves a host of tasks, including helping students to identify college matches that offer robust support structures and adequate funding; working with students as they draft and revise personal essays; arranging campus visits; and providing individualized guidance to students and families through the financial aid process.
However, a focus on process-oriented guidance ignores the psychological tumult that comes with applying to college. The college application season is a fraught, vulnerable time for students and families, a moment of transition, which, as Josh saw in his private school work, can catalyze crises even for students with broad networks of support. Low-income students are making choices with even higher stakes. They require not only better information, resources, and advocacy through the process, but also need mentors and counselors who can take the time to help them work through the complex personal struggles they face both before and after the acceptance letters arrive.
A more equitable path to higher education requires structures that provide students with this kind of support. High schools need to have a college counselor who can offer individualized guidance for students and families. Without a counselor, Mike would have had a slim chance of being recognized as a student with potential for admission and success at a selective liberal arts college. Even if he had known enough to apply, his application would have been ignored: Though he was a strong student with a B average, his high school had a reputation that was still unknown, and his SAT scores fell well below those of most admitted students at highly selective colleges.
In spending time with Mike, Josh saw the intelligence, resilience, and maturity that had kept Mike afloat, and in school, through his family's struggles. Though Mike at first doubted that college was possible, Josh helped him to envision it as part of his future. He advocated for Mike with admissions counselors, conveying Mike's potential and explaining that the drop in Mike's grades in his junior and senior years did not reflect ability or work ethic, but a catastrophic change in life circumstances.
Josh struggled with Mike's decision to stay at home. He urged Mike to at least attend the weekends for accepted students at the colleges in New York state, and Mike, seeking to understand his choices more fully, agreed. After a series of visits, when, as Mike later recalled, the stress and anxiety he had felt for months seemed to evaporate, Mike decided to attend Skidmore College, in Saratoga Springs, New York.
When Josh spoke with Mike at the end of his sophomore year at Skidmore, Mike reported that he had earned at 3.5 in his first semester and a 4.0 in his second. He was president of the Skidmore TV station and known as the campus audiovisual expert, sought after for help by students and faculty in his work-study job in media services. But Mike still felt guilty for leaving his brothers and fearful for his mother's health. Though he had begun to see all he could gain at Skidmore, he also saw the effect of his absence on his family. He worried his brothers were not moving down the right path. "I want to be successful in my life, but I hope it's not too late for them to have a good childhood," he told Josh.
For students who navigate life in poverty, many obstacles can come between a coveted acceptance letter and a student's enrollment. The vast majority of public school students do not have the support they need to make decisions that pit their current responsibilities against their dreams for the future: The students who are most in need of guidance and advocacy are those who receive the least. If higher education is to function an engine of democracy and mobility in this country, every student should have a college counselor whose caseload is small enough to make real support possible, and who possesses both the knowledge and the counseling skills to see students through this crucial transition.