Head Start, Meet Accountability
Since 2011, more than 350 Head Start providers have had to compete for federal grant money. That's a huge change.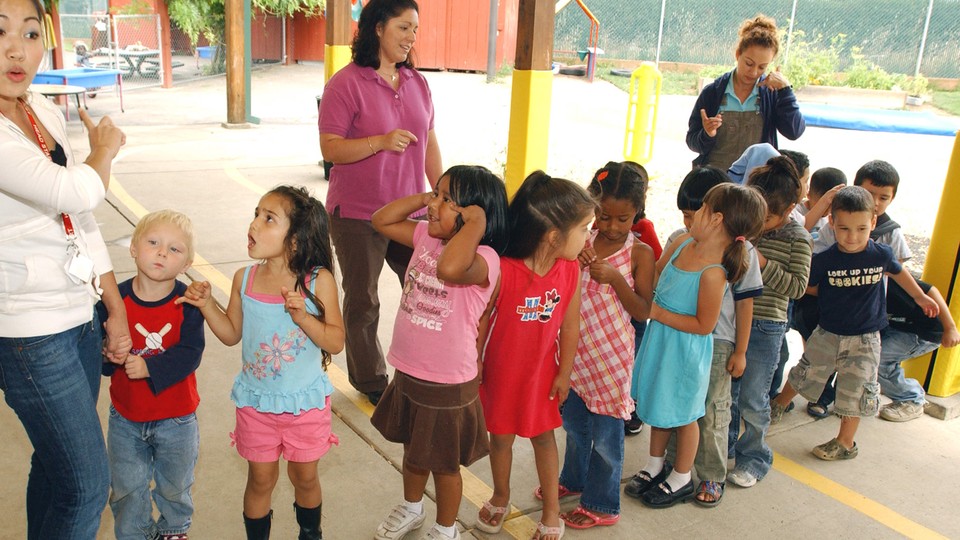 BALTIMORE—St. Jerome's Head Start, a plain building in a gentrifying Baltimore neighborhood, looks as solid and unchanging as a block of concrete. It's an unlikely setting for a big shift in how early-childhood education is provided. But here and across the city, Head Start teachers are grappling with new rules for educating children. Staffers are under pressure to make sure program finances are airtight. And centers are waiting to hear the final details of a plan to change the way early-childhood services are delivered citywide.
Head Start, the federally funded preschool program for low-income children, has experienced more change in the past three years than in the previous 40. After years of debate about the program's quality and value, there's an accountability revolution coming to preschool.
Operating under authority from a 2007 law signed by George W. Bush, the Obama administration has started requiring Head Start providers that perform poorly on federal audits to compete against other local providers—and win—to keep their grants for the next five years. If all goes according to plan, by the end of 2014 the federal government will have reviewed every Head Start program under new performance criteria. So far, more than 350 of some 1,700 Head Start grant recipients have been forced to compete for their funding, and many more will be required to do so in the years ahead.
For Head Start programs that have faced barely any requirements to demonstrate their effectiveness, this counts as a revolution. "It has had a huge impact on every single program in Maryland. They really completely redesigned the way programs have to look at the way they are operating," says Linda Zang, the Maryland State Department of Education official in charge of collaborating with Head Start. It seems like every year at least one grantee in the state has been required to compete for funding, Zang says. More important, the threat of competition is pushing teachers across the state to become better educators.
Head Start has always inspired high expectations. "We set out to make certain that poverty's children would not be forevermore poverty's captives," President Johnson said when he announced the creation of the program, in 1965. Johnson envisioned a network of neighborhood organizations that would educate young children, ensure that children get medical care, and teach parents about child development.
Today, the Administration for Children and Families in the Health and Human Services Department funds a sprawling network of about 1,600 local governments, school systems, and private organizations, many of which delegate funding rather than operating programs themselves (St. Jerome's is one of the city of Baltimore's 11 delegate organizations). Providers must abide by some 2,400 federal standards that dictate everything from how toilets are cleaned to the size of facilities. There's also an additional, smaller program called Early Head Start that serves pregnant women and toddlers.
Head Start served about 8 percent of American 3-year olds and 11 percent of 4-year olds in 2012, according to the National Institute for Early Education Research at Rutgers University. Families must be living below the poverty line, or hovering just above it, to apply for a spot in a program. Last year, 42 percent of all children served were white, 29 percent were African-American, and 37 percent were Latino. In Baltimore, almost two-thirds of Head Start parents hold a high school diploma or less.
Federal lawmakers increasingly want to see proof that Head Start prepares low-income children for kindergarten. By age 5, affluent children tend to show greater cognitive development than their low-income peers, mostly because affluent, well-educated parents have more conversations with their babies and use longer words when they do. President Obama often points to research showing low-income children receive lifetime benefits from attending a high-quality preschool program, including better academic performance all the way through high school.
But many Head Start and state-run prekindergarten programs aren't high quality. National studies of public pre-K programs have found that children spend most of their time playing, eating, and waiting around, and that instructional quality is generally low. A federal impact study, released in 2012, found that while Head Start children experience initial gains in health, language, and reading skills, those gains usually disappear by third grade. House Republicans use that study to argue that Head Start is a failure and not worth the $8.6 billion taxpayers will spend on the program this year.
Historically, Head Start grants were awarded continuously, meaning that barring a major violation of federal standards, providers could expect to keep receiving money year after year. The Bush administration and a Democratic-controlled Congress used the 2007 reauthorization of the Head Start Act to bring more competition to the program and raise the stakes of federal monitoring.
Eventually, the system will work like this: All Head Start grants will be five years long. Providers will request renewed funding at some point before the fifth year of their grant. If they have met certain performance criteria while holding the grant, funding will be renewed. If not, they'll have to compete to maintain their funding.
It took until December 2011 to finalize the rules for this process, and the new system is still being implemented. At least in theory, by the end of this year, HHS will have reviewed data on every Head Start provider and transitioned every provider to a five-year grant, either through renewing funds or subjecting it to competition.
"Many of the grantees have been funded since the '60s and '70s, and there weren't a lot of opportunities for new approaches into the programs," says Roberto Rodriguez, President Obama's White House education adviser. "We have said, 'If you are a grantee that does not measure up, you will face an open competition.' "
HHS has only released the results of the first round of competition, which took place in 2012. The results of the 2013 round will be announced later this year, and providers have already been notified if they'll have to compete in 2014. 80 of the 125 providers that competed in 2012 kept their grants, and the rest lost either part of all of their funding to another organization, according to HHS.
In their assessments, Head Start providers must now meet seven performance criteria. Five are administrative—things such as having the right licensing and being financially solvent. Providers must also set goals for preparing children for kindergarten, and take steps to achieve them. The last and most important change is a requirement that programs meet minimum thresholds on the Classroom Assessment Scoring System, a privately developed tool that assesses how teachers and staff interact with children.
CLASS doesn't measure learning outcomes, per se, but high scores are correlated with better learning. "It's been used in a lot of research and has been validated—meaning that those who have developed this tool have found in numerous research studies that when teachers interact in these richer ways with children, that leads to better outcomes," says Lisa Guernsey, director of the New America Foundation's Early Learning Initiative.
Monitors use the CLASS tool to rate programs in three areas: emotional support, classroom organization, and instructional support. Teachers get high scores for instruction if they seize on teachable moments all day long: asking children questions, responding with more than one-word answers, and introducing new vocabulary words even in casual conversation.
To receive funding renewed without competition, providers must surpass minimum scores set by HHS set for all three areas. They also must avoid falling into the bottom 10 percent of CLASS scores for Head Start programs nationally. CLASS scores weren't used to identify low-performing programs in the first round of competition; instead, providers were asked to compete if they had administrative problems noted during earlier federal reviews. But in the second round, about 40 percent of grantees required to compete for funding had to do so at least partly because of low CLASS scores, says Sara Mead of Bellwether Education Partners, a nonprofit consultancy.
Moving forward, experts say low CLASS scores will likely be the main reason programs are forced to compete for funding. Of 388 Head Start providers the federal government assessed with the CLASS tool in 2012, the average instructional support score was a 2.98 out of a possible 7; 2 is the minimum acceptable score set by HHS. Of 359 providers assessed in 2013, the average instructional score was 2.72.
It's not yet clear whether the competitive process will encourage new organizations to challenge existing providers for Head Start funding. John Holland, a former Head Start teacher and a Ph.D. researcher, calculated that in 2012 most of the reassigned money went to existing Head Start providers. "From a kids-eye perspective, there may not have been a lot of change," says Mead. "Kids ended up in the same settings, it's just that the money flows slightly differently."
In Maryland, the first round of competition caused one nonprofit in the southern part of the state to lose two of its three grants to local public school districts. The city of Baltimore, required to compete because of a problem with internal monitoring of finances, was asked to apply for a new type of grant. Together with four community organizations, the city applied and won preliminary approval for a $29 million effort to coordinate early-childhood education citywide.
Gaining a Head Start grant allowed the Calvert County school district to expand its preschool services. "The 4-year-old children have the opportunity to go to prekindergarten half-day and Head Start half-day, to give them a whole day program," says Cheryl Yates, supervisor of early-childhood and adult education for the district. Children were previously able to attend public school pre-K half-day and Head Start half-day, but not usually in the same location.
If Baltimore's plan is approved, the city's public school pre-K programs will expand to serve 4-year olds who would otherwise have gone to Head Start. Head Start will also become a full-day, full-year program for 3-year olds, and Early Head Start services will coordinate with a federally funded home visiting program for pregnant women.
Organizations involved in Baltimore's plan are under a legal order not to talk about the details until they are finalized. St. Jerome's, usually open to giving tours of its facilities, declined to let National Journal see the inside of a classroom, let alone speak to teachers and staff members.
"As a result of the triggers for re-competition, it's changed how Head Start really looks at their operations," says Shannon Burroughs-Campbell, executive director of Baltimore City Head Start. "The use of CLASS ... throughout classes and throughout programs—to make sure that you're meeting at least the basic minimum level that would not trigger re-competition—is critical."
It's not just the Obama administration that's moving to bring more accountability to preschool and to provide the kind of education to disadvantaged children that can potentially shrink learning disparities. "As states and governments at all levels invest more money in pre-K, you're going to see more desire for some kind of measurement," Mead says. The increased federal scrutiny of Head Start programs now unfolding may be only the first tremors of much larger changes ahead as more preschool programs face that simple but powerful question.