What Applying to Charter Schools Showed Me About Inequality
Charters are not a comprehensive solution to public education's problems.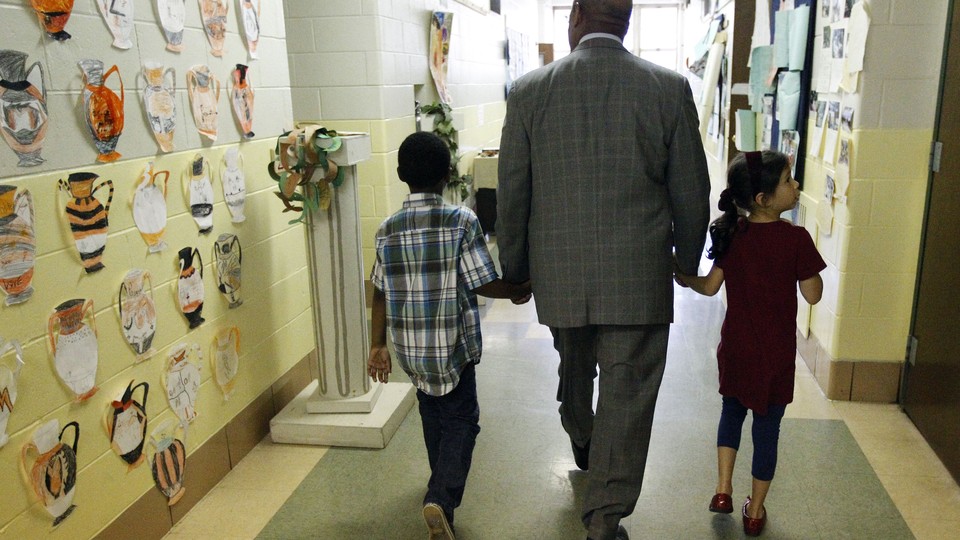 By the time we arrived—five minutes late—the school's basement was packed. As I turned my eyes to the lectern, I wondered at the speed of childhood. My son turns three this summer, and yet, here we were, jammed into this basement to hear one of D.C.'s best charter schools explain why we ought to send him to them next year. On a Saturday, no less!
Even though it was a chilly February day, the room was hot; my one-year-old daughter squirmed in my arms and pulled off her hat. The room's temperature brought everyone to fidgeting with our scarves and sweaters—young, old, black, brown, white, parents, kids, male, and female. As we all peeled off layers, the room's impressive diversity came into focus. In a town as racially, residentially, socially, culturally, and economically segregated as D.C., it was an encouraging sight. I want my kids to attend a school that looks like this, I thought.
Except this was just an information session to encourage parents to apply for the school's admissions lottery. Only a tiny fraction of the families in that packed basement will ever receive a spot at the school. Who knows how that small slice will look?
School choice—exemplified by charter schools—has changed the relationship between parents, neighborhoods, communities, and schools. And D.C.'s experiment with choice is as fully developed as almost any other public school district in the United States. That day, I stood there primarily as a parent and (to a lesser degree) as a former first-grade teacher, not as someone who writes about public education for a living. But on Monday, that moment spilled into my day job. It's been on my mind ever since.
A lot of debates on school choice's merits are unproductively narrow. Sam Chaltain's new book, Our School: Searching for Community in the Era of Choice, is a welcome exception. Chaltain spent a school year shadowing students, parents, teachers, and administrators in a new public charter school and a traditional district school to gauge how they're coping with the state of public education today. Near the end of his book, Chaltain writes,
[O]ur democracy needs to be something we do, not something we have. When it comes to a nascent experiment like school choice, we have within us the capacity to turn an open marketplace of learning options into something creative and regenerative. But there is nothing automatic about it. Choice by itself leads to nothing.
One of the things that's become clearer to me as we've worked through the application process in D.C. is the degree to which school choice is much less about choice than it looks on paper—or even in theory. There are Hebrew, Chinese, and Spanish language schools. One promises Spanish immersion, discovery-based learning, and an emphasis on ecological sustainability. There are multiple Montessori charters in our area (where I grew up, "public Montessori school" was an oxymoron).
My wife and I would love to pick a favorite from this list, but since demand for quality seats far outstrips supply, D.C.'s system is, in the words of a parent from Chaltain's recent book, more "school chance" than school choice. "The most established charter schools have basically stopped being anything other than a true lottery ticket for families," she continued. "Because most of the spots for the younger grades are taken."
There are many reasons that the school's basement was so packed. Washington, D.C.'s universal pre-K program is extremely popular: It enrolls almost 70 percent of the city's three-year-olds and over 90 percent of the four-year-olds. It supports families by relieving some of their childcare costs and freeing parents to return to work sooner. It supports better academic outcomes for students in the short- and long-term.
But it also gives parents a chance to play the school lotteries earlier and more often. The sooner parents enter the lotteries, the better their chances of controlling some of the uncertainties involved. Parents prepared to enroll their children in the public schools at age three can sometimes secure a slot at a high-quality program that guarantees their child high-quality schooling through high school graduation. And if things don't work out the first time around, they can take another crack the next year, since some schools start their pre-K programs at age four.
At another open house I attended (for a different charter school), a mother was incredulous to hear that the school anticipated having zero open slots for new kindergartners. They expected their already admitted pre-K students to fully fill those classrooms. Unless she had a three- or four-year-old she wanted to enroll in their lottery, they weren't the school for her family.
Choice presents today's parents with a brave new world of anxieties. In years past, her question wouldn't have made any more sense than her disappointment—she wouldn't have asked whether the school had open slots, since her child would have attended whatever public school the district assigned to her neighborhood, there would have been space, and school wouldn't have started until the kid was (at least) five years old.
If the old system minimized parental anxiety, it also produced pathologies that fed its destruction. Too often, D.C.'s public schools have mirrored (and tracked) the city's yawning income inequality gap—for every creative, exceptional program, there are several egregiously ineffective ones. And thus, as you'd expect, parental competition for seats in high-quality schools is intense. Property values in neighborhoods with strong schools have risen well beyond middle-class salaries; even small houses in these areas routinely fetch over a million dollars. In Washington, D.C., great neighborhood schools exist—but they are inaccessible to the middle class. This undercuts the democratic virtue of these schools; there's nothing equitable about schools that are "open" to anyone whose parents can afford the steep property costs that serve as barriers to entry.
For a time, parents could apply to these schools from outside the neighborhood. As these schools have filled to capacity, that option has closed. So ambitious parents of modest means have turned to the city's charter schools as an alternative. These schools offer (some) freedom: 1) from deadening public regulations and union contracts, 2) from staid curricula and pedagogy, and perhaps most importantly, 3) from the ironclad link between zip code and school quality.
And lo and behold, demand for seats in high-performing charter schools has skyrocketed: in 2012, there were more than 35,000 students on charter schools' waitlists (though some were duplicates). There were only 77,000 students in the city that year.
As Chaltain illustrates throughout his book, this is how you'd expect a choice-driven market to work. This is what markets do. But when the good being transferred and traded is something that should be a baseline public good for all students, the market solution starts to run into trouble. We can't address the imbalance of supply and demand by allowing others to pay more to squeeze others out of charter seats. That would simply reestablish the hegemony of privilege that made zip code such a strong predictor of school quality. So we use lotteries.
Charters' lotteries respond to zip-code inequity in public education by randomizing a school's enrollment. As a process, they don't favor wealth or other privilege. Lotteries are neutral. My son, with his two highly educated, almost-middle-class, white parents, gets no lottery advantage over his friend whose mother dropped out of high school and is raising her child alone. As far as the lottery is concerned, both kids are just numbers.
But lotteries don't exist in a vacuum. If each one is neutral, a system of lotteries can still tilt in favor of families with sufficient resources and free time to get around town and apply to as many as possible. A student entered in ten charter school lotteries has a better chance at enrolling at one than a student entered in just one. And while D.C. unified its district and charter pre-K lotteries this year, a handful of high-performing charters stayed outside the system. You'd better believe that my wife and I applied to every one of those within two miles of our house.
On a related note: some charter schools rank their waitlist in terms of the order in which they receive lottery applications. Guess what? Parents line up outside these schools as early as 3:00 am  to be first in line on the day they begin accepting applications.
Lotteries also reward families who can afford to live close to high-performing charter schools. When it comes to school choice, parents frequently cite proximity as a critical factor in their decision. My wife and I didn't bother applying to charter lotteries that would have sent our son to Capitol Hill—it would have required an hour-long commute during rush hour. Even though living nearby doesn't officially or directly improve a student's chance of admission, students living far away are much less likely to apply. There are practical limits to the openness of charter school enrollment. This is a particularly pressing issue in D.C., where rapid gentrification is overrunning charters in neighborhoods that were once filled with a majority of low-income families.
So: what do we do when school choice still tilts the system towards talent or wealth or race? When I got to work the Monday after the open house, I checked the demographics of the warm-basement school we'd visited over the weekend. It was diverse—but artificially. The percentage of African-American students was about half what it should have been, given the demographics of D.C.'s student body.
Some have suggested that we might need to protect charters from this problem by means of policies that would ensure socioeconomic and racial integration of the schools. This would undermine the ethical neutrality of the lottery procedure, but it might be a better guarantee of meaningful equity of opportunity and better academic outcomes for all students.
The logistics of this are complicated. Over the last several years, the D.C. Council has considered bills that would allow charter schools to prioritize the lottery applications of students who live in the surrounding neighborhood. But while this might diminish privileged families' ability to game the lottery system in the short term, gentrification could quickly convert the policy into a means for locking low-income families out of high-performing charters.
What else could the city do? Should it provide weighted lotteries to encourage charters to enroll students from a variety of backgrounds? Should it require quotas?
All of these solutions suggest the limits of what experts call "procedural justice." At the school level, attempts to adjust the lottery unquestionably threaten the ethical neutrality of the school choice model. If the enrollment procedure no longer treats all students identically, it opens the door to charges of inequity. But what if that's necessary to make charter schools more compatible with the big, democratic goals of public education? Are they still worth it?
For the next few weeks, everyone at my house will be on tenterhooks, waiting for the end-of-month lottery results. Like most of the parents Chaltain chronicles in Our School, we're ambivalent about whether they deliver us unto a district or a charter school—we just want a safe place where our son (and eventually our daughter) will be academically challenged each day. Sure, we'd be particularly excited to hear that he'll be able to attend one of the great schools at the top of our list. But we've realized that school choice isn't really about choice. It's about expanding access to effective schools enough to realistically raise families' hopes, but nowhere near enough to solve educational inequity—even in places with a robust, vibrant charter sector like D.C.'s.
So, at best, charter schools are a mild corrective to inequity—even if the procedure of a lottery removes privilege from the process at one school, it can't eliminate it from the broader charter sector and does nothing to address its effects after the fact. In the absence of a school system that provides access to an excellent education for all students, it's understandable that a charter system would be morally appealing. But we shouldn't confuse a Band-Aid for a solution.