The SAT-Prep Industry Isn't Going Anywhere
The changes to the test won't lessen the anxiety that parents and students feel.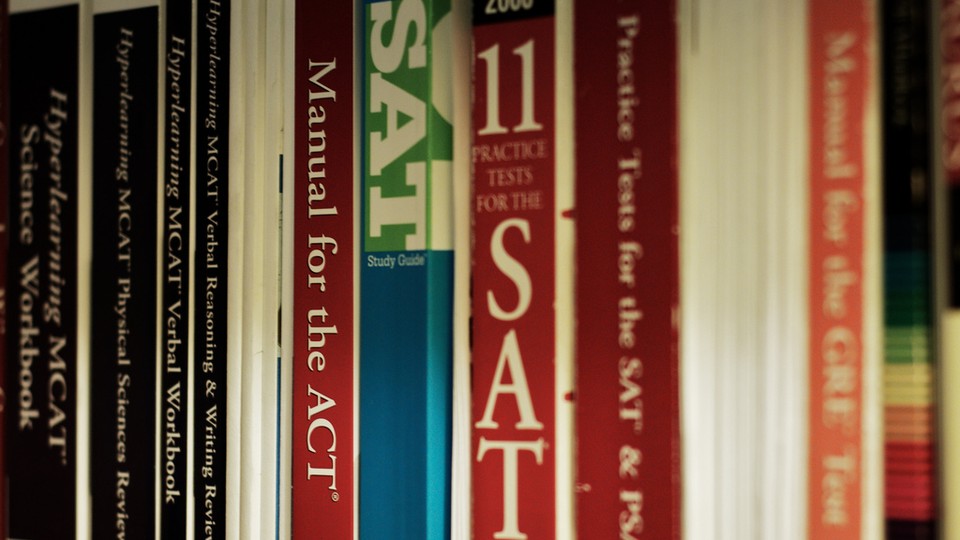 David Coleman, the president of College Board, thinks companies that offer SAT prep services are "predators who prey on the anxieties of parents and children and provide no real educational benefit." When he presented the redesigned SAT last week and announced that the Khan Academy would provide free test preparation online, he declared it a "bad day" for test prep companies.
The problem, though, is not test prep but the test. It is not teachers and tutors who make students anxious; it is the SAT. I have been an SAT teacher and tutor for over a decade for the Princeton Review (the views I present here are entirely my own; I do not represent the Princeton Review) and I will admit that test prep has no educational benefit as soon as Coleman admits the same about the SAT. Until then, the test prep industry is not going anywhere.
Although more schools than ever are making SAT scores optional for application, good test prep will remain important as long as high-stakes, time-constrained, multiple-choice exams are being used to determine who gets admitted to the most selective colleges and universities. Since most of the metrics these colleges use to determine who to accept are based on indelible aspects of a person's identity or long-term accomplishments like GPA and extracurricular activities, it would be foolish for a student not to try to improve the one thing that can be improved in a relatively short amount of time.
A student of mine recently scored in the 98th percentile in the reading and writing sections of the SAT and the 95th percentile on math.  I congratulated her and wished her luck with her applications, assuming she would not take the test again. I soon heard, however, that the college advisor at her school was strongly advising her to retake the SAT as well as the ACT since, as the advisor put it, anything a student can do to provide herself an advantage at the top schools is worth it.
Test prep providers exist not only because the SAT matters so much but also because it has failed students and colleges: it provides a poor measure of real academic achievement, places too much value on a single performance, and indicates nothing more clearly than family income.  Coleman acknowledged these failures last week when he said,With so much riding on a single exam or two (most schools take the best score on each section, which is why it is foolhardy to take the SAT just once), is it any wonder that parents and students are anxious about the SAT? Test prep companies step in to relieve that anxiety, in the same way that doctors treat illness.  It is important not to confuse the medicine with the sickness.
It is time to admit that the SAT and ACT have become disconnected from the work of our high schools. And we've also been listening to students and their families for whom these tests are often mysterious and filled with unproductive anxiety. . . And too many feel that the prevalence of test prep and expensive coaching reinforces privilege rather than merit.
I applaud College Board's recognition of the gap between what students actually study in high school and what is on the SAT, particularly since the back cover of the current edition of College Board's Official SAT Study Guide claims that "the SAT . . . tests your skills in reading, writing, and mathematics—the same subjects you're learning in school."
Fritz Stewart, a founding tutor at Noodle Education, argues that tutoring addresses the "gap between what students are learning in high school and what's being tested on the SAT." He credits John Katzman and Adam Robinson, who founded the Princeton Review in 1981, with reinventing test prep because "they recognized that mismatch . . . 30 years before the College Board even admitted the problem. What the test prep industry does is fill the gap."
It is good news that Coleman wants to close this gap and make the test more transparent. But I have a wait-and-see attitude, particularly because it is hard to imagine that the SAT will abandon the multiple-choice question format that makes it so different from real academic work. How many English teachers use multiple-choice exams to test their students' skills in reading and interpretation, as the SAT does? The new exam will expand the range of subject matter covered in the reading section, but it appears to do little to address the basic strangeness, for many students, of using multiple-choice questions to test reading.
The best example of questions that appear on the SAT but nowhere in a normal high school curriculum are the math questions that ask students to identify an algebraic expression rather than find an answer. In math classes, students typically simplify algebraic expressions in order to solve for x. But on several questions on the SAT the correct answer is not a number but an expression like 3x-27w. "Even very good math students," Stewart pointed out, "often don't know how to approach these questions because they have never seen them before."
Coleman and his surrogates like to describe test-prep as gaming the test. But Katzman, who is now the CEO of Noodle, argued that what Coleman refers to as tricks are in fact sensible responses to the way the test is written. Deborah Ellinger, CEO of the Princeton Review, also argues that test prep is "not about gaming at all. Like anything you want to do well, we believe it's about practice, strategy, understanding the test in full, taking tests in real time conditions and creating confidence in each of our students well before test day."  Similarly, Arun Alagappan, President of Advantage Testing, insists that SAT test prep provides "an opportunity to impart core academic principles and sound study habits" and "affirms the foundational relationship between effort and academic achievement."
There truth is that there are no tricks to the SAT, or at least none that will make a significant change to a student's score. Test prep raises scores by reviewing only the content students need to know for the exam, teaching them techniques they have not learned in school, and assigning students hundreds if not thousands of practice questions. It is this work, and not tricks, that overcome test anxiety. As Ed Carroll, a former colleague of mine, puts it,  "Competence breeds confidence."
No one in test prep believes, as Khan Academy founder Sal Khan suggests in a video chat with Coleman, that you can raise your SAT score by following the mantra, "When in doubt, guess C."  It is a shame that Coleman and Khan have to create a straw man in order to justify their completely noble endeavor to provide free test prep online.
The representatives of test prep companies I spoke with were unanimous in their praise of College Board's partnering with Khan Academy. Alagappan said, "We fully support the College Board's decision to partner with Khan Academy to deliver free preparation resources." What is notable from a historical perspective about this partnership is that, after decades of disputing test prep's effectiveness, College Board has reversed its position, which Ellinger noted could actually be a boon for the business. "The free resources supplied by Sal Kahn (a former Princeton Review teacher), may actually expand the market now that students know that test prep works and is necessary for them to perform best on the SAT."
The main reason test prep isn't going anywhere is that, as long as a superficial, high stakes test remains an important aspect of competitive college admissions, there will be no shortage of people looking for some advantage.  Admissions anxiety is not fomented by test prep companies. They do not need to make students and parent anxious.  The SAT has taken care of that for them.