Stressed About College Admissions? At Least You're Not Lincoln's Kid
155 years ago, the oldest son of the 16th president failed his entrance exam to Harvard. Talk about familial pressure.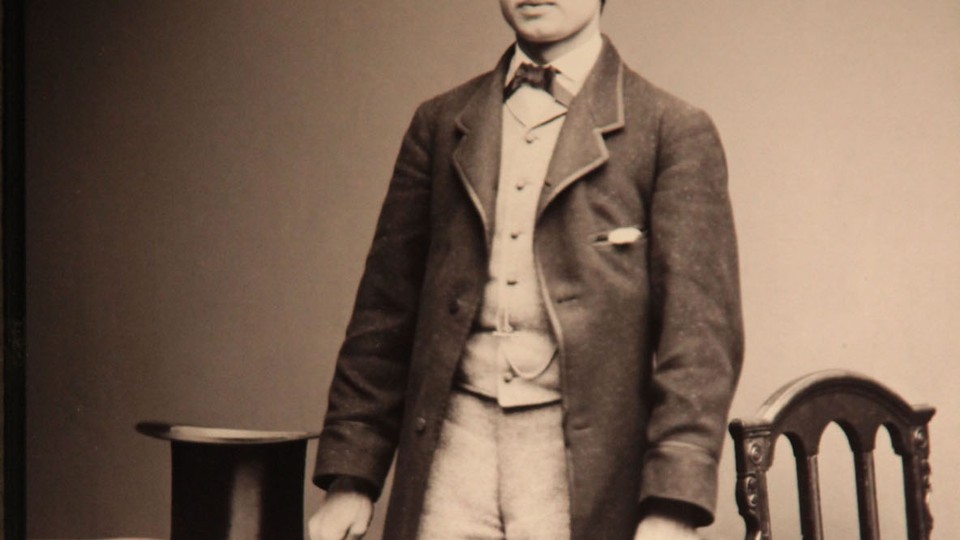 It's 1859. Your father is a prominent Republican and former member of Congress; soon, he'll be nominated to run for president of the United States. You're a fresh-faced 16-year-old, just arrived in Cambridge, Massachusetts, from Illinois.  You're living the dream still shared by students across America: Enrolling in Harvard College. Veritas shall be yours.
And then you fail the entrance exam. Major bummer.
This is not the sepia-toned fever dream of a future history major, suffering night terrors as he anxiously awaits admissions decisions on April 1. No, this was the unfortunate fate of Robert Todd Lincoln, the 16th president's oldest son. He failed the test he needed to get into college because of "limited preparation," wrote historian James T. Hickey, which presumably means "he didn't study." So, the young Lincoln instead headed to Phillips Exeter Academy to improve his academics, accompanied by his hometown friend, George Latham.
Historians don't know how Lincoln reacted to his son's academic stumble, but we can guess what his disappointment might have looked like. Because, you see, Robert Todd's classmate and fellow slacker Latham also failed his Harvard entrance exam when he took it the following year. Then-presidential nominee Lincoln wrote to his son's friend in the summer of 1860, expressing concern for the young man's morale:
My dear George

I have scarcely felt greater pain in my life than on learning yesterday from Bob's letter, that you failed to enter Harvard University. And yet there is very little in it, if you will allow no feeling of discouragement to seize, and prey upon you. It is a certain truth, that you can enter, and graduate in, Harvard University; and having made the attempt, you must succeed in it. "Must" is the word.

I know not how to aid you, save in the assurance of one of mature age, and much severe experience, that you can not fail, if you resolutely determine, that you will not.

The President of the institution, can scarcely be other than a kind man; and doubtless he would grant you an interview, and point out the readiest way to remove, or overcome, the obstacles which have thwarted you.

In your temporary failure there is no evidence that you may not yet be a better scholar, and a more successful man in the great struggle of life, than many others, who have entered college more easily.

Again I say let no feeling of discouragement prey upon you, and in the end you are sure to succeed.

With more than a common interest I subscribe myself Very truly your friend,

A. Lincoln.
A self-educated man, Lincoln seemed to feel strongly about Latham's college prospects ("Having made the attempt, you must succeed in it. 'Must' is the word."). But he also seemed intent on cheering the boy up—if only all letters of rejection could be accompanied by a note from a future president promising a life of scholarship and success in the face of great struggle.
Meanwhile, Robert Todd was accepted into Harvard in 1861, his father now in the White House and the country embroiled in war. At school, he was an average student with an active social life. But he rarely got letters like the one his father wrote to Latham. "I do not possess a single letter written by my father," the president's son said later. "When I was in college he was, of course, too much occupied to be writing me, except very rarely; and it never occurred to me then to keep those letters."
The thing that "too much occupied" President Lincoln was, of course, the Civil War—not the best time for Robert Todd to be sending home mediocre grade reports.
Despite all the heartache over admissions, the young Lincoln became a Harvard graduate in 1864, proving that even college rejections aren't the end of the world. His friend George wasn't so lucky, though: He had to settle for Yale.