Making Colleges More Diverse Even Without Affirmative Action
Lessons from California's Early Academic Outreach Program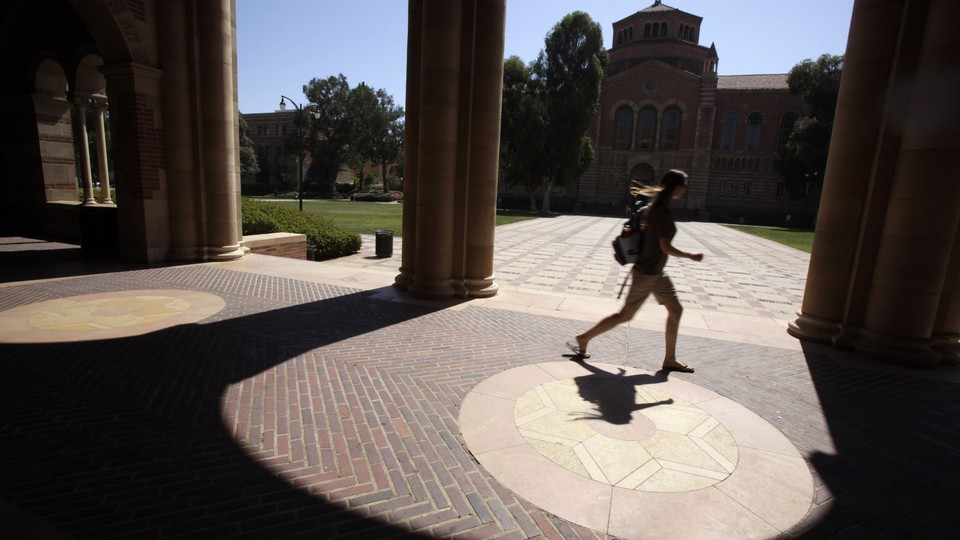 Seven years ago, inside an eighth-grade classroom at Mount Vernon Junior High School in central Los Angeles, Deborah Membreno began to imagine a life beyond the chain-link fence surrounding the concrete schoolyard. Her outlook brightened the day an adviser from a University of California outreach program visited to talk about college.
The adviser who showed up at the school, where nearly 90 percent of students qualified for free lunch, was from the university's Early Academic Outreach Program. She argued a positive side to being poor: The government would help pay for college.
"I thought I was smart," Membreno says. "I had good grades. But before that day I didn't think going to college was a possibility. My friends and I thought the cost would be too great."
Membreno's parents were undocumented Honduran immigrants trying to eke out a living. Her mom cleaned houses in the beachfront neighborhoods of Venice and Santa Monica. Her dad worked in a clothing warehouse downtown. They were divorced. Most of the time, Membreno lived with her father in a house with 12 other people: aunts, uncles, cousins, and a few nonrelatives.
The Early Academic Outreach Program adviser gave Membreno a chart listing the standardized tests and subjects needed for admission to the University of California—history, English, math, lab science, foreign language, visual/performing arts and electives—highlighting those courses that should be taken as Honors or Advanced Placement  "to increase competitiveness." At home that afternoon, Membreno framed the chart and hung it on the wall.
"I knew what I had to do," Membreno says.
The Early Academic Outreach Program aims to provide poor students with the benefits equivalent to those enjoyed by their affluent counterparts: individualized college counseling, help filling out applications and financial aid forms, free PSAT and SAT prep, campus visits, even enrichment classes on Saturdays and during the summer.
The program took root in 1976, after a university task force study revealed that in California underrepresented students (African American, American Indian, Chicano and Latino) were uninformed about the requirements for admission to the state's university system. On the basis of this study, the university sought state funds to create student affirmative action programs designed to help middle and high school students prepare for college.
Outreach programs have since taken on renewed importance as a way to build a student body that reflects the diverse population of California. The University of California's mission as a land grant institution, established in its 1868 charter, requires the school to "so apportion the representation of students…that all portions of the State shall enjoy equal privilege therein."
California ordered its universities to stop considering race in admissions in 1996, after residents voted into law Prop 209, which banned the use of affirmative action in admissions decisions. Soon after, the percentage of first-year students at UC's most competitive campuses—Berkeley and UCLA—fell sharply. The percentage of first-year African American freshmen at UC-Berkeley fell from 6.7 percent in 1995 to 3.7 percent in 1998, and at UCLA from 7.4 percent to 3.5.  In the same years, the percentage of Latino and Chicano freshman at UC-Berkeley fell from 17 percent to 8 percent, and from 22 percent to 11 percent at UCLA.
In June 2013, the Supreme Court stopped short of outlawing affirmative action in Fisher v. University of Texas, but said universities must prove the use of race is necessary to create a diverse student body. In October of last year, the Supreme Court heard arguments in Schuette v. Coalition to Defend Affirmative Action, a case that will decide if a 2006 amendment to the Michigan constitution banning affirmative action at public universities is constitutional. A decision is expected in the spring.California is not the only state legally constrained from using race as a factor in admissions criteria. Eight states in total have banned racial preferences in admissions decisions. Universities nationwide fear the law will be struck down altogether, especially in light of recent Supreme Court cases reviewing affirmative action.
In the face of increased scrutiny of racial preferences, universities across the country are looking for alternate ways of creating a path to higher education for underrepresented students.
"The book is about how universities might take up outreach in the face of race-neutral policies or having to very narrowly tailor their affirmative action," Patricia Gandara, co-director of the Civil Rights Project at UCLA, says. "We're trying to provide guidance about what works to attract and support students of color in particular." Gandara is writing a book about UC's outreach programs and the role they play in diversifying the university. She hopes to supply a model for universities across the country looking to increase enrollment of underrepresented students.
These programs, Gandara says, do not provide a magic bullet. "There have to be different metrics of success. If you're taking a low-income student from a low-income high school, and you're changing their future by helping them go to college at all, I think that's a significant win."
Early Academic Outreach Program is not a recruitment effort for the University of California, says Debra Pounds, the director of UCLA's  EAOP chapter. She emphasizes that the program's mission is to first and foremost help underrepresented students go to college. "We make sure students are meeting UC admissions requirements because we believe that if students can get into UCLA, they can get into just about any school they choose."
"I look at it as part of the public service mission of the University of California to provide this information and to help this population of students get a college degree," Pounds says.
The numbers of Latino, Chicano and African American students enrolled systemwide at the University of California are rising again, but not to pre-Prop 209 levels. The percentage of Latino and Chicano resident freshmen admitted to UC has increased, from 11.9 percent in 1998, two years after the affirmative action ban, to 27.6 in 2013. The increase of African American resident freshmen admits was more modest, from 3 percent, in 1998, to 4.2 percent in 2013.
Early Academic Outreach Program is trying to keep those numbers moving in the right direction. There is an EAOP at each UC campus. The largest of these programs, at UCLA, works in 80 under-resourced schools in 10 districts in the LA area: 22 middle schools and 58 high schools, according to Pounds. All in all, UC's program sends counselors into 150 secondary schools.
The program's role as college guidance counselor is vital, considering California's student-to-guidance counselor ratio: 1,010 to 1, more than double the national average, according to the American School Counselor Association. At many schools in the Los Angeles area, the situation is worse. For 14 years, Fremont High School in South Central Lost Angeles employed one college guidance counselor for 2,600 students.
EAOP counselor Maricela Saavedra has been helping Fremont students get on the path to college for four years now. Her job is to look for promising 9th and 10th graders, map out an academic plan, and make sure the kids stick to it. She is assigned on a full-time basis to three other schools, in South Central and East LA, and works in three additional schools on a part-time basis.
The first day the University of California's applications became available online was a busy one for Saavedra. At 11:30 a.m. in a classroom with walls covered by pennants stamped with college names: UCLA, USC, Stanford, sat eight students squinting at school district-owned laptops.
Saavedra, sporting a pink button-down shirt and ponytail, flitted from one student to the next. She'd been going nonstop for hours, plucking nuts from a bag to keep up her energy. Students flowed in and out of the room all day. She showed them where to click to start the college application, reminding them not to hit send until she had reviewed it.
Students bombarded her with questions: "Miss, which semester am I applying for? What if I don't know what major I want? Will that affect my application? Was your college hard? What is it like to live on campus?" In between answering questions, she reviewed transcripts with students, one by one.
By 1 p.m. the room was nearly full. At 1:30 Saavedra held a workshop on meeting deadlines for completing college and financial aid applications, and for accepting a college's offer for admission.
"Let's say you get into 10 schools," she said. "You're celebrating: 'I'm so awesome.' Now let's say it's May 2nd. What's going to happen? You can't go. And what happens to the other schools that accepted you? They're gone. You know why? Because the deadline to accept the offer is May 1st."
One girl began twirling her hair around her finger. "I'm scared," she said.
"You're already scared?" said Saavedra. "Good. I'm doing my job."
According to director Debra Pounds, UCLA's outreach exceeds its goals. Of 2,520 of the program's high school seniors surveyed last year, 79 percent met the admissions requirements for UC. About 83 percent of seniors surveyed were admitted to an institution of higher education.
The program's impact is impressive, Gandara says, when you consider that it is not allowed to target students in any way based on race or ethnicity, and that it is going into the lowest-performing schools.
Yet its success is double-edged. It helps to create competitive candidates who will most likely be wooed away from UC by other top universities that do use affirmative action and offer more enticing aid packages.
"That's particularly true for students of color because there are so few meeting these high bars," says Gandara. "They oftentimes will get a total free ride from a very prestigious university."
This is one obstacle that is difficult for UC's most competitive campuses—Berkeley and UCLA—to overcome post Prop 209.
In 2012, 25 percent of EAOP high school seniors in UCLA's program enrolled at a UC campus, according to Pounds.  Yet only four percent were admitted to the flagship campus of UCLA in that year. As for the other EAOP seniors, 24 percent went to California State University, another 20 percent went to community colleges, and the rest went to private California colleges, out-of-state colleges and vocational schools.
In recent years, EAOP students at Pasadena High School have been admitted to Stanford, Brown, Princeton, MIT, and other prestigious schools.
Pasadena High School principal Gilbert Barraza Jr. makes no apologies about telling seniors to follow the money. He knows firsthand the folly of relying on dwindling state funds. He holds fundraisers to pay for increased AP classes, for teacher training and other student resources in order to attract a diverse student body from Pasadena and neighboring towns.
"I tell them, 'Go east,'" says Barraza. "That's where the money is. Get your education. And then come back to California.'"
Upon graduating from Mount Vernon, Membreno transferred to Venice High School, to get out of her South Central neighborhood. The commute was an hour and a half by bus and train. The school didn't enroll her in honors classes because administrators, she says, "saw the middle school I came from."
She didn't accept this. The advice on the chart to take honors and AP courses was burned in her mind. She fought to be placed in the top classes. In her junior year, she was reviewing her transcripts with her EAOP counselor, when she saw something surprising. Even though she didn't have straight As, the transcript revealed that she achieved a 4.1 grade point average: Her honors class grades had been weighted. Her constant struggle to achieve at Venice High among students who seemed to have it easy, gave Membreno the impression she was somehow lagging behind academically. The high GPA emboldened her. She became more determined to pursue a college acceptance letter. "I felt a renewed motivation."
Membreno has replaced the requirements chart she framed back in middle school with her acceptance letter to UCLA. She is in her senior year, majoring in International Development. For two years she worked as an EAOP adviser in her old middle school in central LA. Now she travels twice a week to Francis Polytechnic Senior High in the San Fernando Valley, to keep promising students on the college track.
Membreno's success and the success of Early Academic Outreach Program is hard-earned. It would be easier to recruit the most promising students of color, says Gandara of UCLA's Civil Rights Project. In the absence of affirmative action, though, the program can't do that. The program helps all students in the poorest schools, regardless of race.
Gandara's upcoming book on UCLA's outreach programs aims to offer EAOP as an alternative model to the use of affirmative action for universities everywhere, so that students like Membreno don't lose their way. The model is simple: share the steps for getting to college, and help students take the steps one by one. Advisers say students can use a little reassurance along the way, too.
From time to time, Membreno returns to her old middle school in central LA to encourage students by her own example.
"I wasn't the best student," she tells them. "I could be a troublemaker. I could get loud sometimes. But I still went to college. So can you."