America Just Got $2.75 Billion Closer to Internet in All Its Schools
A combination of private and public money will bring tech products and high-speed internet to public schools.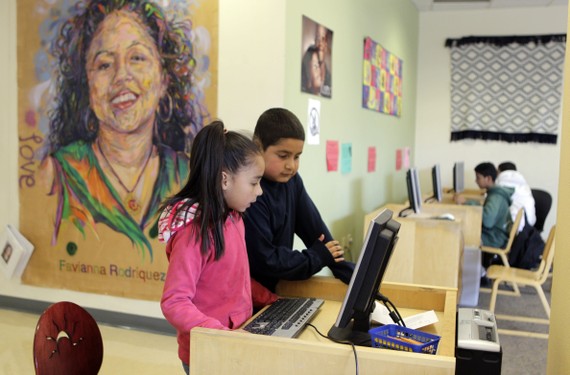 Major tech and telecommunications companies are answering the president's call to connect 99 percent of U.S. schools with high-speed Internet within the next five years by pledging more than $750 million in donations.
President Obama will announce Tuesday that Apple, Microsoft, Sprint, and Verizon are just a handful of the private companies contributing over $750 million worth of services and funds to schools through the White House's ConnectED initiative.
Apple will pledge more than $100 million in iPads, MacBooks, and other services. Microsoft will make 12 million copies of its signature Office suite available at no cost. Sprint will provide wireless Internet to 50,000 low-income students, and AT&T and Verizon are both committing $100 million to the initiative.
"These companies have recognized the compelling national need for us to have the high-speed broadband that allows us to have the most modern, most effective learning classrooms in our country where every child can learn at their desk and have a world of learning at their fingertips," National Economic Council Director Gene Sperling said on a press call Monday.
Obama introduced the ConnectED initiative last summer, and he reiterated his goal to improve technology in U.S. schools during the State of the Union address last week. Without Congress to stand in his way, it has the potential to become one of the bigger accomplishments of his second term.
The education initiative could cost between $4 billion and $6 billion. Even with the infusion of funding from the FCC and the private sector, it's unclear where the rest of the funding will come from without raising fees on phone bills.