What's Ahead for Education in 2014
This will be the year when students stop cheating and everyone else stops fighting. Right?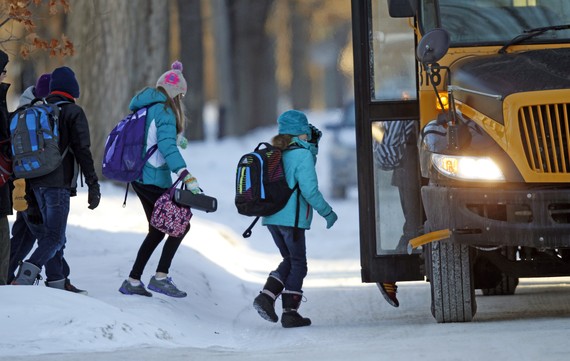 The last several years in education have been filled with turmoil: cheating scandals, debates and protests over curriculum and testing, big changes in the way students are taught. The new year offers brings more changes—but also an opportunity to find solutions to old problems and reach common ground on the divisions of the past. Here's a look at some of the big questions in education for 2014.
Will schools come up with a plan to prevent cheating? Cheating scandals have plagued every level of education in recent years. There were the Stuyvesant high school students who cheated on the New York State graduation exams. There were the Harvard students who cheated on their government final. And there were the Atlanta Public School teachers who fixed incorrect answers on their students' high-stakes tests. And the potential for another high-profile scandal remains high: 10 percent of this fall's Harvard freshman confessed to having cheated on an exam in high school; 42 percent said they'd cheated on homework or a problem set.
Last year showed some signs hope, though. A college professor named James M. Lang published Cheating Lessons: Learning From Academic Dishonesty. It argued that the best way to combat cheating is to make learning complex and compelling enough that students won't be able to cheat easily—and that they won't want to. The new president of Princeton University was so alarmed by the rise of cheating in schools and universities that he assigned incoming students to read philosophy professor Anthony Appiah's book Honor Code, about the history of morality. People within academia are obviously trying to understand why people cheat and coming up with solutions. Hopefully 2014 will be the year a clearer, more widespread plan to fix this problem emerges.
Will students be ready for big changes to the AP and GED exams? Two very different types of tests will undergo big overhauls soon: the chemistry and Spanish language Advanced Placement tests—generally taken by college-bound high school students—and the GED test, normally taken by adults who haven't graduated from high school. Still, the changes reflect the same goal: to better prepare people for the so-called "knowledge economy." The AP exams will shift away from emphasizing memorization and toward "critical thinking, inquiry, reasoning, and communication skills," according to the College Board. The retooling of the GED test will be even more dramatic. Test-takers will be required for the first time to use computers, and they'll be expected to have much stronger writing skills and background information than in the past.
Will students be prepared for these changes? The answer to that question requires another question: Are teachers prepared for these changes? AP teachers have been largely quiet about the changes to those exams, so it's safe to assume they feel ready to prepare students for the new assessments. GED test instructors, on the other hand, have expressed concern that they haven't been given enough time or resources to get their students up to speed. "To the extent that our students even are aware of the upcoming change, they have a lot of fear and a sense of hopelessness," Antony Tassi, executive director of Literacy Partners in New York City, told The Atlantic last year.
Will people finally calm down about MOOCs? Massive Open Online Classes inspire hyperbole. The Washington Post declared the 2013-2014 school year the "year that the MOOC truly goes mainstream." The New York Times breathlessly proclaimed that an all-online Master's degree at Georgia Tech "could signal a change to the landscape of higher education." MOOC detractors are fond of similarly extreme language. "MOOCs Are Going to Ruin Your College Education," PolicyMic warned in a headline in July. In a Slate article called "The MOOC Racket," a Colorado State University professor called the online-education movement "an insult to dedicated faculty members at universities everywhere." Perhaps this year people on both sides of the debate will take a deep breath and evaluate the MOOC for what it is: a type of technology that can be used in ways good and bad—and isn't worthy of either unconditional embrace or reflexive dismissal.
How will the first round of widespread Common Core-aligned testing go? If MOOCs are the most polarizing issue in higher education, the Common Core is the K-12 equivalent. Mass adoption of the math and language arts standards—which were devised a few years ago as an attempt to make American education more rigorous—has sparked protests around the country. This spring, more than 40 states will administer Common Core-aligned exams for the first time. David Coleman, one of the architects of the standards, has warned that there will likely be "a short-term reduction in scores," since the tests will be more challenging, but believes that in the long run, the standards will lead to higher academic achievement. That probably won't be much comfort to students (and their parents and teachers) who score poorly on tests this year. Widespread low performance on these tests will only add to the detractors' cause, unless proponents can convince them to be patient.