What It's Like to Be the First Person in Your Family to Go to College
"I wanted to leave," a Vanderbilt student said. How mentoring programs help him and other first-generation students stay in school.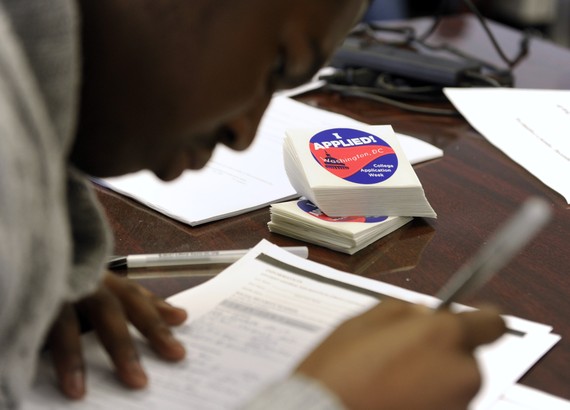 When Harry arrived at Vanderbilt University in 2008, he became the first person in his family to attend college. His parents were immigrants from Nicaragua, and he had attended a so-called "academically and economically disadvantaged" high school on the North side of Miami. Even after completing a rigorous IB program as a high-school student and receiving a scholarship, he arrived on campus feeling like an outsider.
"Never before had I truly felt such an extreme sense of estrangement and alienation," he says of his first few months. "I quickly realized that although I may look the part, my cultural and socio-economic backgrounds were vastly different from those of my predominantly white, affluent peers. I wanted to leave."
Harry opted to stay at Vanderbilt, but he found acclimating to the school's cultural climate to be extremely difficult. His scholarship covered books, tuition, and housing—but it didn't cover little costs like dorm move-in needs and travel costs home for breaks—expenses his classmates could typically afford that exacerbated his feelings of alienation. Eventually, he found refuge in the school's theatre department and student government.
"There were very few Latinos that I could connect with," he says. "[But], I got very involved in extra-curricular activities in hopes of meeting people… It was in each of these organizations that I met older students that informally mentored me. ... I would ask questions shamelessly and learn about their experiences."
Harry's difficult adjustment is just one example of the many obstacles first-generation and minority students confront each year that don't typically plague their second- and third-generation peers. Extensive studies show that low-income and first-generation students are more likely to be academically behind, sometimes several years in core subjects. They're more likely to live at home or off-campus. They're less likely to have gained AP credit and more likely to have to take uncredited remedial courses. And they're more likely to face serious financial hurdles.
These challenges are sometimes so formidable that studies say that only 8 percent of low-income (many of whom are first-generation) students will graduate college by age 25.  Social integration is only one piece of the puzzle for these students, and for Harry—like many other students—combating this transition can be easier with the help of older peers, teachers and guiding professors who act as mentors.  While the definition of "mentor" varies, there are both informal and formal structures that have the potential to influence first-generation college persistence and graduation. Armed with this understanding, many secondary and post-secondary institutions have created programming to better support and mentor first-generation students.
In Chicago, The Noble Network of Charter Schools collects extensive data on their alumni to determine what students need in order to persist and graduate from college. Last year, nine of the campuses graduated seniors and each of these nine schools has a college counselor and an alumni coordinator—allowing students to have extensive support through the college application, matriculation, and transition process.
"It's very intentionally called college counseling," Matt Niksch, Noble's Chief College Officer, tells me. "They're not kids anymore, [and] a lot of it is about helping young adults determine the right choice for them."
Noble schools look to a college's institutional minority graduation rate as a predictor of student success, but even these statistics can't always foresee what different students will face.
Caroline Kelly, a college counselor at Noble's Pritzker College Prep, categorizes the challenges into "different buckets. One is financial, one is motivation, one is family, one is academics, and one is social integration."
Many first-generation students, like Harry, struggle socially when they arrive on a college campus only to find that they have trouble identifying with their wealthier peers, or they feel a distinct "otherness" that they didn't experience in high school. Others adjust socially but find themselves paying for their education for the first time in their lives.
"In high school your education was given to you for free in most cases," says Mac, a current junior at the University of Illinois at Urbana Champaign. Mac is an alumnus of a traditional public school on the Southside of Chicago, where he participated in OneGoal, a teacher-led college persistence program for low-income students that provides school-based support for students over the course of three years. OneGoal teachers begin work with students during their junior year of high school and bridge the gap between high school and college with a curriculum that continues into each student's first-year of college.
"College becomes a major expense. I have to focus a lot more on how I will pay for school before attending school each semester," he says. He has had support from the program since his junior year in high school, when OneGoal teachers helped him prepare for standardized tests, research and apply for schools and apply for financial aid. His OneGoal teacher even drove him to college on move-in day. "Before OneGoal I don't feel that college was even on my radar," he says.
"There's just a huge financial gap," says Thomas Dickson, the Director of Teacher Recruitment for OneGoal.
Since its official launch in 2007, 87 percent of OneGoal's high school graduates have enrolled in college, and of those who have enrolled, 85 percent are persisting in college or have graduated with a college degree.
OneGoal has many look-alike organizations in other cities, some of which are school-based (KIPP Through College, Achievement First's Alumni Program) and others that are independent companies such as College Forward—a non-profit college-coaching organization based in Texas that boasts 78 percent of their students as still enrolled or graduated, or InsideTrack, a for-profit coaching organization aimed at increasing college enrollment and graduation rates.
Despite the influx of programs on high-school and college campuses, many programs still lag in hard graduation numbers.
"Our four-year college graduation numbers are not even close to where we want them to be," Angela Montagna, Noble's Director of External Affairs, says. Noble says 88 percent of their students make it from their first to their second year, but don't always make it to graduation.
Though there isn't significant research that measures all mentoring relationships and their effects on college persistence, there is some research showing the positive effects of mentoring relationships on young kids. Colleges across the country are implementing mentoring initiatives for first-generation college students in attempts to combat the staggeringly low graduation rates.
And, while a degree is the ultimate goal for many parents, teachers and students, there are other results that are perhaps more important for first-generation college students, Noble's Matt Niksch says.
"A lot of [students] talk about college as the goal. But we also don't want them to forget that really the goal is: We want them to have happy, successful, choice-filled lives."