What If Privileged College Kids Were Required to Do Low-Wage Jobs?
The pros and cons of an internship program that tries to teach students about class divisions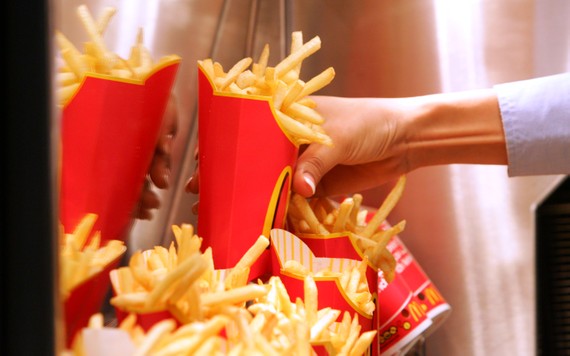 Updated at 1:00 p.m. ET on July 14, 2021.
Lina is a student at L'Ecole de Gouvernance et d'Economie, a private college in Rabat, the capital of Morocco. The summer after her first year at the school, she prepared for an unusual aspect of her education: an internship selling furniture at KITEA—think French Ikea.
"I had my nail polish, my hair done, my makeup done. I felt good, but everyone was looking at me like, 'Who's this bourgeoisie coming here? Why is she talking in French every time she's talking on the phone? Why is she always smiling?'" said Lina, who is currently in her third year, and asked to use a pseudonym to protect her privacy.
Her co-workers were different than she was. Mostly members of the middle class, they did not attend private school, if they attended post-secondary school at all. They didn't talk to each other in French. (The official language is the Moroccan dialect of Arabic, though private school teaches French at a young age and public school teaches it a few years later.)
Lina's internship did exactly what it was designed to do—expose her to people different than she is and teach her about power dynamics along the way.
L'Ecole de Gouvernance et d'Economie is a small private school that costs 68,900 dirhams, or about $8,400, a year to attend. (Public schools, on the other hand, are free.) The school's 200 students spend their first three years as undergraduates, and their third year is required to be spent abroad. They return for their fourth and fifth years to specialize as master's students, training to be leaders in government, diplomacy, academia and non-governmental organizations.
The summer after the first year, students undergo a month-long internship that endeavors to introduce them to people who come from different socioeconomic backgrounds. This is supposed to teach students about the needs of others as well as give them a fundamental understanding of how leadership is structured in companies. Internships such as this are not unique to L'Ecole de Gouvernance et d'Economie, and are common among economics students.
Lina, who says she attended the school on scholarship, thought of herself as "foreign" when she started her internship because she felt like she had little in common with her co-workers. In addition to the language difference, Lina felt that her "secular" way of thinking was very different from her co-workers, many of whom were deeply religious. She also had to adhere to a strict dress code.
"I wasn't allowed to show my shoulders, legs, even my feet," Lina said . . . "I wasn't allowed to put on a lot of makeup."
The majority of Moroccans are Muslim, but wearing a headscarf is culturally optional. In general, in the more affluent parts of town and around the schools women tend to wear them less, and seeing shorts and skirts is not outlandish. In less affluent parts of town, more women wear the scarves and it's rare to see bare legs.
"Every time you see a girl come in, even if she is a customer who wants to buy big things, if she wears shorts then they will of course sell, but after she goes back they will talk about her for hours and hours," she said. "I felt so uncomfortable, because I'm used to being this girl who comes to the shop with a skirt or with shorts and to feel free in her own country."
Even smiling is different. Lina smiles all the time, but for people in other social classes smiling to a man is seen as an invitation. When the managers would ask the buyers to smile—not flirtatiously—at the buyer for better customer service, it brought resentment from the sellers.
"And when you ask them to smile to the customers, they ask you why? They don't smile to us; they don't look at us," Lina said.
* * *
Morocco has less income inequality than the United States does. On the Gini Index, where 0 is perfect equality and 1 is perfect inequality, Morocco has a coefficient of .41 and the US scores .45.  Charles Murray, a scholar at the American Enterprise Institute, has written extensively on class divergence in the U.S. His book, Coming Apart: the State of White America, 1960-2010, shows that increasingly, class difference is more than economic. His research, based on the General Social Survey, shows that the upper class has become culturally sealed off from the rest of the country. They buy different kinds of cars, care about the environment and body weight, raise their children differently, want different vacations, and don't care about professional sports like many other Americans do. Though class difference manifests differently in Morocco, the division is not uniquely an American problem.
To avoid making the internship a comedy a la The Simple Life, L'Ecole de Gouvernance et d'Economie requires students to prepare for the experience. Students write a letter of motivation outlining what they hope to learn and their commitment to the company to be reviewed by a jury composed of professors and administrators. After the experience, students write a 10-page reflection and present on what they learned to the jury. Lina said she realized how much she learned largely through the reflective process.
Of course, not everyone gets the same experience out of the program. Some students don't take it seriously and skip out on work. Others, like Lina's sister, are assigned to firms where there isn't as much income inequality—though she still found the experience useful to learn about leadership.
Lina found her experience to be illuminating. Over time she became close with her co-workers, and two years later she continues to drop by and visit. Still, Murray expressed doubt about the internship's effectiveness toward providing a full understanding of other classes, citing his and others' experience with Thailand.
"They come back after say half a year—they've done a semester abroad, something like that," he said. "And they think they know a lot more than they know, and they still have not gotten anywhere into the rhythms of life in a different culture, the social cues. They were still very much outsiders after six months. Would I rather have that than nothing? Or the kinds of kids growing up in the bubble that I wrote about? Yeah, I guess I would rather have six months than nothing, but it has the downside of making people think they understand something they don't really understand."
Murray's skepticism aside, it's hard not to think of the good a program like this could do in the U.S. Would Walmart host a food drive for its sales associates if its C-suite employees and board members spent a month cleaning the store bathrooms? Would McDonald's suggest its full-time employee of 10 years apply for food stamps to make ends meet if its leaders spent a month flipping burgers and mingling with the hoi palloi? Maybe minimum wage would keep up with inflation if our congressmen and senators sold furniture.