Poll: Teachers Don't Get No Respect
People think respect has declined among teachers, administrators, students, and parents since they were in school.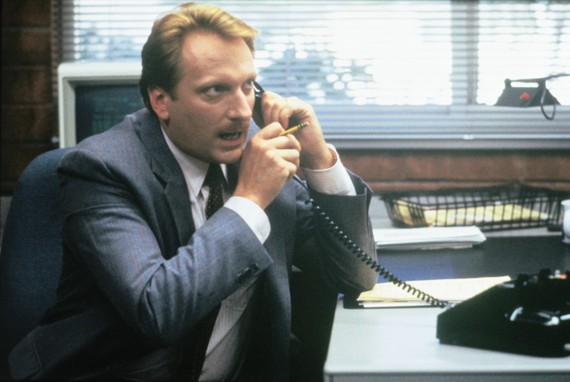 "Anyone? Anyone?" a high-school teacher asks at the front of a classroom in Ferris Bueller's Day Off. His dazed students, popping bubble gum and falling asleep, gaze toward the front of the room, unaware a question has been posed. After a moment's pause, the teacher answers his own question and drones on with his lecture while his students fight to stay awake.
This scene, set in 1986, doesn't show much esteem for the teaching profession. (The movie doesn't have much regard for administrators, either. Ferris continually outsmarts the cartoonishly spiteful Principal Rooney.) And yet, a recent poll found that adults believe that people respect teachers and administrators even less now than then did in the past. While 79 percent of Americans said students respected teachers when they were in school, only 31 percent believe students respect teachers today, according to a Harris Poll of 2,250 American adults.
When they were in school, 91 percent of respondents said that parents and teachers respected each other, but when asked about today, only 49 percent said parents respect teachers and 64 percent said teachers respect parents.
Respondents continued to report a decline in trust between teachers and students: When they were in school, 86 percent said teachers respected students, but only 61 percent say that is true today. Eighty-eight percent said the administration respected teachers when they were in school, while 58 percent say that continues to be true in today's schools.
Parents of school-aged children, who might be in the best position to judge the environment of today's schools, tended to mirror the opinions of the group as a whole, except when asked about parents and students respecting teachers. While 49 percent of the total group said parents respect teachers in today's schools, 58 percent of parents said that was true. Parents gave their children a similar bump: 40 percent believed that students respect teachers, but only 31 percent of the total group agreed.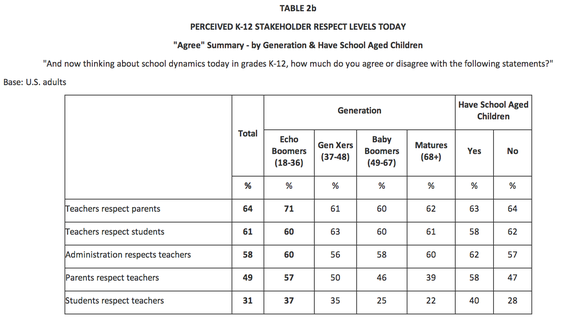 There could be a couple of explanations for these results. Asking adults to compare themselves to today's youth is always a dangerous game. That respondents considered themselves more respectful than today's students is perhaps not surprising. Furthermore, asking adults to remember the environment of their childhood schools is not a foolproof method of evaluating respect. Parents, teachers, and administrators might have convinced students they held mutual respect for each other; adults are more likely to see through a charade. But these results could also hint at a real decline in respect that is making teaching and learning even more difficult. Today, controversy, suspicion, and accusations plague education, from the kindergarten classroom to federal level policies. Teachers are fighting against the Common Core State Standards, students are staging walk out protests in New Orleans, and parents are yanking their kids out of standardized testing. Maybe declining respect among teachers, administrators, students, and parents has played a role in bringing so many debates to the forefront of American schools.