Middle School: Not So Bad
It's pretty great, actually.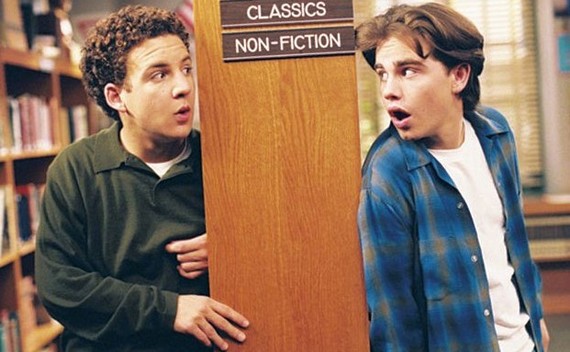 Middle school has a terrible reputation. The titles of James Patterson's middle-school series say it all: From the number-one New York Times bestseller Middle School: The Worst Years of My Life, which launched the series in 2011, to last summer's Middle School: How I Survived Bullies, Broccoli, and Snake Hill, to this spring's Middle School: Ultimate Showdown!, the titles reflect a dystopian vision of life in middle school. And he's far from alone in this. When it comes to young adolescents in schools, Americans seem determined to perpetuate a narrative of hormones and horror.  In her book Operating Instructions, writer Anne Lamott described her worst fear as she anticipated the birth of her son: the knowledge that "he or she is eventually going to have to go through the seventh and eighth grades." In my own research, I found that more than half of middle-school teacher education graduate saw the statement "middle school students can be appropriately described as 'hormones with feet'" as true.
Yes, it's true that young adolescents are navigating profound and often complex changes—new bodies, new brain capabilities, and new social realms. But as a former public middle-school teacher who once taught more than 100 young adolescents each day, I have seen firsthand that middle schools can be constructive, happy places. When there are teachers who understand young adolescents and are prepared to teach them, smaller schools and classes that facilitate meaningful relationships, and an intellectually challenging, engaging, and relevant curriculum, middle school can be some of the most inspiring and enlightening years of a young person's—or teacher's—life.
Happily, there are signs that a more nuanced view is emerging, as thoughtful writers consider the realities of these pivotal years. In 2007, the New York Times' Elissa Gootman published a series on middle schools that explored middle grades test score slumps, dropout trajectories, debates over grade configurations, and the challenges of preparing teachers to work with young adolescents. Time's 2005 special issue "Being 13" examined similar themes, while radio show host Ira Glass produced a This American Life episode in 2011 on what goes on inside middle schools.
Funnily enough, even Patterson himself is part of the movement forward. For all the bleakness of his flashy titles, the world that unfolds within is surprisingly compelling. I was quickly charmed by the imaginative and lonely sixth-grade Rafe Katchadorian and was pleasantly surprised to see that the prison-like school with a "dragon-lady" teacher in which Rafe begins includes a handful of multi-dimensional, caring adults who recognize his talents and reach out to help him succeed.
We seem to be at a crossroads, sometimes defaulting to old stereotypes, at other times, embracing more creative possibilities. Glass's This American Life episode included the perspective that "you're sort of wasting your time trying to teach middle school students anything," but juxtaposed it with the generous outlook that, "kids that age are fun, interesting, and self-reflective." A middle school teacher quoted in Gootman's Times series captured the range of views about teaching in middle schools: "Middle school is like Scotch. At first you try to get it down. Then you get used to it. Then it's all you order."
Given the bad rap middle school gets, it's not surprising that very few future teachers have the goal of working with young adolescents. Research studies have shown that three-quarters of teachers enrolled in secondary teacher education programs (certifying them to teach in grades 6 through 12) preferred teaching at the high-school level to middle-school level. In my work training novice teachers, I see how their stereotypical views of middle school shape their beliefs that not only is it undesirable to teach young adolescents, but that it is actually difficult to accomplish anything intellectually meaningful during the middle school years. And yet, when I have these future educators conduct interviews with young adolescents to learn more about middle schools students' views on the world, the novice teachers are often astonished to find that kids at this age are capable thinkers who are deeply interested in learning more about—and contributing to—the world around them.
So couldn't we tell the middle school story differently?  Perhaps we should enlist Patterson's Rafe Katchadorian—I'm confident that he would have the ingenuity to give middle school a whole new narrative.