Lavishing Kids With Praise Can Make Them Feel Worse About Themselves
The dangers of overdoing the compliments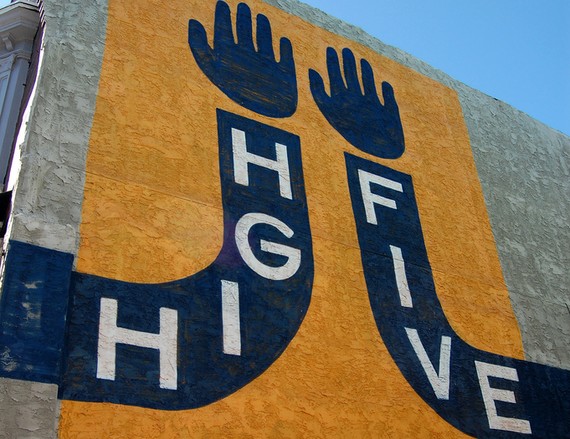 "Hollywood dishes out too much praise for small things," the great actor Jimmy Stewart once said. "I won't let it get me, but too much praise can turn a fellow's head if he doesn't watch his step." He was talking about the sick power compliments can have on a person's ego: You hear enough times that you're awesome and you start to believe that you're the awesomest. And then you become insufferable.
A new set of studies shows that for kids, high praise can have the opposite effect on self-esteem: It can actually make some children feel worse about themselves. "That's Not Just Beautiful—That's Incredibly Beautiful: The Adverse Impact of Inflated Praise on Children with Low Self-Esteem" found that when adults give excessive compliments to children with low confidence, the children were less likely to pursue challenges.
One of the studies involved 240 children who visited a science museum in the Netherlands. The researchers asked each of the kids to complete a self-esteem assessment to determine if they had high or low confidence. Then, the children were asked to draw a famous painting and told that a professional painter would evaluate it. After they finished their paintings, the children were given a card from the painter (who did not in fact exist) with one of three responses: "You made an incredibly beautiful drawing!" (inflated praise); "You made a beautiful drawing!" (non-inflated praise); or no comment about the drawing at all (no praise).
The researchers then tested the kids' willingness to take on new challenges. They asked the children to make a new drawing and let them pick their subject: either a complex drawing or a simple one. It turned out that the students with low self esteem were less likely to do a complex drawing if they'd received inflated praise. "Compared to non-inflated praise, inflated praise decreased challenge seeking in children with low self-esteem," the researchers wrote.
So it seems that the best way to improve kids' self-esteem is to give them frank, straightforward praise. The only problem is, though, that parents and teachers often do the opposite. The researchers also found that adults are more likely to heap inflated praise on children with low-self esteem—presumably in a well-intentioned attempt to make them feel better.
Last month I wrote about how young teachers aren't being taught how to praise students effectively. Teacher training programs emphasize rules and routines as the key to classroom management but often overlook the role of encouragement in creating a positive learning environment. The "inflated praise" studies only highlight the need for better training in this area. Adults are trying to boost children's self-confidence, but their efforts are backfiring. Teachers trying to reach kids with low self-esteem need to know what works and what doesn't.