How Kids Dealt With the Stress of Desegregation
Before Norman Rockwell immortalized Ruby Bridges in a painting, an Atlantic writer followed her for two years and reported on her daily battles.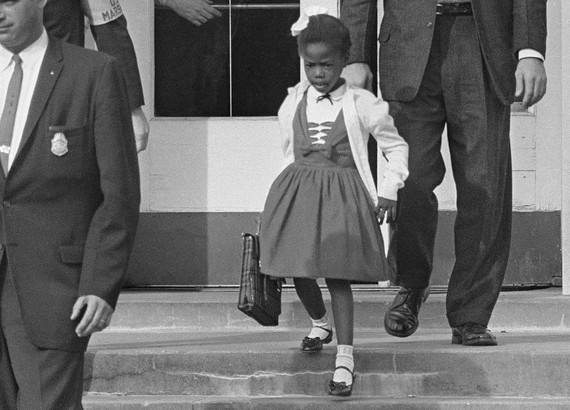 Fifty years ago, Look magazine published a Norman Rockwell painting of a small black girl walking into a newly desegregated New Orleans school. The wall behind her is smeared with racial slurs and splattered tomatoes, and the U.S. deputy marshals protecting her have tense shoulders and clenched fists. But 6-year-old Ruby Bridges is calm and erect. "She never cried," recalled one of the marshals, Charles Burkes. "She didn't whimper. She just marched along like a little soldier, and we're all very very proud of her."
Children like Ruby were soldiers, facing angry mobs and even death threats during their daily trips to school. By 1963, when Martin Luther King shared his dream that "little black boys and black girls will be able to join hands with little white boys and white girls," Ruby had spent more than two years in the trenches. Child psychologist Robert Coles was with her for most of that time, and in the March 1963 Atlantic, he described how Ruby and her classmates were adapting to desegregation. Some children were fearful, and others were cruel. But before long, most seemed to forget their parents' warnings and give in to their natural tendency to play. As Coles wrote:
One of the first children to return, a girl of six with blonde curls, approached Ruby, and, loyal to her mother's words, she told Ruby that she was not supposed to play with her. A few minutes later their teacher watched them busily jumping rope together. ... Living in an immediate world where what matters most to them is freedom of motion and the satisfactions of the moment, [children] end up singing and playing together with ease.
Read or download the entire article below.