How Colleges Are Preparing Students for a Country Where Pot Is Legal
Students and professors across the country are exploring the complex economic, sociological, and legal questions raised by legalizing cannabis.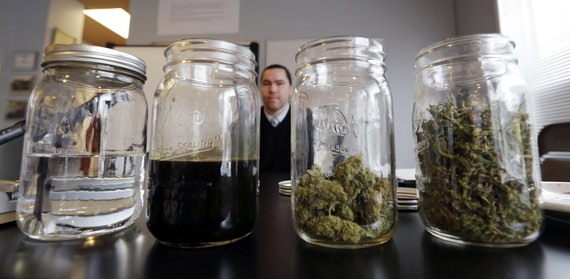 Back in 2010, California attracted national attention by putting a measure to legalize cannabis on the ballot. Many questions about the implications of the measure were directed at Erick Eschker, professor of economics at Northern California's Humboldt State University. If anyone could provide answers about the size of the local cannabis industry, or the economic impact of Prop 19, they figured it would be Eschker and his colleagues. Unsure of how the legalization process would work, Eschker helped create The Humboldt Institute for Interdisciplinary Marijuana Research, a collection of faculty that conducts research about cannabis policy that he now co-directs. Humboldt State University is a natural fit for research into the economic and cultural effects of cannabis; it's in one of three counties that comprise the famous Emerald Triangle, which has been called the cannabis-growing capital of the U.S. for years.
"There's a certain what I call a 'snicker factor' associated with it, if you say you're doing work with marijuana," Eschker said. "And having a formal institute that has been chartered on campus and has sort of backing of the campus and of the Cal State system, that really does a lot for the faculty working in the area."
Eschker isn't the only person doing scholarly work on the ramifications of cannabis legalization. Students and professors across the country are looking beyond the question of "Should cannabis be legal?" toward the more complex economic, sociological, and legal questions raised by legalizing the drug. These higher-ed classes have become a place for students to explore the uncertainties created by the unfolding cannabis story: for example, how to draft legislation for a legal industry, what can be learned from alcohol prohibition, and how dispensaries affect communities.
Finding answers to these questions is becoming increasingly urgent, as more states are lifting restrictions on cannabis use. Residents in Colorado and Washington voted in favor of personal-use legalization in November 2012. On New Year's Day 2014, Coloradoans made their first state-legal purchases. In addition, 20 states and Washington, D.C. have laws that permit cannabis for medical use.
Before and after California's legalization attempt, medical cannabis shops popped up all over the state, particularly in Los Angeles. Their rapid growth led to a citywide backlash to shut down some of the storefronts. In this debate, Steve Graves, a professor of geography at California State University, Northridge, saw an opportunity.
"I recognized this was a really rich visual display created on the landscape. And I was worried that if they all disappeared and they all have to go out of business that there might not be a visual record of what they looked like," said Graves.
So Graves came up with a creative way to get his students, who live all over the greater Los Angeles area, to help document the changing landscape: If they spotted a dispensary while driving or walking, they could snap a picture for a little extra credit.
He received a sizeable pile of images from his students and matched them with a dispensary database created by the Los Angeles Times. Graves eventually noticed patterns. For example, dispensaries, like casinos and liquor stores, lined up along a border of a municipality where they were banned.
"[Students] said, 'Oh my god I didn't realize there were so many until I started actively looking for them,'" Graves said. "Students dig that. And then they say, 'Guess what else I noticed?' which excites me as a teacher."
Many of the dispensaries stayed open, leading to a debate about their effect on communities. Bridget Freisthler, an associate professor at UCLA's Luskin School of Public Affairs, had examined the effect of liquor stores on neighborhoods and thought a similar approach could be taken to dispensaries. In late 2011, Freisthler was approved by the National Institute on Drug Abuse for five years' worth of research into the impact of dispensaries on their communities.
Her students are visiting dispensaries and conducting operational surveys, which ask about the condition of the dispensary, the patients that enter, and the types of products the stores sell. At the project's halfway point, about 10 students have worked with Freisthler, and they have had different reactions to working on a still controversial subject.
"Every once in a while there will be a student who thinks they want to be on the project. And then they'll get cold feet because they don't really want to go in dispensaries, they don't feel comfortable. And you quickly hear the other students who say, 'Don't you get how important this study is? How groundbreaking?'" Freisthler said.
The failed legalization attempt in California also spurred academic study outside the state. The effort intrigued Douglas Berman, a professor at Moritz College of Law at The Ohio State University, who has long followed the debates over cannabis legalization from a criminal-justice perspective.
"I came to the conclusion, whether accurately or not, when California had its legalization initiative in 2010, that if that were to be passed it would be something of landmark significance. And it was something that struck me that wasn't getting the attention it deserved," Berman said.
After Colorado and Washington both passed ballot measures, he decided to propose a seminar called "Marijuana Law, Policy and Reform" to his colleagues.
"I'm fortunate a) to be tenured and b) to have a law school that is very open to innovation," Berman said.
Cristina Nieves, one of Berman's students, said she chose to enroll in the course because she "wanted to learn more about marijuana reform, especially the more subtle issues involved if marijuana were to be legalized in the states that have not legalized it." Some of her peers, however, were hesitant to enroll. "They were unsure how a marijuana course would look on their transcript," she said.
Nieves sought advice from attorneys she respects regarding the course. "They told me that it sounded interesting and that I was lucky that OSU offered it. The advice that I frequently received was that if I was interested in taking the course, that I should take it as law school is the only opportunity I'll have to expose myself to a variety of different legal subjects."
Berman is unsure about the future of the seminar because the legal landscape is transforming quickly—almost faster than Berman can keep pace. The class during fall 2013 was ideal, he said, because it took place in the slow period after the laws passed but before the industries launched. He's debating whether to teach the class this year, with some developments, or in spring 2016; his sense is that the election year will be the biggest tipping point yet for this issue as more states go the legalization route.
Professors who found an intersection between the cannabis issue and their own area of study are not the only ones pushing to introduce cannabis to higher education. Rehman Bhalesha, a South Texas College of Law student, approached the dean about wanting to establish a drug policy institute at the law school that concentrated on the legalization of cannabis. Instead, the school started a collaboration with Rice University's Baker Institute, which already focused on drug policy. The first class at South Texas College of Law, which covered cannabis legislation, was taught last spring semester. It is offered again this semester.
"Internally, the administration is really thrilled about it because it's something innovative. And the students are excited because they get to feel like they're putting their legal knowledge to use and to do something that might have a lasting impact in the real world. They're not just taking exams and doing make-believe projects. We're taking what they draft and turning it over to people who have been approached by state legislators asking for ideas," said Dru Stevenson, the professor who teaches the legislation course.
Students in the legislation class have a range of personal feelings about cannabis. Some feel all drugs should be legalized, others think cannabis should be legalized for medical purposes only, while a few others think all drugs are bad. But Stevenson said even those who think no one should ever consume cannabis recognize the trend toward relaxing cannabis laws from a historical perspective.
"I teach a lot of courses, but I've never had one where people were emailing me months in advance wanting to make sure that I'm going to be offering the course and wishing they could reserve a seat ahead of time," Stevenson said.
Stevenson repeated a sentiment shared by Graves that when it comes to learning about cannabis, students go above and beyond in a way sometimes unseen in the more conventional courses.
"Usually you get your hopes up that the students have learned a lot, that they've really mastered something, and then you read the final products and it's usually not quite what you had hoped for. The students in this case exceeded my expectations. They really took it seriously, really did some research and did exactly what I wanted and more," Stevenson said.