A Degree in Beer, Wine, and Kombucha
"When I tell people that I'm doing fermentation sciences, they're like, 'Oh, you're just drinking beer.'"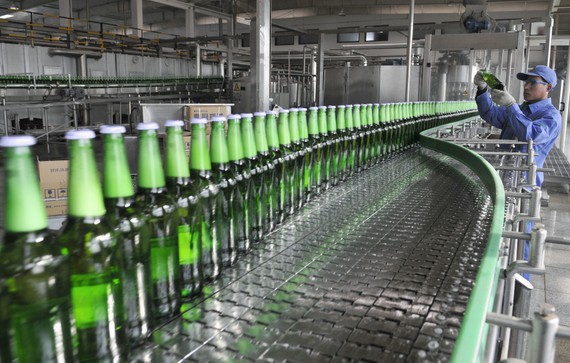 Andrew Gibson realized something after he had his first drink of wine at age 16. But he wasn't sure what, exactly. He was visiting with a friend whose mother lived 40 miles west of Zurich, Switzerland, near Olten. During their first night in town they went to dinner and he drank a glass of wine with his meal.
It was then, for the first time, Gibson saw wine as more than something he wasn't allowed to drink. He identified the notes, the likes of which were meant for pairing with certain food to elevate both the drink and meal. But elevate them to what? He didn't really know.
"That's not really something I'd seen in the United States before—wine being paired with food to make it even better. That's what interested me," he said. Gibson, now 21, is a fermentation science student at Appalachian State University, the quiet University of North Carolina campus nestled in the remote foothills of western North Carolina. Whatever it was he couldn't identify in an aged bottle of wine at 16 years old he's learned during his four years here, much of it revolving around rigorous chemistry and biology courses.
Fermentation science is the study of how carbohydrates covert to carbon dioxide and alcohols. This includes beer, wine, and liquor, of course, but it isn't limited to libations. The science includes bread leavening, cider, pickling and other preservation methods, and the chemical processes behind them.
The interdisciplinary coursework at Appalachian State prepares students for chemistry-type career fields, while simultaneously providing them with extensive business, marketing, and entrepreneurial proficiencies. The academics and professors within the program—for now a small group comprised of former industry professionals turned educators who designed and wrote the curriculum—that students are imparted with not just knowledge of fermentation sciences, but of business, too.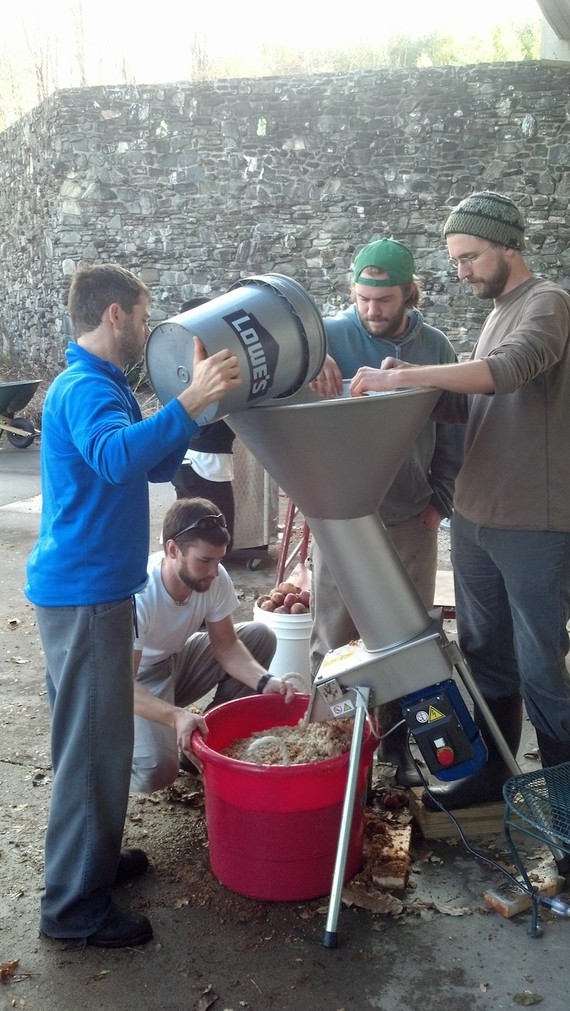 Led by Seth Cohen, who earned a doctorate in food science and tech from Oregon State University, Corvallis, the program began about two years ago with more than $250,000 raised in state and federal grants. The first wave of about 70 students in the program will graduate by the end of the year. When Cohen came to Appalachian State he and the collaborating staff "looked at the curriculum and proposal and found that it would be probably much more advantageous and relevant to develop it into a fermentation sciences program and not limit it to enology or wine chemistry," he said.
Before Cohen started the program, fermentation sciences departments were scarce or non-existent on the East coast. Only Cornell University had one, and it was strictly within its food science program. (On the West coast, Oregon State University has one, too) But there was an increasing need for experts in the field. According to a 2013 report by the Demeter Group, an investment bank and advisory firm to wine, spirits, beer and food industries, the annual growth rate of the craft brewing industry has increased 10 percent annually between 2007 and 2012. The report also listed North Carolina as a high-growth state with a 23 percent increase in craft breweries in 2011, driven largely by such top craft beer companies as Sierra Nevada and New Belgium, which are building facilities in the state. Both will bring a joint estimated production of 700,000 barrels with space for additional growth in and around Asheville, North Carolina.
Cohen and his staff have worked into the program such classes as "Principles of Fermentation Sciences," "Social Implications of Fermented Beverages," "Facility Design and Operation," and "Sensory Analysis of Wine and Beer." These courses are paired with basic chemistry classes, taught by Eric Allain, a biochemist.

Allain said students are interested in these chemistry classes draw because of the way science is taught in relation to brewing and fermenting. "I think that really ties into something that the students can relate to and frankly they just learn it a lot easier," Allain said. "We kind of disguise the science a little bit and, if you want to put it this way, trick the students into learning it."
Students become more engaged in sciences because of this approach to food and beverages, said Cohen. "It also ends up being a segue into graduate or research careers, grabbing students that are interested in science but maybe find fundamental and basic study of chemistry and microbiology not that exciting in college," he said. "Applying it to food and beverage tends to bring in some of the students that may not get into STEM disciplines for lack of interest."

If getting tipsy is why students initially join the program, which some do, they're quickly mired in chemistry labs, calculus, and analytic geometry.
"When I tell people that I'm doing fermentation sciences, they're like, 'Oh, you're just drinking beer,'" Gibson said. "Then once people start to understand it more, I don't think they really abuse it as they use it as a tool for learning more about beer and wine, rather than just coming in and looking forward to drinking and getting drunk."

Nearing the end of his program, Gibson worked with another senior, Tanner Perdue in a facility design and operation class. The students were expected to design a production facility that they could, hypothetically, operate. Gibson and Perdue chose a distillery.

"We were asked to create a facility from the ground up: find a space, create it, go out and take information to set up fermentation tanks and stills and things like that," Gibson said. "You have to go out and find information on how much energy is going to cost. You have to compute the energy you'd use in a facility like that—heating requirements for that facility as a whole. Then essentially write a business plan to give to an investor."


Perdue added: "That class is probably about as hard as any chemistry class I've had. We had to learn a little bit about engineering and come up with plans for these facilities. We also had to apply a little bit of knowledge about business for how it would be run over a five-year period. I think everyone thought it was pretty hard, but definitely got an idea of what you need to do if you actually want to start a winery or brewery one day."
Other classes include assignments on other fermentation subjects such as cheese- and bread- making, kombucha and vinegar, kimchi and sauerkraut, monitoring acetic acid levels within beer and wine, yeast strains and chemical compositions of when fermentation might occur.
There are opportunities for students to get practical experience in the field. Students assist professors and staff on campus at the Ivory Tower, a non-profit brewery and pilot plant that offers hands-on research and internships. The campus also has a service laboratory that accepts grape, wine, must, beer, hops, barley, and distillate samples for analysis.
The students in the fermentation sciences department at Appalachian State leave equipped with skills beyond their fermentation degrees, blurring the lines between craftspeople and biologists, chemists and connoisseurs.

"It's definitely not the easiest major, but it's definitely worth it. It's just something you can really enjoy," said Perdue who's thinking of heading West to Washington state or California after graduation. "If you're an accountant, okay. But you can't enjoy your accounting sheets in the same way you can enjoy that glass of beer you made."