Vacation Reading: 9 Great Education Articles From 2013
Stories about iPads, high-school dropouts, standardized testing, and more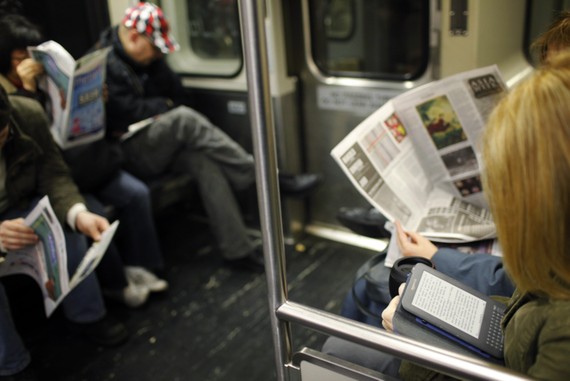 Sometimes, it takes a longer article to illuminate something as complex as education in America. Here are nine articles from 2013, covering everything from public policy to teaching practice. Many of the lessons highlighted by these writers will remain relevant in 2014 and beyond.
"
The iPad Goes to School
"
 — This has not been a good year for tablets in schools. The Los Angeles Unified School District suspended its iPad rollout after students hacked the devices. In North Carolina, Guilford County halted the rollout of devices made by the education technology company Amplify due to technical problems. 
Bloomberg Businessweek's
 Devin Leonard heads to a 
Massachusetts high school that successfully brought iPads into the classroom
—by using them to explore the Internet, not just as a vessel for education software.
"
Crash Test
"
 — Is the high-stakes testing movement dying in Texas? In
 the state where the accountability movement
 began, Nate Blakeslee of 
Texas Monthly
 finds 
little academic progress 
and a whole lot of angry parents. Texas's state legislature recently cut down the number of tests students need to graduate from high school from 15 to five. For related reading, try "
The Science of Citizenship
," from environmentally focused
Orion
 magazine.
"
Them and Them
"
 — In a suburban New York community, an Orthodox Jewish majority controls the local school board even though almost all Hasidic children attend private, religious schools. The East Ramapo school board has approved deep cuts to public school funding that are 
forcing immigrant families out of town
. Read 
New York
 magazine's Benjamin Wallace-Well's article to 
find out why
.
"
What Does It Take for Traumatized Kids to Thrive
?"
 — Good question. In Walla Walla, Wash., a high school for troubled students has transformed its education outcomes by 
focusing on the effects of stress and trauma on children.
 It may be a public-health approach to education, but the secret isn't clinical. Laura Tillman's article for 
Pacific Standard
 suggests that Lincoln High is successful because it surrounds kids with loving and supportive adults.
"
Dropouts Tell No Tales
" 
— 
Washington Monthly's
 Jamaal Abdul-alim returns to his alma mater to ask 
why the dropout rate for African-American students—like him—remains so high
. Abdul-alim finds no easy answers at the University of Wisconsin (Milwaukee), but he leads the reader through thoughtful conversations with students and offers reflections on his own experience. One nugget: Abdul-alim remembers struggling in freshman math because classes were usually "taught by foreign nationals who spoke with thick accents that made an already difficult subject even more difficult for me to understand."
"
Young, Multi-Employed, and Looking for Full-Time Work in San Francisco
" 
— Read this first-person account in 
The Billfold
 of 
highly educated, creative millennials struggling to find jobs
 in San Francisco. Then read "
The Burdens of Working Class Youth
" in 
The Chronicle of Higher Education
, an article summing up a new book. A whole generation of American college graduates has found that education doesn't guarantee prosperity. In 
The Chronicle
, Jennifer M. Silva pinpoints a crucial difference: "When working-class students make mistakes, even out of ignorance, there is no one to fight for them or cushion the fall."
"
The Road Less Traveled
"
 — 
Yale Daily News
 reporter Haley Brynes investigates 
what it's like to be a first-generation college student at Yale
. Among other things, she finds that some first-gen students avoid humanities courses because they simply haven't read as much—nor argued about literature with as advanced a vocabulary—as their affluent, private-school-educated peers.
"
Even Odds
" — Jill Tucker's three-part 
San Francisco Chronicle
 series on 
African-American boys in Oakland
 has a lot to offer, but the 
third article
 is particularly interesting. The 100 Black Men of the Bay Area Community school, an all-boys public charter, is a lot like other charter schools. There are daily morning pump-up chants, uniforms, and students who are taught to walk quietly and silently down the halls. But most teachers and staff are African-American men.