Report: Teachers Aren't Trained to Praise Their Students
A new study finds that education schools aren't teaching classroom management strategies in a focused way.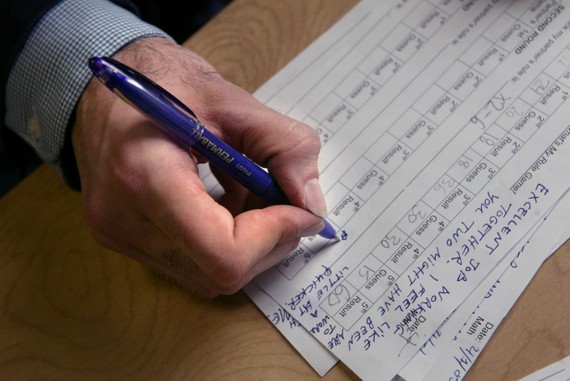 Ask a new teacher what the hardest part of his job is, and he'll very likely answer, "getting my students to listen to me." There are any number of reasons that classroom management is a challenge. New teachers tend to be young—as little as five years older than their students, if they teach high school—and students don't reflexively respect someone who looks like a peer. They also are by definition inexperienced. They haven't developed the teacher instincts that allow them to sense a disruption coming long before it happens.
Another contributing factor could be teaching schools' failure to train teachers sufficiently in classroom management, according to a new National Council on Teacher Quality report. "Training Our Future Teachers: Classroom Management" studied the curricula at 122 undergraduate and graduate teaching programs and found that nearly all address classroom management, but that most do not do so comprehensively. The report reads: "Instruction and practice on classroom management strategies are often scattered throughout the curriculum, rarely receiving the connected and concentrated focus they deserve."
The National Council on Teacher Quality has its critics. Diane Ravitch claims, "It was created specifically to harass teacher-education institutions and to advance an agenda in which untrained teachers could win certification by passing a test." So yes, it's important to take their report with a grain of salt.
Still, what interested me was the report's findings on the aspects of classroom management that programs tend to emphasize. The report identifies "The Big Five" of classroom management: Make rules; establish structure and routines; praise students for positive behavior; address bad behavior; and maintain student behavior. And it discovered that of all of these, the value praise was the least likely to be formally discussed: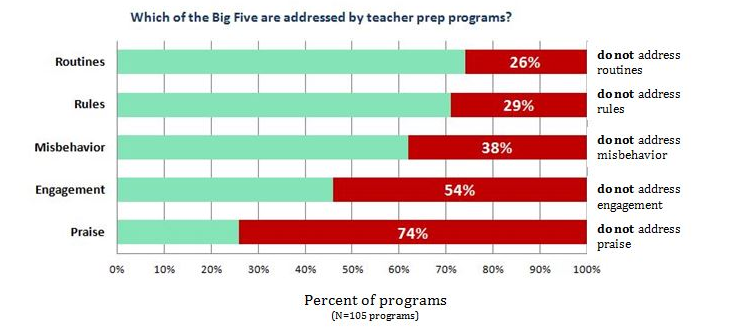 According to this chart, education programs put much more emphasis on showing new teachers how to make rules and routines than on how to encourage students for a job well done. This makes some sense. Schools may figure new teachers know instinctively how to give praise—it's something most of us do regularly to our friends and family members. Creating a well-run classroom with good rules doesn't come as naturally to most people.
Nevertheless, effective praise is a worthy part of a teacher-training curriculum. Not all praise is the same: Studies indicate, for example, that it's better to praise a student for working hard than for being smart. Blending a structured environment with effective encouragement can create a classroom where both students and the teacher can thrive.