Report: Schools in American Cities Are Still a Mess
Charlotte, North Carolina, is doing well, though.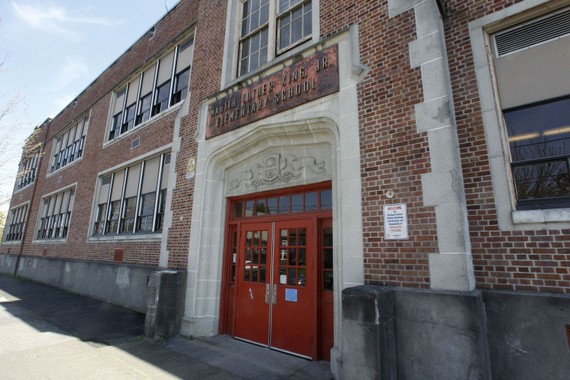 The U.S. has struggled to improve urban education for decades. A new report from the National Center for Education Statistics shows just how big the gap often is between urban districts and their suburban and rural peers. The report compares cities to each other, to their respective states, and to national averages on the National Assessment of Educational Progress—a test in math and reading that fourth and eighth graders take every two years.
Urban districts outperformed their states in only a few cases. San Diego, Charlotte, and Austin averaged a few points higher on fourth-grade reading than California, North Carolina, and Texas. Charlotte outperformed North Carolina in eighth grade reading, and San Diego outperformed California in fourth grade math. And a few cities reached national average scores. Charlotte and Hillsborough County were the only urban districts to consistently score close to the national averages on all four tests.
Generally, though, urban district's average scores were well below the average score in their state. For example, on fourth-grade math, Detroit averages roughly 30 points below Michigan's average. Even though Massachusetts ranked high on the state-by-state NAEP report, Boston is almost 20 points behind the state average in fourth grade math.
Here's a ranking of major American city school districts: